Commentary: Prison is hardly the end of the road for Najib
Amid questions of Najib Razak serving time in hospital rather than a prison cell, to his active social media presence and loyalists calling for an early election, a jail term is not the end for the Malaysian former prime minister, says ISEAS – Yusof Ishak Institute Visiting Fellow James Chai.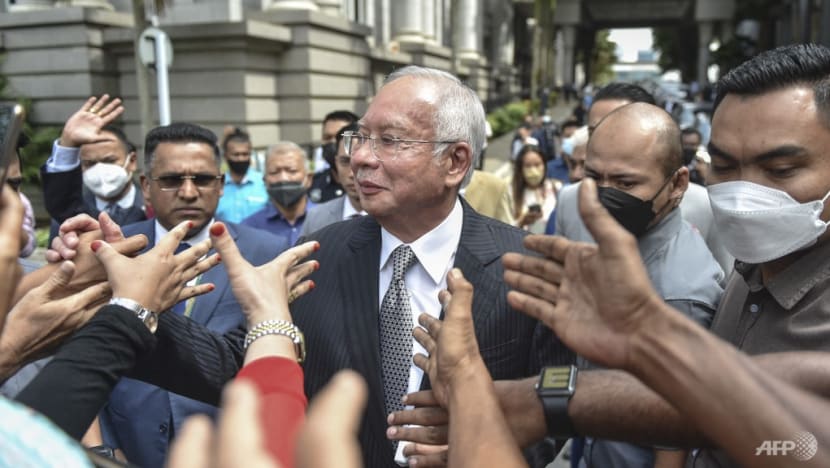 KUALA LUMPUR: Two years after Najib Razak was found guilty of money laundering, criminal breach of trust and abuse of power, Malaysia's Federal Court upheld the former prime minister's 12-year prison sentence and RM210 million (US$46 million) fine, dismissing his appeal to overturn the verdict.
Surely Najib, who found resurgent popularity on social media after UMNO's humiliating 2018 election defeat, would be severed from his party and society, spelling the end of his political career.
Leading from a prison cell is nearly impossible - opposition leader Anwar Ibrahim's imprisonment in 2014 effectively ended the main opposition coalition, Pakatan Rakyat, making Najib's then stable and megaproject-focused government appearing as the only choice.
However, new developments just weeks after the Federal Court's decision show that prison is hardly the end of the road for Najib.
On Wednesday (Sep 21), Malaysia's Prisons Department said Najib was being treated at the Cheras Rehabilitation Hospital, following a rumour circulating on WhatsApp that Najib might have sought placement in that hospital's VVIP facility, along with fewer restrictions on visitors.
This came after Najib was admitted to Hospital Kuala Lumpur on Sep 12 for an "elective procedure to ensure his health would be at optimum levels", according to the Malaysian Health Ministry.
Malaysian Health Minister Khairy Jamaluddin said Najib has not received any special treatment while hospitalised. On Friday (Sep 23), the Health Ministry announced that Najib has been sent back to Kajang Prison after getting medical clearance.
Yet doubts might remain about whether Najib will bear the full weight of his sentence.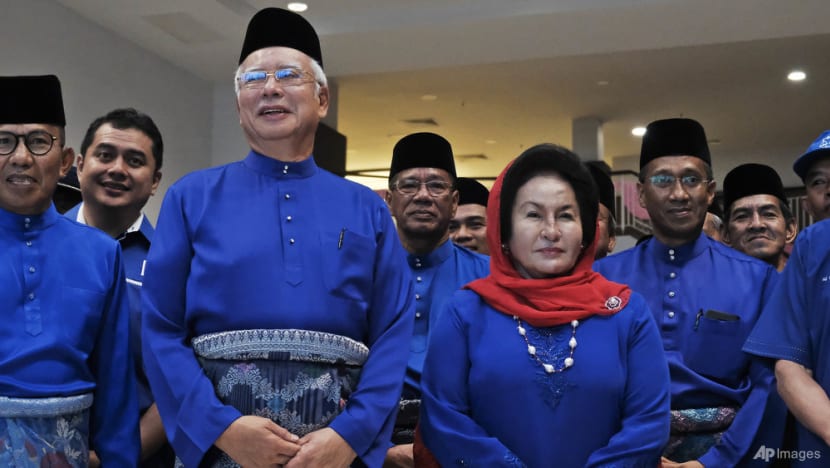 LISTEN - CNA Correspondent: The dramatic day Najib Razak went to jail
On Najib's first day in prison, Anwar said the former prime minister might be treated better, given his stature.
Opposition leaders also cautioned against using the public healthcare system to Najib's benefit, with one remarking: "Don't let the people count how many days Najib actually served his sentence in Kajang Prison, and how many days he spent relaxing on a soft bed in a hospital room."
Najib's presence continues to loom large even in imprisonment, through an active official Facebook page and his daughter Nooryana Najwa's continual updates about his condition. He remains a member of parliament as he has filed a petition for a royal pardon.
Najib's unwaning influence will have profound implications for Prime Minister Ismail Sabri Yaakob, Malaysia's main governing party UMNO and the fabric of Malaysian society.
THE WORST-CASE SCENARIO FOR ISMAIL SABRI
For the past year, the most vicious political battle within UMNO has been about the general election date. The camp led by Najib and UMNO's president, Ahmad Zahid Hamidi, is adamant to call the election early, up to a year before its September 2023 deadline.
An early election, they claim, would enable UMNO to ride on landslide state election victories and return UMNO the much-awaited two-thirds majority dominance in parliament.
The opposing camp, quietly and subtly led by Ismail Sabri, prefers to delay the election because of COVID-19, economic uncertainty and monsoon floods.
The political subtext, however, is unmistakable. Ahmad Zahid and Najib are interested to win big in the next election on the possibility that their dozens of criminal charges - 87 charges for Ahmad Zahid and 42 for Najib - will get dropped.
On the other hand, Ismail Sabri, though seemingly unambitious and uncharismatic, is interested to serve another term as prime minister. Delaying the election date would give time and space for the judiciary to convict one or both of his political rivals, thus eliminating the biggest threat in Ismail Sabri's party.
To Ismail Sabri, a redoubling of support for Najib and the old guard is the worst-case scenario. Prison was supposed to weaken Najib's loyalists within UMNO; instead, they are now emboldened with a vengeance against Ismail Sabri. Ahmad Zahid has sent a "loud and clear signal" that the election must be held by the end of 2022, even with the risk of monsoon floods.
The growing momentum of the Free Najib campaign and talks of Najib's poor health have further cornered Ismail Sabri, forcing him to instruct the Malaysian Health Ministry to give Najib the best medical treatment possible.
Active social media, fired up supporters, and pressures to call an early election - to Ismail Sabri, it is as if Najib had not gone to prison at all.
THE IMPACT OF AN OMNIPRESENT NAJIB ON MALAYSIA'S PSYCHE
On top of that, as a party, UMNO would now be forced to make an important call of whether to embrace or ditch an imprisoned Najib. The division between party leaders who think Najib should reap what he sowed, and party leaders who portray him a victim of malicious assault, will continue to weaken the party.
UMNO risks losing popular support as Malaysians generally perceive Najib's conviction in the 1MDB trial as the right decision. According to a Merdeka Center poll in 2020, 61 per cent of Malaysians approved of the guilty verdict. Even among UMNO's stronghold, the majority of Malay voters approved, at 57 per cent, with less than 20 per cent believing the conviction was wrong.
Malaysians are also sensitive to double standards since the pandemic, which revealed gross inequality between the elites and the poor.
Resuscitating Najib behind prison walls and devising campaign messages of victimhood to elicit sympathy will not work; instead, it only proves that UMNO still holds onto old-style money politics.
More importantly, though, is the impact of an omnipresent Najib on the psyche of ordinary Malaysians. Already disillusioned from the Sheraton Move of 2020, where the government the people chose was unceremoniously removed and replaced by a different one, Malaysians in the past three state elections had few reasons to turn up and vote.
The longer Najib stays in the limelight, the harder it will be for Malaysians to learn the lessons of corruption and move on.
If not for the August imprisonment, Najib would still be living a fairy-tale comeback of rising from the political ashes into a potential premiership. Yet prison walls might not be enough to stop him. The only thing we know for certain is that it ain't over till the fat lady sings.
James Chai is Visiting Fellow of the Malaysia Studies Programme at ISEAS – Yusof Ishak Institute.