From conviction to final appeal: Timeline of former Malaysian PM Najib's 1MDB-linked corruption case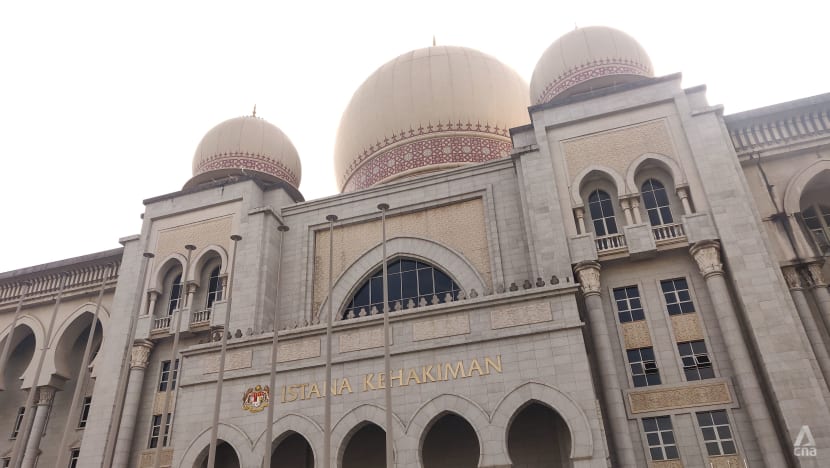 PUTRAJAYA: Malaysia's Federal Court on Tuesday (Aug 23) upheld former prime minister Najib Razak's guilty conviction and a 12-year jail sentence on charges related to a corruption scandal at a former unit of state fund 1Malaysia Development Berhad (1MDB).
It also denied his request for a stay of sentence.
Najib, 69, was found guilty in July 2020 of criminal breach of trust, abuse of power and money laundering for misappropriating RM42 million (US$9.5 million) from SRC International, a former subsidiary of 1MDB.
The top court began hearing Najib's final appeal on Aug 18, after rejecting a request by his lead counsel Hisyam Teh Poh Teik to discharge himself from representing the former prime minister.
The court had also rejected Najib's application to admit new evidence and for the case to be deferred for three to four months.  
Besides this case, the former prime minister also faces several other charges in court that are linked to 1MDB.
Here's a timeline of the case:
TRIAL BEGINS
Jul 4, 2018: Najib appeared for the first time in the Sessions Court to be charged with three counts of CBT and one charge of abusing his position over SRC's funds totalling RM42 million. The case was later transferred to the High Court.
Aug 8, 2018: Najib was charged at the High Court with three counts of money laundering involving the same SRC's RM42 million funds as proceeds from unlawful activities.
Apr 3, 2019: The trial began after High Court Judge Mohd Nazlan Mohd Ghazali dismissed Najib's application to declare the seven charges against him defective.
Dec 3, 2019: Najib took the witness stand at the High Court as the first defence witness after he was ordered to enter his defence on all the seven charges against him.
Mar 11, 2020: The trial ended after the defence closed its case following 33 days of hearing involving 19 witnesses.
SENTENCING AND APPEAL
Jul 28, 2020: The High Court sentenced Najib to 12 years in jail and a fine of RM210 million after finding him guilty on all seven charges.
Oct 19, 2020: Najib filed a petition of appeal. The hearing was scheduled to be held at the Court of Appeal on Apr 5, 2021.
May 18, 2021: The Appeal Court completed its hearing after listening to arguments from both the defence and prosecution.
Nov 23, 2021: The Court of Appeal set Dec 8 for a decision on Najib's appeal. Najib appealed to the court to have the date postponed due to the requirement to undergo self-quarantine for seven days until Dec 12. The appeal was dismissed on the same day.
Dec 2, 2021: Najib filed a last-minute application at the Court of Appeal to allow new evidence to be introduced in his appeal.
Dec 7, 2020: The Court of Appeal dismissed Najib's application to adduce new evidence in his appeal against the High Court decision. 
COURT OF APPEAL UPHOLDS RULING
Dec 8, 2021: The Court of Appeal delivered its decision to uphold the High Court's conviction and jail sentence against Najib. Najib's lead counsel Muhammad Shafee Abdullah filed an appeal to the Federal Court.
May 9, 2022: The Federal Court fixed 10 days in August beginning from Aug 15 to hear Najib's final bid against his conviction and jail sentence.
Jul 21, 2022: The High Court rejected an application by British Queen's Counsel Jonathan Laidlaw to be admitted to the Bar to represent Najib in his final appeal.
Jul 25, 2022: Najib abruptly discharged his entire legal team including Muhammad Shafee from representing him in the SRC case.
FINAL APPEAL HEARING AT FEDERAL COURT
July 26, 2022: Najib's new legal team for the SRC case was announced. It is headed by Mr Teh as counsel, with lawyers from Messrs Zaid Ibrahim Suflan TH Liew & Partners as co-counsels.
Jul 29, 2022: The Federal Court decided to proceed with the appeal as scheduled from Aug 15 despite a request from Najib's new lawyers to have the hearing postponed on the ground that they needed more time to prepare for the case. 
Aug 15, 2022: Mr Teh, the lead counsel, filed an application to adduce new evidence on the first day of the hearing for Najib's final appeal at the Federal Court.
Aug 16, 2022: The Federal Court unanimously rejected Najib's bid to introduce new evidence for his final appeal. The five-member judge led by Chief Justice Tengku Maimum Tuan Mat also rejected Najib's legal team's request for the case to be adjourned for three to four months. 
Aug 18, 2022: The Federal Court began hearing Najib's final appeal after rejecting the lead counsel's request to discharge himself from the case. The court said that Mr Teh had failed to disclose adequate grounds to support his discharge application. 
Aug 19, 2022: Najib discharges part of his legal team. The prosecution wrapped up their submissions, telling the court that the combined roles played by Najib enabled him to execute his plan of benefitting from SRC International funds.
"The SRC board of directors was rendered toothless and powerless by the most powerful man in the country," the prosecutor said. 
Aug 23, 2022: Najib failed in his bid to recuse Chief Justice Tengku Maimun Tuan Mat from presiding over his final appeal after an application was filed the night before. Citing a social media post by the Chief Justice's husband in 2018, Mr Teh said it is clear that he had negative sentiments towards Najib's leadership.
Hours later, the Federal Court upheld Najib's guilty verdict and his 12-year jail sentence.
Sep 5, 2022: Parliament speaker Azhar Azizan Harun said that Najib will remain as a member of parliament as he has filed a petition seeking a royal pardon.
Sep 6, 2022: Najib applied for a review of the Federal Court's decision. He asked to set aside the court's decisions to dismiss his applications to recuse the Chief Justice and to include more information. The former prime minister also sought a stay of execution of his conviction and sentence pending the hearing of his review application.