Commentary: After getting sacked from UMNO, what happens to Khairy's dreams of becoming Malaysia PM?
Former Malaysia health minister Khairy Jamaluddin might be ousted from UMNO, but it won't be the last we hear from him, says political observer Oh Ei Sun.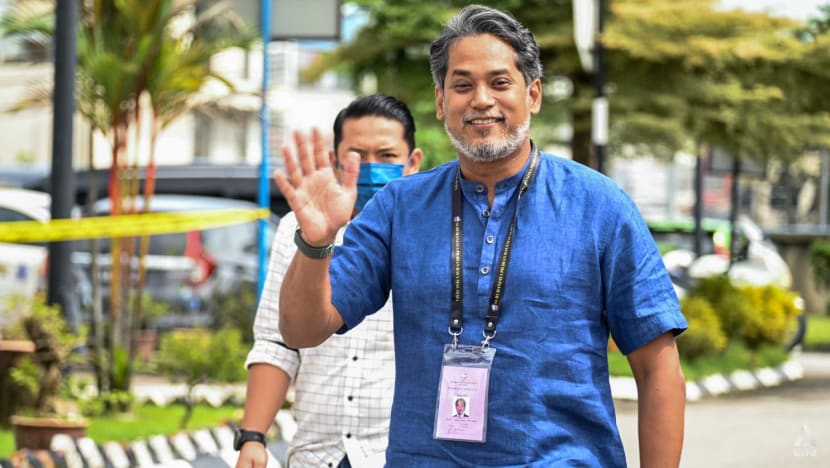 KUALA LUMPUR: The senior leadership of the United Malays National Organisation (UMNO) on Jan 28 decided to fire Khairy Jamaluddin and a number of fierce critics, ostensibly for party-related offences during Malaysia's 15th General Election (GE15) in 2022.
Many party outsiders would attribute the sackings more to their vocal criticisms. Given his political ambitions and high profile as health minister during the COVID-19 pandemic, Khairy's expulsion in particular has generated interest, along with what might be next in store for him.
Khairy is no stranger to ups and downs in politics. On the morning of Nov 20, 2022, he was not a happy man. A photo of him sitting on a plastic chair outside what must have been a closed restaurant, staring at his handphone with a dejected expression, made the rounds on the Internet.
The night before, he was defeated in the semi-urban parliamentary seat of Sungai Buloh during GE15, which later saw yet another transfer of power to the new Anwar Ibrahim administration.
YOUNG, SUAVE AND OXFORD-EDUCATED
Khairy entered the public scene two decades ago as the son-in-law of then Malaysian Prime Minister Abdullah Badawi. 
Young, suave and Oxford-educated, Khairy soon became the de facto "gatekeeper" for Abdullah. 
Khairy and his "fourth-floor boys" (so named owing to the office locations of the prime minister's senior aides) of colleagues were considered powerful figures, capable of giving red or green lights to project proposals that involved the country's political heavyweights.
There were numerous allegations of nepotism, power abuses and conflicts of interest even back then, primarily from Dr Mahathir Mohamad, the prime ministerial predecessor who had hand-picked Abdullah but became increasingly critical of his administration. The then mostly behind-the-scenes Khairy took all those snipes in his stride.
Khairy's official venture into electoral and party politics came at the tail end of Abdullah's premiership in 2008 and 2009, when he was elected as member of parliament for Rembau and youth chief of the long-ruling UMNO.
In 2013, he became minister of youth and sports under then prime minister Najib Razak. Khairy was increasingly viewed as a potential future prime ministerial candidate because he appeared to inject much needed vibrance into the two intertwined sectors of his ministerial portfolio.
SEEDS OF CONFLICT BETWEEN KHAIRY AND UMNO
But then came 2018 and UMNO's humiliating electoral defeat at the hands of Pakatan Harapan (PH), then led by Dr Mahathir. 
Khairy was among the UMNO senior leaders who advised Najib to assume responsibility for the party's defeat, and relinquish not only his governmental but also UMNO presidential positions.
The advice was followed, but the seeds of conflict between Khairy and the UMNO mainstream faction were perhaps sown then. Shortly thereafter, Khairy challenged Ahmad Zahid Hamidi for the party presidency. Zahid soundly trumped Khairy, and the latter laid low for the next one and a half year, setting up his own think tank.
Then came the momentous Sheraton Move in 2020, when the PH government was toppled, and a coalition government between UMNO, the previously PH Bersatu and the Islamist PAS (with the latter two later forming Perikatan Nasional (PN)) was cobbled together, led by Bersatu's Muhyiddin Yassin.
Despite Khairy's lack of an UMNO party leadership position, Muhyiddin appointed Khairy as science and innovation minister.
COVID-19 PROPELLED KHAIRY TO CENTRE OF ATTENTION
Later, as COVID-19 gradually engulfed Malaysia, Muhyiddin put Khairy in charge of the national vaccination programme. That propelled Khairy once again to the centre of attention, as Malaysians scrambled to get themselves and their loved ones vaccinated against the deadly virus.
Khairy's steady and capable handling of the vaccination programme, with frequent personal participation on the ground and science-backed decisions, won him applause from the general public. He became so indispensable in the pandemic-fighting effort that when UMNO's Ismail Sabri Yaakob took over as prime minister, Khairy was made minister of health. 
But that sort of heightened public acclaim seemingly did not make Khairy particularly popular with either grassroots or senior leadership within UMNO, which saw Khairy as a huge threat to their own political advancements.
In GE15, UMNO's mainstream faction eased Khairy out of his almost sure-win Rembau parliamentary constituency in favour of the party's number two, Mat Hassan. Instead, Khairy had to settle with PH stronghold Sungai Buloh. He ran a vigorous electoral campaign, but ultimately it was not enough to wrest the PH-safe seat away.
In the two months since, a visibly disgruntled Khairy no longer minced his words. He openly declared his political ambition of eventually becoming Malaysia's prime minister. He roundly criticised the party's senior leadership for not holding elections for the top two party posts.
Zahid listened and finally had enough of Khairy's grumbles - by expelling him from UMNO on Jan 28.
PATHWAYS AHEAD FOR KHAIRY
There are at least three pathways ahead for Khairy as he seeks to prolong his political career. He could join another political party, and if he does, it is likely to be one of the PH component parties as opposed to those of PN. Khairy's public image has long been a progressive and reformist one, so his support base might dwindle if he joined the relatively conservative and religious PN.
But the same robust support base may make the present leaders of PH component parties feel wary about receiving Khairy into their ranks, as he may outshine them and take over control of their parties. Nevertheless, it would appear that Khairy is leaning toward this pathway, as he explores the possibility of running on another party's ticket in the upcoming Selangor state election.
Another pathway ahead for Khairy is to form his own party, building on his tremendous popularity. 
But if the recent electoral performance of Malaysia United Democratic Alliance (MUDA) and its equally charming president Syed Saddiq (with only himself having won a parliamentary seat) are any indication, charisma is no match to the arduous groundwork that can only be effectively carried out by major parties like UMNO and PH.
Which leaves Khairy with the most "laidback" pathway of once again biding his time and lying low, at least for the moment as uncertainty is still gripping Malaysia's politics. But at least one thing is certain: This will not be the last time we hear of Khairy and his bright political prospects.
Oh Ei Sun is a senior fellow with the Singapore Institute of International Affairs.