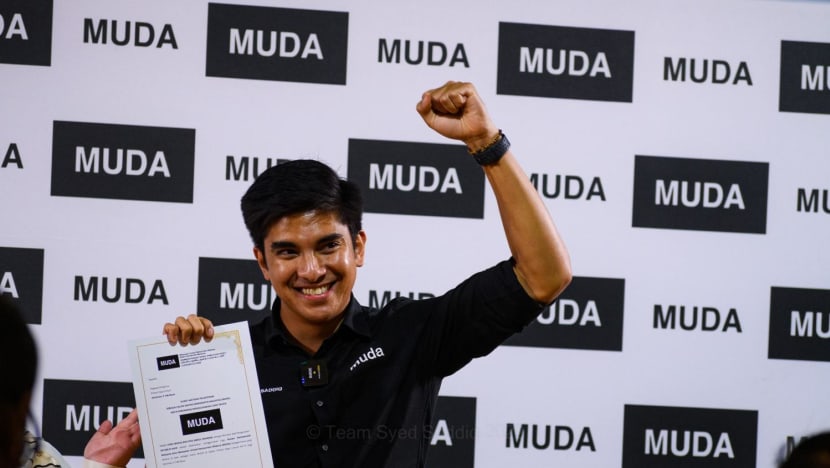 MUAR, Johor: Malaysian United Democratic Alliance (MUDA) president Syed Saddiq Syed Abdul Rahman will be defending his Muar parliamentary seat in Malaysia's upcoming 15th general election (GE15) which he won in 2018.  
"Please give me the opportunity to again champion the people of Muar," said Syed Saddiq after his candidacy was announced by MUDA deputy president and election director Amira Aisya Abdul Aziz on Wednesday (Nov 2). 
Syed Saddiq said that the purpose of him joining politics is to serve the people and to build a Malaysia which has honour and integrity. 
"I would not have joined politics if it is because of money," said Syed Saddiq, adding that there were many opportunities that he could have enriched himself while in office as minister of youth and sports. 
Instead, he had taken the steps to increase transparency and reduce abuses, including the implementation of an open bidding system for contracts issued by his ministry. 
Syed Saddiq became Malaysia's youngest minister at the age of 25 when he joined the Pakatan Harapan government under former prime minister Mahathir Mohamad in 2018. He left office after the collapse of the government two years later.  
After leaving the government, Syed Saddiq also left Parti Pribumi Bersatu Malaysia (Bersatu) where he was also the chief of its youth wing, Armada.    
He later formed MUDA in September 2020. 
In a Facebook post, Syed Saddiq denied his involvement in any corrupt practices during his term as Muar MP and stressed his responsibility to the people in the area.  
"Until today, has there been a case of me pocketing the citizens' money? Zero. Did I give a tender to a crony? Zero. Did I abuse my power when I was a minister? Zero. Because I entered politics to clean up politics (and) to serve and defend the citizens," he said. 
Syed Saddiq said that his conscience is clear and his track record speaks for itself. 
In its Facebook post, MUDA said: "His service in Muar must continue! Throughout his tenure as a representative in Muar, Syed Saddiq has helped tens of thousands of families. He has also helped many young people in getting quality education."
Syed Saddiq is currently facing trial for four charges of misappropriation of assets, money laundering and abetting in criminal breach of trust (CBT). 
He was accused of committing the charges while he was with Bersatu between Apr 2018 to Mar 2020. 
The court has fixed between Feb to Apr next year for him to defend himself against all the charges. 
In the 2018 General Election, Syed Saddiq beat Barisan Nasional's (BN) then Muar incumbent Razali Ibrahim and Parti Islam Se-Malaysia's (PAS) Abdul Aziz Talib with a majority of almost 7,000 votes. 
In the coming GE15, he is set to contest against BN's Mohd Helmy Abd Latif and PAS' Abdullah Husin for the Muar seat. 
Syed Saddiq was also credited as the lynchpin behind the "Undi 18" movement which saw Malaysia lowering the voting age from 21 to 18. The new voting age came into effect at the end of 2021.
MUDA, which is participating in GE15 as an ally of PH, has so far announced five candidates, including Syed Saddiq, who will contest in the election. 
It had previously announced that party co-founder Lim Wei Jiet and central executive committee member Siti Rahayu Baharin will each be contesting in Tanjung Piai (Johor) and Tanjong Karang (Selangor) respectively. 
MUDA vice-president and also co-founder Shahrizal Denci is the only candidate fielded by the party in Sabah and will contest in Kota Marudu. 
Former BN member who had since switched to MUDA, Danial Abdul Majeed, will contest another federal seat of Kepala Batas, Penang.  
DIFFICULT FIGHT IN SUNGAI BULOH: KHAIRY 
Meanwhile, caretaker health minister Khairy Jamaluddin who has been nominated as a BN candidate for the Selangor constituency of Sungai Buloh, said he welcomed the opportunity to stand in the ward but expected to see a difficult contest there.  
The former Rembau MP regards himself as an underdog in the Parti Keadilan Rakyat (PKR) stronghold but hopes to win the parliamentary seat regardless.
"I come here as the underdog but I am confident. If we unite, work hard (and) convince the voters, we can conquer Sungai Buloh on Nov 19," he was quoted as saying by Bernama at the 'Together With KJ' function held at the Sungai Buloh Parliamentary constituency on Wednesday. 
Mr Khairy said that the task of winning the Sungai Buloh seat will not be an easy one because PKR incumbent Sivarasa Rasiah had won the seat by a 20,000 vote majority during GE14. 
Mr Sivarasa, however, will not be defending the Sungai Buloh seat and will be replaced by PKR's R. Ramanan, who was a former member of the Malaysian Indian Congress. 
Following the BN announcement of Mr Khairy's candidacy, PKR deputy president Rafizi Ramli suggested on Wednesday that PH may change its coalition candidate running for the Sungai Buloh seat after receiving negative feedback from constituents regarding Mr Ramanan. 
PKR is a component party of the PH coalition. 
However, it was confirmed on Thursday that Mr Ramanan will not be replaced to defend the PKR seat in Sungai Buloh.  
Selangor's PH chairman Amirudin Shari confirmed this to the media at an event on Thursday morning. 
He said it was the final decision reached between Mr Rafizi and PKR president Anwar Ibrahim.
At a press conference later in the afternoon, Mr Rafizi confirmed that PKR will not change its current candidate after his extensive discussions with Mr Anwar.  
"(Anwar Ibrahim) holds the final say in the fielding of candidates," he said, adding that he respects the party president's decision on the matter. 
In GE15, some 21 million eligible voters are expected to cast their ballots to elect 222 new members of the Lower House of parliament. 
The Election Commission has fixed the polling day on Nov 19 and nomination on Nov 5.