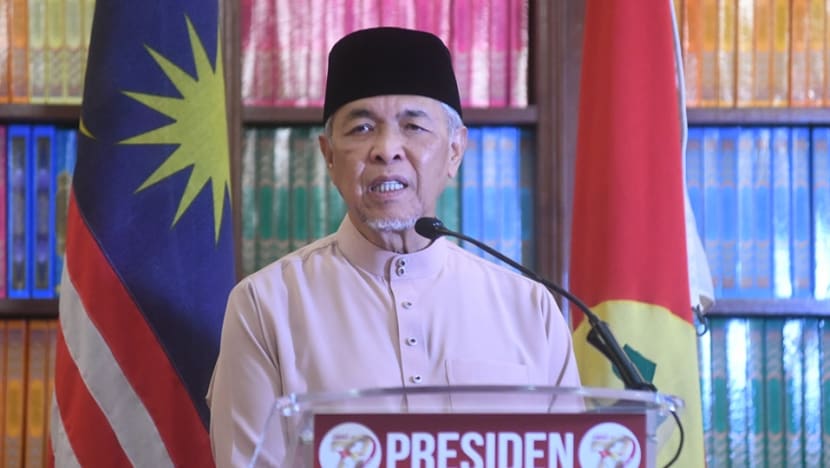 KUALA LUMPUR: The United Malays National Organisation (UMNO) is still relevant despite the perception that it is now like a "lifeless" party following its poor electoral showings since 2018, said party president Ahmad Zahid Hamidi on Thursday (May 11). 
"We see that UMNO seems like it is lifeless. That is the perception of society as a whole. 
"But UMNO is still relevant even though our number of members in parliament is only 26 at the moment with four more from BN (Barisan Nasional)," he said at the party's 77th anniversary celebration. 
According to Bernama, Ahmad Zahid - who is also Malaysia's deputy prime minister - said that UMNO has gone through various challenges throughout its 77 years of existence and that the struggles ahead may change over the years. 
"When we look within, we should not forget history but if we keep digging into history without preparing to move forward, we will end up nowhere. 
"In two more decades, when UMNO is 100 years old, the outline of UMNO's struggles may have changed," he reportedly said. 
UMNO, which is the oldest political party in Malaysia, lost its 61-year hold on government when it was voted out of power in favour of the Pakatan Harapan (PH) coalition during the 14th General Election in 2018.
In his speech on Thursday, Ahmad Zahid noted that UMNO functions better in the current unity government as compared to its ties with partners in the previous government. The previous government comprised Barisan Nasional (BN), of which UMNO is a component party, and Perikatan Nasional (PN). 
On seat allocations for the upcoming six state elections, Ahmad Zahid reportedly said that BN deputy chairman Mohamad Hasan will lead the negotiations with parties in the unity government. 
"We leave it to the wisdom of the UMNO deputy president (Mohamad) for the negotiations," he was quoted as saying by Bernama. 
The six states where elections are due to be held this year are Selangor, Negeri Sembilan, Penang, Kedah, Kelantan and Terengganu.
Separately, Ahmad Zahid appeared to take a swipe at Parti Islam Se-Malaysia (PAS) and claimed that the Islamist party will one day abandon its partners in the opposition PN coalition. 
According to the Malay Mail, Ahmad Zahid said that PAS has a tendency to abandon partners each time it joins any political coalition, just like it did in Muafakat Nasional which had united the party and UMNO against the then-ruling PH coalition. 
"When chaos starts to happen, I think that (PN) will soon break and the political partners will also be kicked out (just) as (PAS) kicked us out," Ahmad Zahid reportedly told attendees of the event. 
Ahmad Zahid also rejected PAS's claim that UMNO was sidelining Malay unity, according to the Malay Mail. He reportedly said that Malay unity was a prime objective of his party and that it must be compatible with the country's diversity. 
"So, we will continue to strengthen the struggle without abandoning the pluralism of Malaysia, which is a diverse country," he said, adding that for as long as UMNO remains in the government of the day, the Federal Constitution stating that Islam is the religion of the federation would remain supreme.