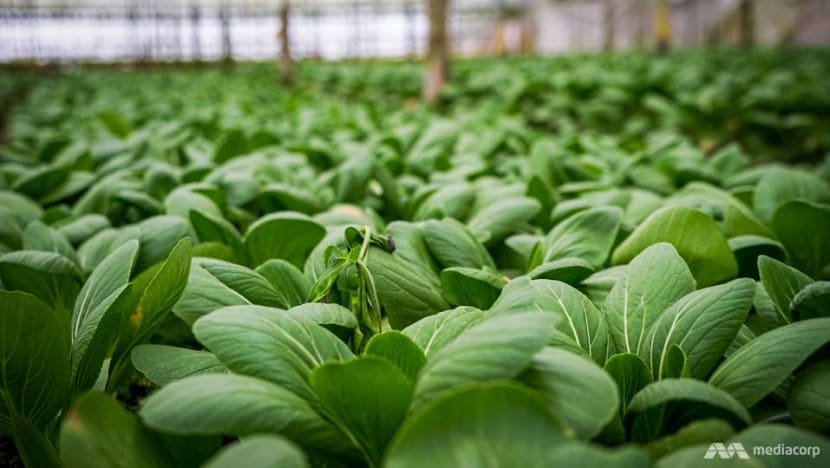 KUALA LUMPUR: The Malaysian government will be holding regular sales of basic goods as part of the efforts to keep prices of necessities affordable to consumers, Domestic Trade and Consumer Affairs Minister Alexander Nanta Linggi told parliament on Tuesday (Nov 30).
Speaking during question time, Mr Nanta said that the government will organise the "Keluarga Malaysia" (Malaysian Family) sales twice a month starting from this Saturday.
"The ministry will ensure that the prices of the goods sold will be cheaper than the market, by 15 to 20 per cent," he said, adding that the sales would be held in all 222 parliamentary constituencies.
He was responding to a question by former finance minister Lim Guan Eng and opposition MP for Bagan about actions to contain the rising prices of goods.
Mr Nanta said that other government agencies and departments would also cooperate with his ministry to ensure that the sales of these basic necessities would reach households affected by the price increases.
Currently, the ministry had over 1,000 price monitoring officers roving daily to check the prices of 480 items in 1,500 premises nationwide, to ensure that price rises occurred reasonably. 
The ministry would also activate the Festive Season Maximum Price Control Scheme earlier in December as Christmas was approaching.
Mr Nanta said the date for the festive price control scheme would be announced very soon, and warned traders not to take advantage by raising their prices early before the scheme's announcement.
However, Lim said the minister should not have blamed traders alone as the price increases were a result of supply and demand.
"A few associations now have stated that vegetables' prices are now more expensive than meat, with the price of chillies now RM20 (per kg). Where has this ever been seen before," Lim noted.
He proposed that a fund could be formed using the government's windfall tax money, to assist farmers or traders in reducing costs. 
Meanwhile, Mr Nanta said that the Agriculture and Food Industry Ministry (MAFI) was also drafting a strategy following discussion between the ministry and industry players.
Some proposals included permitting import of chickens from approved processing plants overseas, as a temporary solution to increase supply and stabilise the market.
"The prime minister has also announced an assistance plan totalling RM262 million (US$62 million) to assist farmers affected by the increased fertiliser and pesticide costs," Mr Nanta noted.
RM200 million from the assistance fund, he said, was to be set aside as an agro-food, zero-interest loan with a six-month repayment moratorium for producers. 
RISING FOOD PRICES A "NATIONAL CRISIS": ANWAR IBRAHIM 
During the debate, opposition leader Anwar Ibrahim also took issue with Mr Nanta on the government's response to the rising price hikes of essential goods.
Mr Anwar called on Putrajaya to act fast as the rising prices for food supplies had become a "national crisis" and a burden for consumers.
At another event during his tour of the Selangor Agricultural Development Corporation's (PKPS) stalls in Shah Alam, Mr Anwar said in situations like the current price hikes, federal agencies should be making their rounds to assist the farmers.
"They should go down (to the ground) to reduce the burden, bring out (produce) from the farms, so the farmers can get a better price, while also reducing prices for the consumer," he said.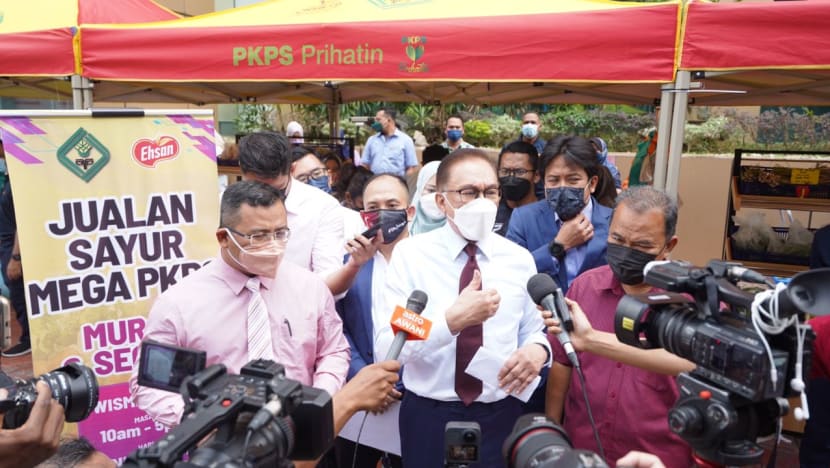 Mr Anwar also praised the PKPS' Fruit Valley initiative, which managed to keep the cost of its fresh produce low and expressed his hope that other state governments and the federal agencies could follow its example. 
On Nov 23, the Consumer Association of Penang (CAP) had published a list showing how much vegetable prices had soared, calling for government authorities to step in to bring down the sharp price hikes.
Following public outcry, Domestic Trade and Consumer Affairs Deputy Minister Rosol Wahid told parliament last week that investigations by his ministry  discovered that the price increases were not as dramatic as claimed by CAP.
Vegetable farmers associations interviewed by CNA said that prices of some agricultural produce had increased between 30-40 per cent recently.
They said beside the heavier-than-usual monsoon season, the lack of labour and increase in farming production cost had affected harvests and food supply.