IN FOCUS: With more pursuing careers abroad, can Malaysia stem the talent brain drain?
Malaysian workers cite better salary and career prospects among the main reasons for working overseas. But efforts by the government are underway to reverse this worrying trend.
JOHOR BAHRU: After graduating from a university in the United Kingdom in 2020, Abigail Heng initially planned to return to Malaysia to work. 
The economics graduate saw herself working for a local bank in Kuala Lumpur, where she grew up.
However, after further consideration, she came to the conclusion that pursuing her career in Malaysia was "never a realistic option". 
"I considered applying to some financial banks and companies in KL but the salaries offered were really low," recounted the 26-year-old Malaysian. 
"(I) also felt that the prospects for career progression were not as good as other options, so I decided to stay in the UK."
Eventually, she joined a finance company based in London. 
Ms Heng is among thousands of Malaysians with tertiary qualifications who have decided to pursue their careers overseas. 
According to a report by Kuala Lumpur-based independent think tank EMIR Research, around 2 million Malaysians are residing overseas. Out of this, around half a million are people above 25 years old, who are more likely to be employed. 
The report, which was released in June and cited by various Malaysian media outlets, sparked a debate about Malaysia's brain drain situation. Brain drain refers to an exodus of skilled and talented workforce from the country. 
Dr Margarita Peredaryenko, the co-author of the report, told CNA that the findings were based on figures by the United Nations' population division as well as research by Harvard University. 
"From the data points we had … we extrapolated that between 1980 and 2022, the brain drain in Malaysia has been increasing in exponential fashion," said Dr Peredayanko.
She posited that losing this large amount of talent in the workforce over the last four decades has impacted Malaysia, including when it comes to the economy and foreign direct investments.
"Conversely, youth unemployment is on the rise, so you can see how the profound impact of the brain drain on Malaysia rages on," she added. 
In the course of public discussions over Malaysia's brain drain problem, the case of Sam Lim, who was recently elected into the Australian parliament, has been cited as an example.
Mr Lim grew up in Johor. He worked as a dolphin trainer and police officer before emigrating to Australia in 2002. He later joined the Western Australia police force.
Klang Member of Parliament (MP) Charles Santiago tweeted in late May: "Ex Malaysian Sam Lim becomes an MP in Australia. The latter benefits from Malaysia's brain drain. Congrats MP Sam Lim."
The brain drain problem is not a new phenomenon in Malaysia.
In 2010, Malaysia's National Economic Advisory Council warned the government that the phenomenon was reaching a "dangerous stage" with a large number of talented people leaving the country.
In 2011, the World Bank released a report entitled "Malaysia economic monitor: brain drain", which cited that two out of 10 Malaysians with tertiary degrees were working overseas. 
To overcome this, Malaysia's Ministry of Human Resources set up an agency - Talent Corporation Malaysia (TalentCorp) in the same year. The agency's aim is to attract and retain the right talent as well as expertise to boost Malaysia's economy.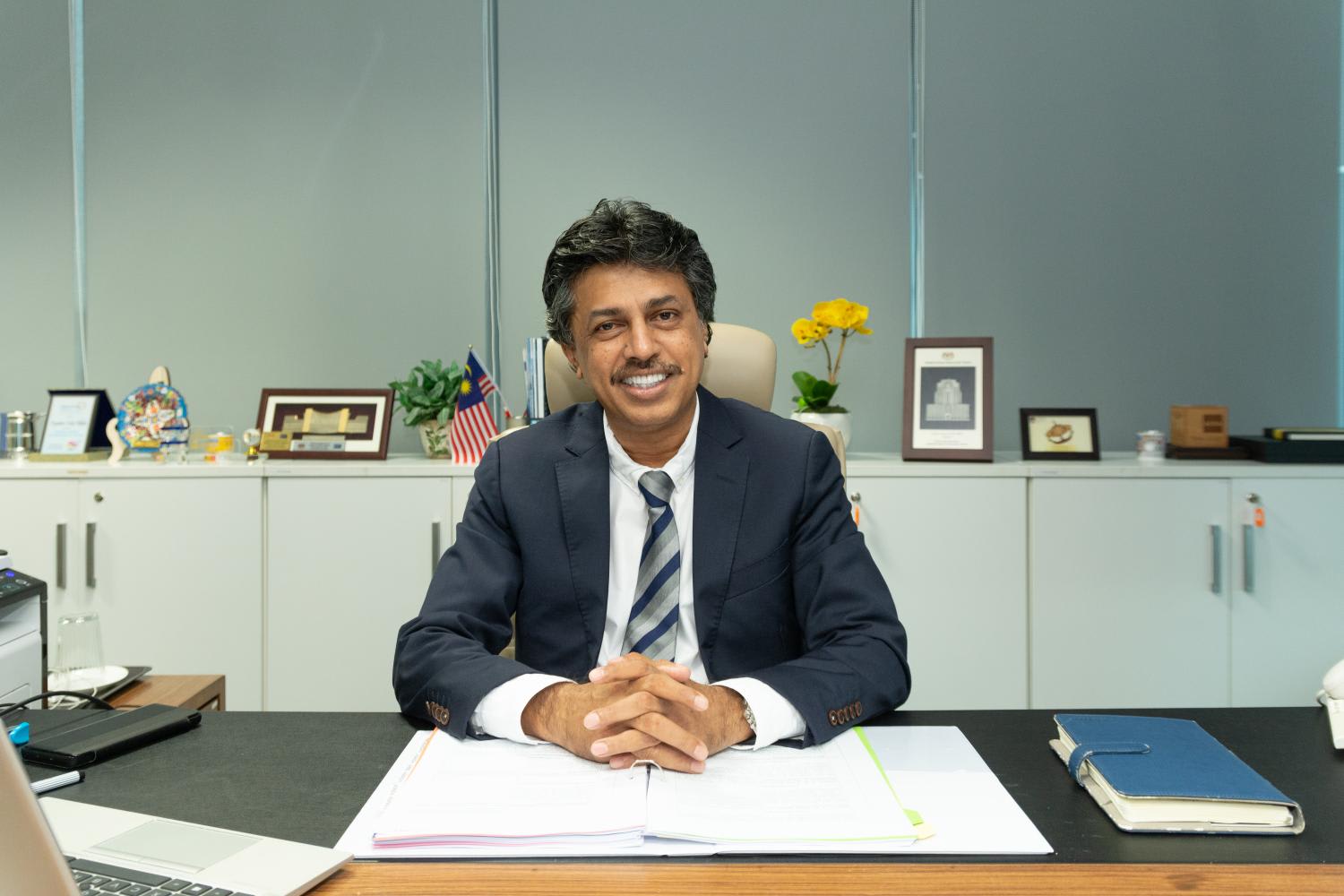 The agency's group chief executive Thomas Mathew told CNA that indeed there is a large network of high-skilled Malaysians around the world, with high concentrations in five countries - Australia, Canada, the United Kingdom, Singapore and the US. 
He noted that the key reasons for skilled Malaysians hesitating to return home were the big gap in remuneration and benefits, unsuitable job conditions as well as difficulties for foreign spouses and children to adapt to the country.
SINGAPORE A MAJOR DESTINATION FOR PROFESSIONALS
The prospect of working in more developed economies like neighbouring Singapore has proven to be difficult to turn down.
Mr Mathew noted that Singapore hosts the largest share of the Malaysian diaspora, with more than half of the workers based there classified as professionals and 80 per cent being employed in the services sector. 
Among these workers is Dr Khoo Yong Khean, a scientific officer at the DUKE-NUS medical school. In 2017, he left the Malaysian public service to work in Singapore.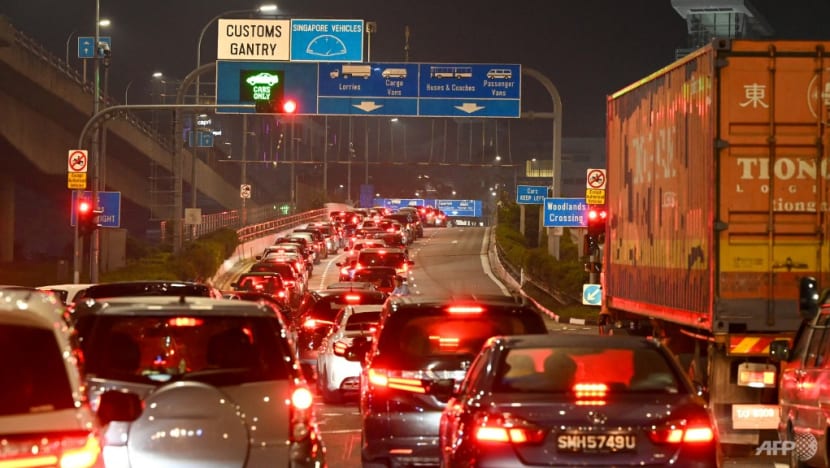 Dr Khoo told CNA that what persuaded him to cross the Causeway was to expand his horizons and move away from what he called the "rigid path" of advancement in Malaysia's healthcare industry. 
He explained that the career pathway for a doctor in Malaysia is more structured as compared to Singapore. In Malaysia, there is less room to specialise in research, which he is keen to explore. 
"I wanted to learn and explore things about healthcare. Singapore is a major healthcare hub in the region. It's well-connected, easy to adapt in terms of culture … It's also close to home," added the 39-year-old.
He said that remuneration offered in Singapore was a pull factor which influenced his decision, especially given the strength of the Singapore dollar versus the Malaysian ringgit.
These sentiments were echoed by nurse Jamunah Arumugham, who was trained in Melaka and moved to Singapore in 2011.
She initially crossed the border to gain work experience but the boost in remuneration she received also allowed her to settle her study loans and ease the financial burden on her family. 
She told CNA that when she joined Singapore's National University Hospital, she was earning around S$2,500 (RM7,927) a month, more than 5 times the RM1,500 she pocketed as a junior nurse in Melaka. 
Ms Arumugham presently lives with her husband and 3-year-old son in Johor Bahru and commutes regularly across the border for work. 
"I have many financial commitments at the moment - house, car mortgage and also to support my family. It will be very difficult for me to just quit and come home to work in Malaysia," added the 35-year-old. 
Human resources expert Koay Gim Soon told CNA that compensation continues to be the most important driver when it comes to talent attraction in Malaysia. 
"The saying 'Cash is King' still applies to the Malaysian market. When presented with the same or similar work opportunities, candidates typically consider compensation first before looking at other factors such as benefits, career progression as well as the company's branding and culture," added Mr Koay, who is with asset management company Mercer.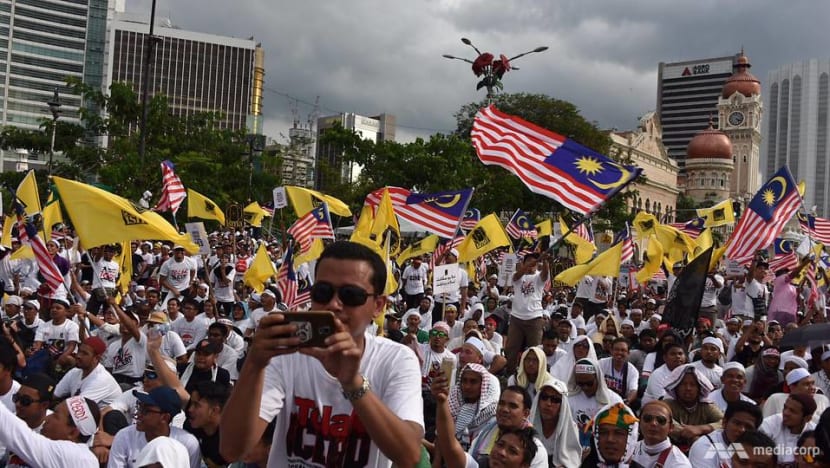 RACE-BASED POLICIES A PUSH FACTOR?
Another possible push factor for Malaysia's brain drain is perceived discrimination, especially among ethnic minorities.
In an interview with The Edge Markets earlier this year, deputy national unity minister Wah Ahmad Fayhsal Wan Ahmad Kamal was asked for his views on brain drain and the emigration of Malaysians who are disgruntled with the way the country is run.
"I can be sympathetic towards that, especially the non-bumis, as they feel oppressed or (treated in an) unjust (manner), because they are not given proper chances to thrive," he said.
He added: "For example, the government cannot give scholarships for everyone from every race equally, for reasons of equitability. So, the Malays have to be given a little more than the Chinese and Indians.
"But are such efforts the sole responsibility of the government? I don't think so. The private sector should be given the mandate to help the government in addressing this gap."
Malaysia's Constitution safeguards the special position of Malays in the country, the ethnic group which constitutes a majority of the population. There are various benefits for Malays and bumiputeras, such as reserved admission places in local universities, bank loans and overseas scholarships.
Back in 2013, then deputy president of the Malaysian Chinese Association (MCA) Liow Tiong Lai was quoted by Malay Mail as saying that race-based policies has been a factor in some people leaving the country.
MCA is a component party within the Barisan Nasional (BN) coalition. At that time, the government was led by BN.
"I will say in the past the issue of Ketuanan Melayu (Malay supremacy) in fact caused some to emigrate from the country but we want to emphasise that Malaysia is a multiracial country and we preserve harmony and unity in this country.
"So we don't want to see any race dominant against other races," added Mr Liow, who was then the health minister.
In 2016, then home affairs minister Ahmad Zahid Hamidi said in parliament that of the 56,576 Malaysians who renounced their citizenship over the past decade, more than 90 per cent, or 49,864 people, were ethnic Chinese. 
Meanwhile the rest comprised 1,833 Indians, 834 Malays and 4,044 who were classified under the "others" category. 
"Those who gave up their citizenship did so after obtaining citizenship from other countries," he reportedly said. 
Some who were interviewed by CNA claimed that within certain industries, career progression tended to favour ethnic Malays.
Ms Heng, the economist based in the UK, told CNA that she felt like a "second class citizen" living and growing up in Malaysia. 
She added that these affirmative action policies have dissuaded her from coming back to work in Malaysia. 
Malaysian Nancy Neo, who has been based in Australia for more than a decade, suggested that these race-based policies were unjust. 
"I don't want my children to grow up in an environment where they are not judged based on merit," the management consultant told CNA. 
EMIR Research's Dr Peredaryenko noted that based on the think tank's research, the relationship between brain drain and race-based policies is not a new one.
"This is not a new issue, this has been there for decades - ethnic polarisation, segregation and tension at every level in society, institutions and family units," she said.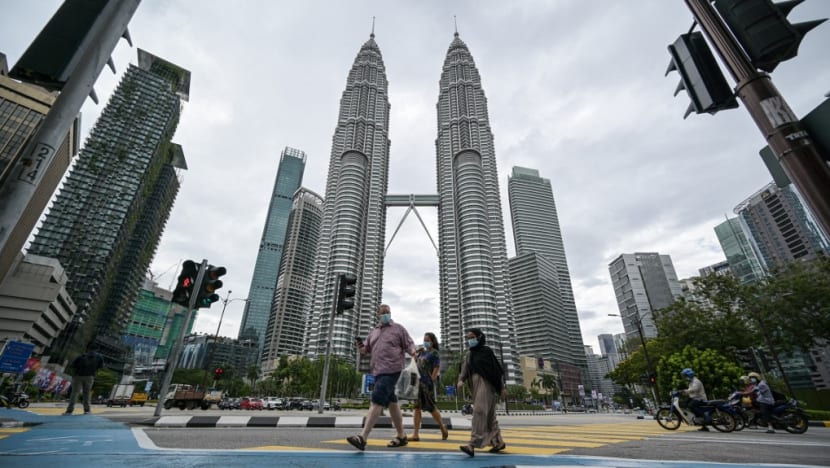 However, not all Malaysians feel that race is a factor when it comes to deciding where to work.
Mr Kiranjeet Singh Purba, who returned to Malaysia to join a food delivery platform as a senior director, told CNA that as a destination to pursue his career, Malaysia was on par with other countries. 
He said racial diversity is a big part of the industry and his firm, where he feels that employees are judged based on merit rather than ethnicity. 
Since 2016, Mr Singh has worked in Singapore, Melbourne and Jakarta in the consumer technology industry. He moved back to Malaysia during the prolonged border closures enforced by the COVID-19 pandemic. 
"In my case, I was fortunate enough to receive an amazing opportunity with Foodpanda to work on a brand new, very interesting project from the ground up," said Mr Kiranjeet.
FROM BRAIN DRAIN TO BRAIN GAIN? 
In spite of the factors that are prompting Malaysians to seek greener pastures overseas, TalentCorp's Mr Mathew maintains that the agency strives to limit the extent of the brain drain. Among the measures include rolling out the Returning Expert Programme (REP). 
The programme includes the Malaysia@Heart initiative, which offers incentives for skilled Malaysians who wish to return from abroad. 
These incentives include an optimal 15 per cent flat tax rate on chargeable employment income for five consecutive years as well as granting PR status to foreign spouses and children who are eligible, subject to the approval and discretion of the Malaysia Immigration Department. 
"(They) include building a diaspora network platform, facilitating family, education, and employment opportunities, and potentially collaborating on initiatives and programmes to benefit Malaysia and its talents at home," said Mr Mathew.
"The emphasis is on brain circulation and 'brain gain' where we tap into the best brains across global borders," he added. 
Mr Mathew also cites a World Bank study in 2015 to illustrate the programme's success. 
He outlined that for those who have secured approval under the REP,  the probability of each of them returning to Malaysia was between 40 and 70 per cent. 
As of June 2022, TalentCorp has facilitated the return of around 6,000 skilled Malaysians from abroad under the REP programme, out of more than 10,000 applicants.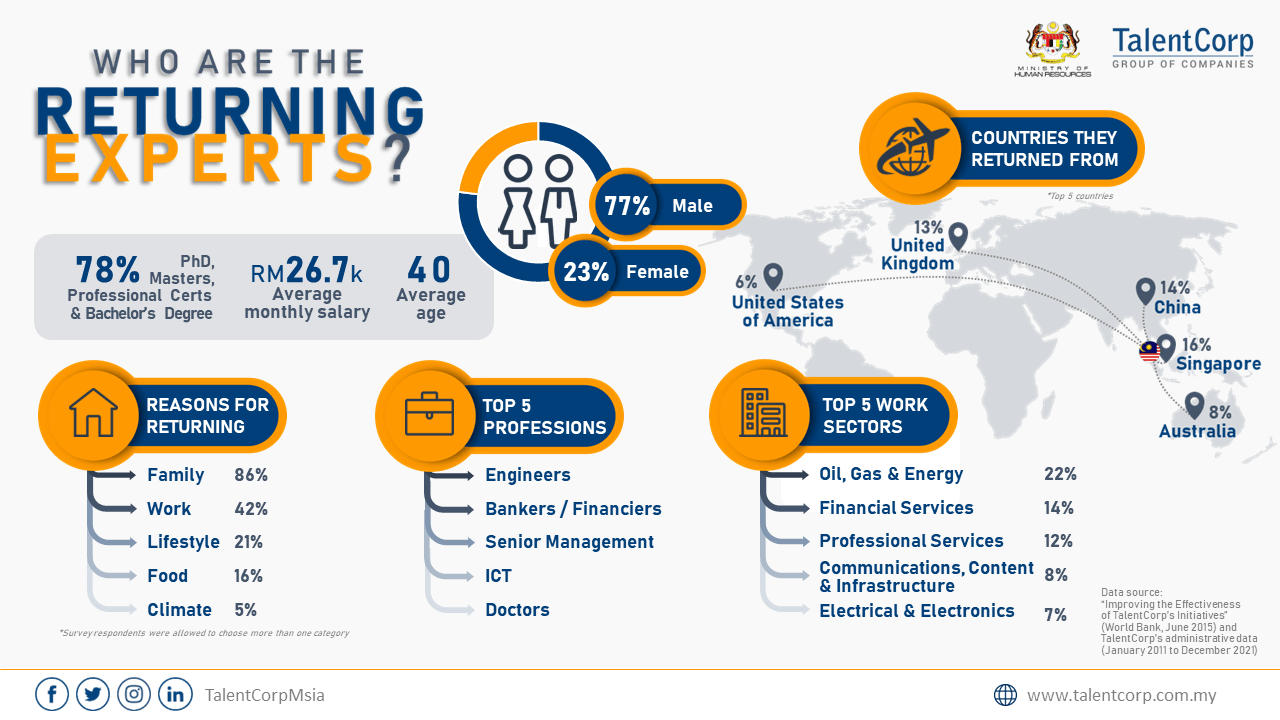 Additionally, Mr Mathew stressed that the main challenge was to ensure that job opportunities are made available to Malaysians.
He cited how TalentCorp works closely with industries to boost employment. He said that recently, various foreign firms have set up operations in Malaysia, increasing opportunities in the job market for locals. 
These examples include the recent opening of an electric vehicle battery cell manufacturing facility in Seremban, Negeri Sembilan by Samsung SDI energy as well as a new facility for US-based Insulet Corporation in Senai, Johor.
Mr Mathew said that the two facilities are offering 1,300 and 500 jobs respectively.  
"We believe that by making our available workforce ready and relevant to industries, the demand by industries for our professionals will increase and this then serves as an impetus for industry growth and expansion and attraction of FDIs," said Mr Mathew. 
Besides government initiatives, Malaysian firms must also play their part in attracting and retaining talent. 
Mercer's Mr Koay said that Malaysian companies have to first ensure that the salary packages are fair for similar job positions in other countries. 
He acknowledged that this may be challenging, especially given the strength of foreign currencies, but Malaysian firms could offer some perks that would allow them to gain comparative advantage. 
These include embracing hybrid work arrangements, upskilling or reskilling initiatives as well as pathways for career progression. 
"Drawing insights from Mercer's 2022 Global Talent Trends Study, one in three employees in Asia are willing to forgo pay increases to be able to work flexibly, and nearly seven in 10 say not being able to work remotely or hybrid permanently is a deal breaker when considering whether to join or stay with an organisation," said Mr Koay. 
Mr Kiranjeet, the senior director, is an example of a Malaysian working abroad who was incentivised by TalentCorp's REP initiative.
A major pull factor was being able to raise his children in Malaysia surrounded by family. He said that TalentCorp's efforts to facilitate the move were "critical" in his journey back home.  
"TalentCorp was operating remotely and efficiently despite the challenging circumstances," said Mr Kiranjeet. 
He recounted that TalentCorp not only assisted in his application requirements and the return process. It also kept in touch after his return to ensure that he has settled in well. 
For many others, they are not ruling out the option of returning home to be near their families and contributing to the country's development in the future. 
Ms Arumugham, the nurse, said: "Perhaps in three to four years, I might go back to Johor Bahru and work as an instructor nurse to train those new to the profession. I will also get to be near my son and enjoy more family time. 
"I'll always love my country and if one day there is a shortage of nurses or a suitable job opportunity for me there, I will come back and serve Malaysia."