No cross-dressing for male artistes, blackout dates on Islamic holidays among updated rules for Malaysia concerts
However, the new rules also reduced the blackout dates for performances during Malaysia's independence day celebrations between August and September.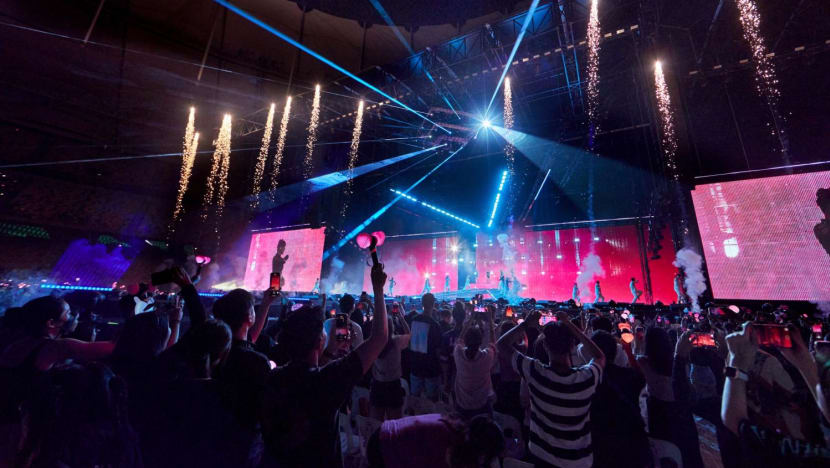 KUALA LUMPUR: Male foreign artistes who intend to perform in Malaysia are not allowed to dress up like women and no performances will be permitted during Islamic holidays, according to the country's updated guidelines on concerts and live shows.   
The guidelines are published on the official portal of the Central Agency for Application for Filming and Performance by Foreign Artistes (PUSPAL) under the Ministry of Communications and Digital. 
A member of the PUSPAL communications team confirmed to CNA on Wednesday (Mar 15) that the guidelines have been updated from a previous version of the document published in 2019. 
Some of the updated regulations impose stricter conditions on performers while other regulations have loosened some of the conditions to perform concerts and live shows in Malaysia.  
For instance, the dress code in the guidelines states that male foreign artistes are prohibited from "dressing up and wearing clothes that cause them to resemble women". These artistes are also prohibited from wearing "only underwear" when performing. 
Additionally, the PUSPAL guidelines specify that female foreign artistes are prohibited from wearing clothes that "widely expose the chest area" or are "too high above the knee". 
The new guidelines also state that large-scale concerts and live performances by foreign artistes are not permitted to be held on the night before and on actual days of Islamic holidays unless permitted by the "respective Islamic authorities".
These include Islamic celebrations such as Awal Muharram, Maulidur Rasul, Isra' Mikraj, Nisfu Sya'ban, Nuzul Al-Quran, Hari Raya Aidilfitri, Hari Raya Aidiladha. No live performances or concerts are also allowed throughout the month of Ramadan. 
Aside from live performances, the updated guidelines also state that foreign production crews who intend to do filming in Malaysia must submit a script to PUSPAL for approval before they can proceed. 
Foreign filming crews who have been found to film content which contradicts government policies and damages the country's image will also be disallowed from filming. 
However, the blackout dates for concerts and large-scale events have been reduced during Malaysia's independence day celebrations. In the 2019 version of the PUSPAL guidelines, concerts and large-scale celebrations were not permitted between Aug 25 and Sep 16.
In the latest version of the guidelines, such events are not allowed only on Aug 30 and Aug 31, due to Malaysian Independence Day and during the Malaysia Day celebrations on Sep 15 and Sep 16. 
In its report on Thursday, The Star quoted a government official as saying that there will be continued engagement with stakeholders and that a second phase of updates will be made to the guidelines by December 2023.
"Among our suggestions are to improve the level of concerts and live performances for the audience.
"We want to spell out a set of standards on what industry players can do to ensure a good experience for concert-goers and spectators such as by having clean and sufficient toilets, proper seating and facilities," the official reportedly said.