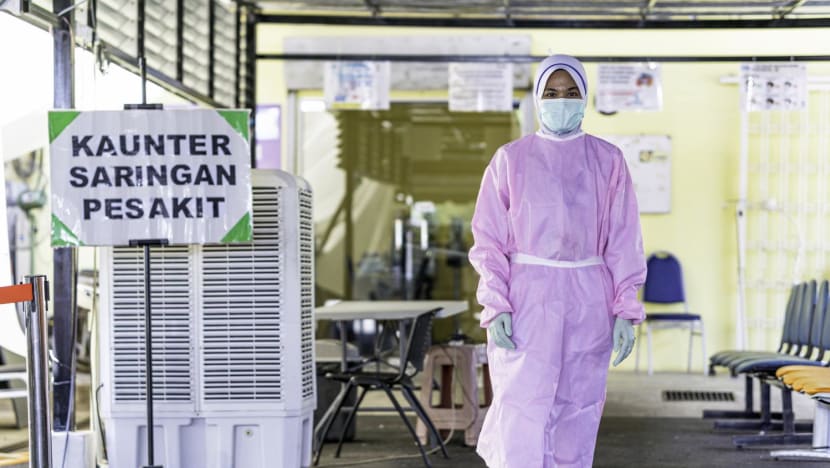 KUALA LUMPUR: The number of hospitalisations due to COVID-19 has grown by 42 per cent in the past week but this was the result of a "pre-emptive measure" to ensure that patients' condition do not get worse, said Malaysian Health Minister Khairy Jamaluddin.  
He said that the majority of the hospitalisations were for people classified as Category 1 and 2, who are not considered to be severely ill.
"They have been admitted as a pre-emptive measure so that they can be monitored and (we can) ensure that their condition does not deteriorate. We only admit those who are considered to be high-risk such as those who have comorbidities, or those aged 60 years and above.
"Because of this policy, the number of hospitalisations will increase in tandem with the increasing number of COVID-19 cases," he said during a press conference on Thursday (Feb 17).
The minister explained that those who are considered to be at high risk include people with diabetes, high-blood pressure, are immunocompromised or live in a small space with many family members.
He said that based on official data in January, those who deteriorated from Category 1 and 2 to Category 3 was 1.2 per cent, while those who deteriorated to Category 4 and 5 was 0.6 per cent.
The number of daily cases has increased 109 per cent during the same period, noted Mr Khairy.
He said that other countries in the region were also experiencing the Omicron wave. He claimed that as of Feb 15, Singapore recorded 2,078 cases per one million people while South Korea reported 1,001 cases per one million people.
He noted that Malaysia reported a ratio of 629 infections for every one million people during the same period.
Mr Khairy also said that while the number of COVID-19 cases has increased, the number of deaths has not grown in tandem. This is a different situation from how the numbers spiked when the Delta variant hit Malaysia in August last year.
The minister also reiterated the importance of taking COVID-19 vaccine booster jabs. He said that for Category 3, 4 and 5 cases on Feb 16, 52.8 per cent had not received their boosters while 24.7 per cent were not fully vaccinated.
"The boosters are very important to reduce the severity of the disease," he said, adding that anyone could walk into the vaccination centres to get their jabs.
The minister also said that there was a 160 per cent increase in the number of children below 12 who were infected by COVID-19 in the sixth epidemiological week of this year, compared to the fifth epidemiological week.
Mr Khairy said that the number of new daily cases will no longer be released in the afternoon.
Instead, from Feb 19 onwards, it will be released together with other relevant data including bed utilisation, number of patients in intensive care and number of those requiring respiratory assistance.
"This is to decrease the fear factor about the number of daily cases. This will involve a mindset change. Rather than looking at 20,000 cases or 30,000 cases daily, we should look at it with the other metrics and get a clearer picture of the real situation," he stated.
When asked about the gap in going for booster shots among the different ethnicities in Malaysia, Mr Khairy noted that there was hesitancy among the Malay community to do so.   
"It is not that we want to look at it from a racial lens. But when the numbers are so clear … one ethnicity has a high uptake while the others are low, I feel if we don't take into account this information, we will not be able to conduct effective intervention," he said, adding that efforts to engage with the community must be increased.
Malaysia reported 27,831 new COVID-19 cases on Wednesday, marking the sixth consecutive day the country has exceeded 20,000 daily infections.
It was Malaysia's highest ever daily tally of COVID-19 cases.
As of Thursday, more than 13.6 million or 57.8 per cent of the adult population have received their booster dose while 97.5 per cent have completed their vaccination.
Mr Khairy had said last week that the spike in COVID-19 caseload was not unexpected, and that the Omicron wave is expected to peak in the second half of March.
Since the start of the pandemic, Malaysia has reported more than 3 million COVID-19 cases with more than 32,000 deaths.