KUALA LUMPUR: Malaysia reported 22,133 new COVID-19 cases on Tuesday (Feb 15), marking the fifth consecutive day the country has exceeded 20,000 daily infections. 
It is also Malaysia's second highest daily tally this year, after it logged 22,802 new cases on Saturday. 
Health director general Noor Hisham Abdullah said more than 99 per cent of the new cases were asymptomatic or with light symptoms.
Another 102 cases were symptomatic with lung infection. Twenty-four other cases required oxygen assistance while 20 were in critical condition with multiple organ complications, added Dr Noor Hisham.
The Health Ministry urged members of the public to get their vaccination and booster shots. It also warned of "long COVID syndrome" and said symptoms such as difficulty breathing and cognitive disruption could persist for 12 weeks or more after patients have recovered. 
As of Monday, more 13 million or 56.8 per cent of the adult population have received their booster dose while 97.5 per cent have completed their vaccination.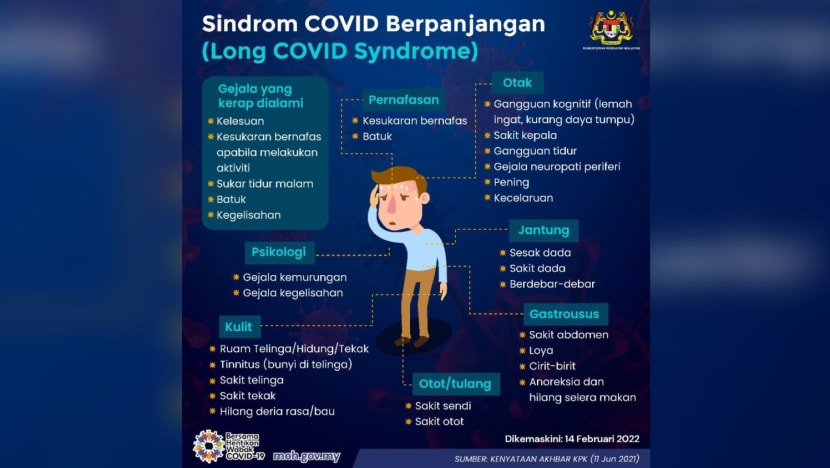 The rise in cases come as Johor prepares for the upcoming state polls, with voters voicing concern over the Omicron variant. 
Malaysia's Election Commission had announced that polling day for the Johor state election will be on Mar 12, with nominations to take place on Feb 26.
Health Minister Khairy Jamaluddin said last week that the spike in COVID-19 caseload was not unexpected, and that the Omicron wave is expected to peak in the second half of March. 
Since the start of the pandemic, Malaysia has reported more than 3 million COVID-19 cases with more than 32,000 fatalities.