Malaysia deputy ministers sworn in, completing PM Anwar Ibrahim's unity government Cabinet
Anwar Ibrahim's complete Cabinet is leaner than the teams helmed by predecessors Ismail Sabri Yaakob and Muhyiddin Yassin.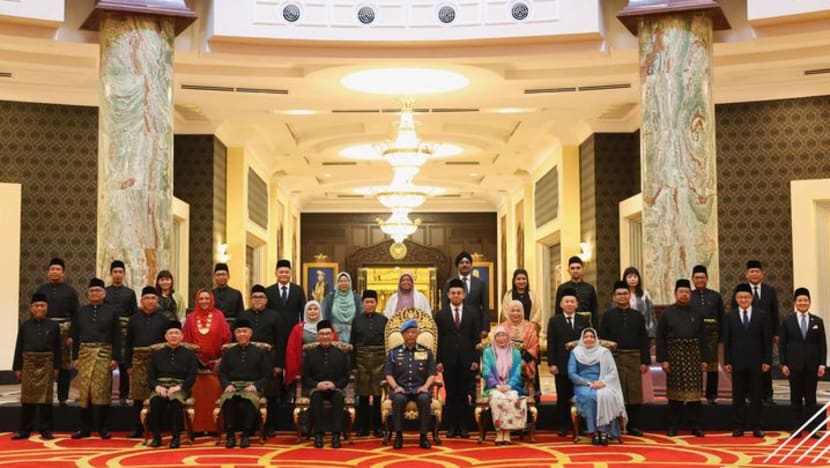 KUALA LUMPUR: Malaysia's deputy ministers were sworn in on Saturday (Dec 10) at the National Palace in Kuala Lumpur.
The 27 deputy ministers took their oaths of office, loyalty, and secrecy before the king, Sultan Abdullah Sultan Ahmad Shah.
They then signed the official documents on their appointment, witnessed by Chief Justice Tengku Maimun Tuan Mat and Chief Secretary to the Government Mohd Zuki Ali.
Malaysian Prime Minister Anwar Ibrahim and his wife, Wan Azizah Wan Ismail, were present to witness the ceremony, which began at 3pm local time. 
Also in attendance were the two Deputy Prime Ministers - Ahmad Zahid Hamidi, who is also Rural and Regional Development Minister, and Fadillah Yusof, the Plantation Industries and Commodities Minister.
Anwar, who is concurrently serving as the finance minister, on Friday night unveiled the line-up of deputy ministers, completing the Cabinet under his administration.
Anwar previously stressed that the top priorities of his unity government will be issues of good governance, easing the people's burden, and economic development.
His complete Cabinet now comprises 28 ministers and 27 deputies, which is leaner than the recent Cabinet teams helmed by Ismail Sabri Yaakob and Muhyiddin Yassin.
Under the Ismail Sabri administration, there were 31 ministers and 38 deputies while Muhyiddin had a Cabinet of 32 ministers and 38 deputies.
Anwar previously pledged that his Cabinet would be downsized and that he will do away with appointing Cabinet ministers as a form of reward.
On Dec 5, he also announced that Cabinet ministers will take a 20 per cent pay cut, out of concern for the problems faced by the public, until the country's economic situation recovers. 
Malaysia's unity government was formed after its recent 15th general election (GE15). It comprises PH, BN, Gabungan Parti Sarawak (GPS) and Gabungan Rakyat Sabah (GRS). 
A vote of confidence will be held during the next parliament session on Dec 19 to end the question of the legitimacy of the unity government led by Anwar. 
Full list of Cabinet ministers, deputy ministers
Prime minister: Anwar Ibrahim
Deputy prime ministers: Ahmad Zahid Hamidi, Fadillah Yusof
Prime Minister's Department
Law and Institutional Reform
Minister:  Azalina Othman Said
Deputy minister: Ramkarpal Singh
Religious Affairs
Minister: Dr Mohd Na'im Mokhtar
Sabah, Sarawak Affairs and Special Functions
Minister: Armizan Mohd Ali
Deputy minister: Wilson Ugak Kumbong
Ministry of Finance
Minister: Anwar Ibrahim
Deputy ministers: Ahmad Maslan, Steven Sim Chee Keong
Ministry of Rural and Regional Development
Minister: Ahmad Zahid Hamidi
Deputy minister: Rubiah Wang
Ministry of Plantation Industries and Commodities
Minister: Fadillah Yusof
Deputy minister:  Siti Aminah Aching
Ministry of Transport
Minister: Anthony Loke Siew Fook
Deputy minister:  Hasbi Habibollah
Ministry of Agriculture and Food Security
Minister: Mohamad Sabu
Deputy minister: Chan Foong Hin
Ministry of Economy
Minister: Mohd Rafizi Ramli
Deputy minister: Hanifah Hajar Taib
Ministry of Local Government Development
Minister: Nga Kor Ming
Deputy minister: Akmal Nasrullah Mohd Nasir
Ministry of Defence
Minister:  Mohamad Hasan
Deputy minister: Adly Zahari
Ministry of Health
Minister: Dr Zaliha Mustafa
Deputy minister: Lukanisman Awang Sauni
Ministry of Works
Minister:  Alexander Nanta Linggi
Deputy minister:  Abdul Rahman Mohamad
Ministry of Home Affairs
Minister:  Saifuddin Nasution Ismail
Deputy minister:  Dr Shamsul Anuar Nasarah
Ministry of International Trade and Industry
Minister: Tengku Zafrul Tengku Abdul Aziz
Deputy minister: Liew Chin Tong
Ministry of Higher Education
Minister: Mohamed Khaled Nordin
Deputy minister: Mohammad Yusof Apdal
Ministry of Science, Technology and Innovation
Minister: Chang Lih Kang
Deputy minister:  Arthur Joseph Kurup
Ministry of Women, Family and Community Development
Minister: Nancy Shukri
Deputy minister: Aiman Athirah Sabu
 
Ministry of Domestic Trade and Cost of Living
Minister: Salahuddin Ayub
Deputy minister: Fuziah Salleh
Ministry of Natural Resources, Environment and Climate Change
Minister: Nik Nazmi Nik Ahmad
Deputy minister:  Huang Tiong Sii
Ministry of Entrepreneur Development and Cooperatives
Minister: Ewon Benedick
Deputy minister: K Saraswathy
Ministry of Foreign Affairs
Minister: Dr Zambry Abd Kadir
Deputy minister: Mohamad Alamin
Ministry of Tourism, Arts and Culture
Minister: Tiong King Sing
Deputy minister: Khairul Firdaus Akbar Khan
Ministry of Communications and Digital
Minister: Ahmad Fahmi Mohamed Fadzil
Deputy minister: Teo Nie Ching
Ministry of Education
Minister: Fadhlina Sidek
Deputy minister: Lim Hui Ying
Ministry of National Unity
Minister: Aaron Ago Anak Dagang
Ministry of Youth and Sports
Minister: Hannah Yeoh Tseow Suan
Deputy minister: Adam Adli Abd Halim
Ministry of Human Resources
Minister: VN Sivakumar
Deputy minister: Mustapha @ Mohd Yunus Sakmud
 
Source: Others/Bernama/CNA/cm/zl