Desaru ferry terminal fully operational, almost all approvals granted for services to Singapore
DESARU: The Desaru Coast ferry terminal is fully operational and almost all approvals have been granted for services to be launched to Singapore. 
Speaking to reporters on the sidelines of the official launch of the terminal on Thursday (Mar 31), Transport Minister Wee Ka Siong said that the facility is "fully operational". 
He added: "In principle, all approvals have been obtained (from the Malaysian government) but there still needs to be beefing up of certain aspects."
"Today, we permit the ferry terminal to commence operations. But when travellers can come in, it depends on the company and when they can sell the ferry tickets." 
The minister explained that the ferry terminal will kick off operations in two phases. In the first phase over the next six months, there will be services between Singapore and Desaru. 
In the second phase, there will also be services to Indonesia's Batam and Bintan, he added. 
At a press conference after the launch, Mdm Roslina Arbak, managing director and chief executive officer for the Desaru Coast development noted that the company has attained all relevant approvals from the Malaysian authorities to launch ferry services to Singapore. However, it was still awaiting final approval from the Maritime and Port Authority of Singapore (MPA), she said.
"We're looking forward to getting the last leg of approval from MPA. We should be able to secure that soon and once we get that, we will be making the relevant announcements," she added. 
When asked to give an exact date on when the approval might be given, general manager of operations for Batam Fast Ferry Chua Choon Leng said that he was looking to get it "as soon as possible". 
"We are positive but at the moment we don't want to commit to any timeline," said Mr Chua. 
Earlier this month, Desaru Coast announced that it has appointed Desaru Link Ferry Services, a subsidiary of ferry operator Batam Fast Ferry, to run services between Singapore and Desaru.
The terminal is located adjacent to the Desaru Coast project, which encompasses Hard Rock Hotel, the Adventure Waterpark, as well as premium luxury seaside resorts The Westin, Anantara and One&Only. 
The event to launch the terminal was attended by Johor ruler Sultan Ibrahim Sultan Iskandar, who was accompanied by Dr Wee, Johor Chief Minister Onn Hafiz Ghazi as well as Mr Amran Hafiz Affifudin, the chairman for Desaru Holdings One, the Desaru Coast project's developer. 
In his speech at the event, Mr Amran Hafiz said the ferry terminal will serve as a "connectivity and catalytic component" for Desaru Coast to realise its full potential as an international destination. 
"In establishing this international gateway as the 16th entry point into Malaysia, we hope to spur and multiply the socio-economic development for the state and subsequently the country," he said.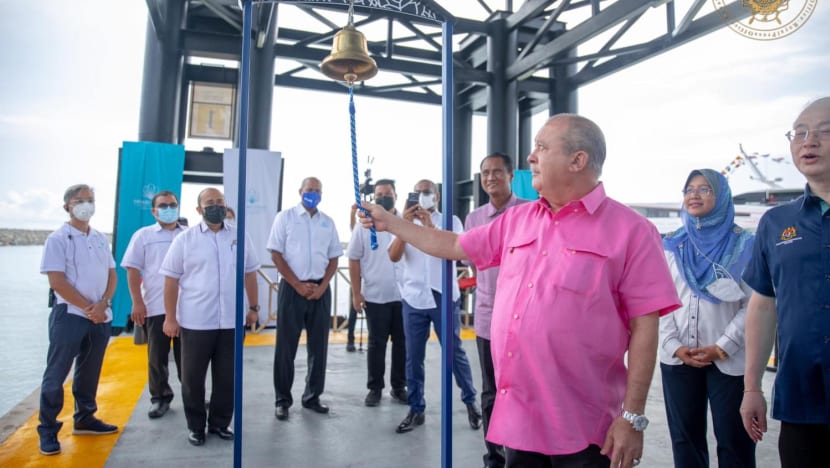 The ferry terminal has immigration facilities, including an automated e-gate for efficient immigration screening during peak travel periods. It is also able to process 300 passengers at any given time. 
For a start, the terminal hopes to serve two round trips from Singapore per day, from Thursdays to Sundays. There will also be one round trip per day from Mondays to Wednesdays, based on market demand.
The travel time between Tanah Merah and Desaru Coast ferry terminals will take around 90 minutes. Meanwhile, travel time between Desaru Coast and Batam as well as Bintan will be around 75 minutes and 45 minutes respectively. 
On Nov 29, when launching the air and land vaccinated travel lanes (VTL), Singapore Prime Minister Lee Hsien Loong and his Malaysian counterpart Ismail Sabri Yaakob discussed the possibility of launching a sea VTL between Tanah Merah ferry terminal in Singapore and Desaru in Johor.
From Apr 1, as part of transition to the COVID-19 end phase, both Malaysia and Singapore announced a reopening of borders to fully vaccinated travellers. 
On the same day, Singapore will transition to a new simplified framework - the vaccinated travel framework - removing all existing vaccinated travel lanes and unilateral opening arrangements.