'A big game changer': Desaru resorts hope possible sea VTL with Singapore will boost tourism
There has been no confirmation on whether a sea VTL will be launched. Both governments are still working out the details.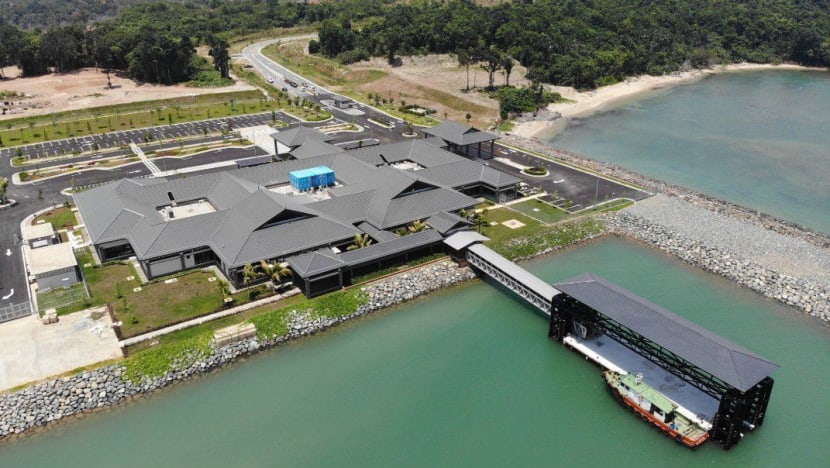 DESARU, Johor: Over the last three years, Desaru has undergone a massive transformation.
Once an ailing tourist destination which had seemingly lost its lustre, the seaside town in southeastern Johor now boasts premium luxury hotels, golf courses and a water theme park. 
However, due to border closures as a result of the COVID-19 pandemic, Desaru has been missing a key element which much of its rejuvenation was targeted at - visitors from Singapore. 
The spread of the coronavirus has stalled leisure travel between Singapore and Johor for most of the last two years, but recent reports of the possible launch of a direct sea route between Singapore and Desaru have given hope to the operators of hotels and resorts in Desaru. 
When launching the air and land vaccinated travel lanes (VTL) on Nov 29, Singapore Prime Minister Lee Hsien Loong and his Malaysian counterpart Ismail Sabri Yaakob discussed the launching of a sea VTL, possibly between Tanah Merah ferry terminal in Singapore and Desaru in Johor.
The leaders outlined that both countries are keen to have "more open borders" even if the new Omicron coronavirus variant disrupts plans to expand the VTL between both countries. 
Although there has been no confirmation if and when the sea VTL will be launched, hotel operators in Desaru who spoke to CNA expressed optimism that the possible opening of a new sea route will boost accessibility to the area. 
The area hosts the Desaru Coast project, which encompasses Hard Rock Hotel, the Adventure Waterpark, as well as premium luxury seaside resorts The Westin, Anantara and One&Only. 
Mdm Roslina Arbak, managing director and chief executive officer for the Desaru Coast development, told CNA that the possible sea VTL between Singapore and Malaysia will be a "game changer" for the attractions. 
Her team also manages the Desaru Coast Ferry Terminal, a newly constructed facility which is a proposed landing point for the sea VTL between Singapore and Desaru. 
"We have now completed the construction of Desaru Coast Ferry Terminal and are currently at the preoperational stage. The Desaru Coast Ferry Terminal will be a game changer for us," said Mdm Roslina.  
"As the latest entry point into Malaysia, our ferry services will bring guests from Singapore right to the doorstep of Desaru Coast destination resort in just over one hour. For travellers, this option significantly reduces touch points and minimises the need to drive too far or to take a flight," she added. 
Mdm Roslina outlined that the new ferry terminal will be able to accommodate 300 people at a time. It will also have facilities for travellers to clear immigration and for the Ministry of Health to conduct COVID-19 screening.
She told CNA that the ferry ride between Desaru Coast and Tanah Merah will take around 90 minutes. 
Mdm Roslina acknowledged in a virtual media conference on Tuesday (Dec 7) that Desaru Coast "will have to wait" for both the governments of Singapore and Malaysia to work out the details before the sea VTL may be launched. 
"We still have to observe certain applications and processes that both sides must be comfortable with before we can actually commence operations. I hope sooner than later of course because the product is ready," she said. 
"We do have target dates but I think the fact that the two governments are having a conversation on trying to work out the approval processes, that's positive. I would not like to pre-empt the date of start of operations," Mdm Roslina added. 
Responding to CNA's query on the sea VTL between Singapore and Malaysia, Singapore's Transport Ministry said it is taking a step-by-step approach to revive the country's international transport links, as it has to balance the need to restore connectivity while managing the associated public health risks. 
"We hope to progressively expand the VTL scheme to more destinations in the region and to include sea transport," its spokesperson said.  
SEA VTL WILL BOOST CONNECTIVITY WITH SINGAPORE
Lotus Desaru Resort and Spa, a 10-year-old attraction located adjacent to Desaru Coast, also expressed enthusiasm that the sea VTL and the new ferry terminal will boost hotel bookings for them. 
Operations manager for the resort Aaron Daniel Alabastro told CNA that pre-COVID-19, a Singapore tourist would take around three hours to travel via road to reach the resort in Desaru. 
He said this duration included time taken to sit through traffic congestion at the Causeway and a further one-hour drive from Johor Bahru via the Senai-Desaru highway. 
"Yes, it (the sea VTL) will be a big game changer," said Mr Alabastro. 
"The Desaru Coast Ferry Terminal is a short taxi ride to our resort. It will be a proper gateway for our Singapore customers to Desaru," he said. 
"It will make Singapore and Desaru closer. Travellers can even consider short leisure trips without the need to drive long distances and stress over the jam at the Causeway," added Mr Alabastro.  
Besides leisure tourists, some hotels are also anticipating that the sea VTL will bring in more business visitors to the region.
Desaru is located around 40km from the Pengerang Integrated Complex (PIC), a project by Malaysia's national oil company Petronas that could soon be fully operational. 
PIC, which is spread across 2,550 ha and the result of a US$27 billion investment in partnership with Saudi Aramco, will house a new site of downstream oil operations.
Four Points by Sheraton Desaru, which was newly launched in November, told CNA that the sea VTL and new Desaru Coast Ferry Terminal will boost connectivity with Singapore. 
According to the hotel's general manager Maverick Loh, with the sea VTL, more corporate clients in the oil and gas industry in Singapore could use Desaru as a gateway for accessibility to the PIC. 
He added that Four Points by Sheraton Desaru will operate shuttle buses between the premises and Desaru Coast via its sister property The Westin, so that tourists arriving at the ferry terminal can benefit. 
"We are planning to provide drop-offs for corporate clients but subject to the demand from Petronas," added Mr Loh. 
BUSINESS, LEISURE TRAVELLERS LIKELY TO BENEFIT FROM SEA VTL   
A transport expert CNA spoke to agreed that the sea VTL will be a huge potential for businesses in Desaru as it cuts travel time from Singapore and could be more convenient for travellers. 
Dr Rosli Azad Khan, transport planning expert from the Selangor-based MDS consultancy, said the VTL could bring in more corporate clients. 
He noted that pre-COVID-19, there had been ferry services between Changi in Singapore to Tanjung Belungkor and Tanjung Pengelih ferry terminals in Pengerang which serviced workers in the oil and gas industry who are based in Singapore. 
However, as there is no certainty to whether these services would resume, he predicted that the sea VTL with Desaru could be a viable option for these workers if and when it is launched. 
"It's possible that when the sea VTL is launched, workers might come in and buses pick them up to transport them to the operations sites in Pengerang," said Dr Rosli. 
Associate Professor Walter Theseira from the Singapore University of Social Sciences acknowledged that the ferry terminal, as well as the potential sea VTL route with Singapore, could be of interest to holiday travellers as it would make resorts in the Desaru area more accessible. 
However, he said that Malaysian commuters who used to travel from Johor to Singapore to work daily before the COVID-19 pandemic might not find the sea route attractive. 
"The business case for the Desaru-Tanah Merah link for many travellers is poor.
"For the Malaysian daily commuter, who travels to Singapore for work, study or family reasons, this link is highly unlikely to be competitive compared to the land crossings," said Assoc Prof Theseira.
He outlined that the ferry services are likely to cost more, and considering that Desaru is quite a distance away from Johor Bahru and other populated residential areas, the time taken to travel could be longer as compared to bus via the land VTL. 
"I simply don't see how it would be attractive for most Malaysian travellers compared to the pre-COVID alternatives of public transport, personal private motorcycles and chartered buses," he added.