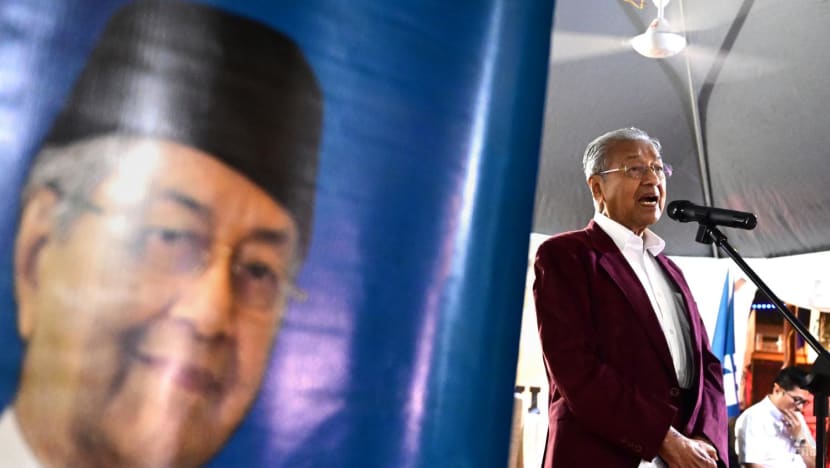 DENGKIL, Selangor: It was a busy Sunday morning (Nov 13) at Dengkil market in Selangor's Sepang district as people made their way there to buy vegetables, meat and fish. 
At the same time, there was anticipation in the air as the crowd waited for the arrival of former prime minister Mahathir Mohamad, 97.
At about 9am, he cruised to the busy area in a red Proton SUV, a little later than planned. With him was his 96-year-old wife Siti Hasmah Ali.
The number plate of their car read Putrajaya 2020 – perhaps a subtle reference to his vision for Malaysia known as Vision 2020. It was conceived in 1991, when the then prime minister outlined measures to pave the way for Malaysia to become "a fully developed country by the year 2020".
Probably not foreseen then was his premiership 27 years later – when he returned from retirement to lead the Pakatan Harapan (PH) coalition to victory in 2018 – his resignation in 2020 and his contest in the general election this Saturday (Nov 19). He is defending his parliamentary seat of Langkawi in Kedah.
"God willing, if we win, we will find a way so that the poor can get more opportunities to set up businesses. We promise to enrich the poor," Dr Mahathir told his supporters at the market.  
About 100 of them had gathered there to welcome him. Some shouted "Long live Tun!" – the most senior federal honour in Malaysia – to express their respect and support.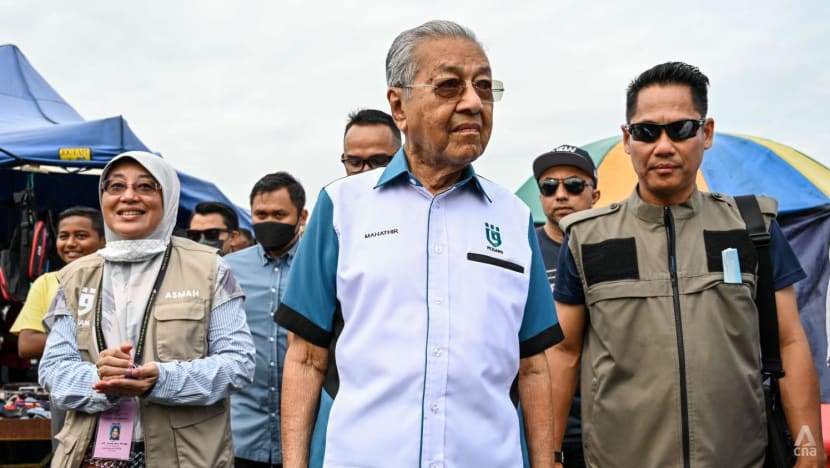 After the PH administration collapsed in 2020, Dr Mahathir went on to set up Parti Pejuang Tanah Air (Pejuang).
New coalition Gerakan Tanah Air (GTA), which was launched only in August, comprises four political parties including the National Indian Muslim Alliance Party (Iman), Parti Bumiputera Perkasa Malaysia (Putra), Parti Barisan Jemaah Islamiah Se-Malaysia (Berjasa) and Pejuang. It also includes NGOs, academicians and individuals.
As the Malay movement has yet to be registered, all candidates are running under the Pejuang banner except for Kelantan where its candidates will stand on a Putra ticket.
"We are hoping to establish a clean government, not one made up of thieves," said Dr Mahathir after greeting stall owners and shoppers around the market.
He was referring to rival coalition Barisan Nasional (BN), which leads the incumbent government with Perikatan Nasional (PN), another political alliance.
"BN is led by people who are not right, by those who steal money. Some of them have already entered jail," he added, referring to former prime minister Najib Razak who is serving a 12-year sentence for corruption charges.
"WE WANT TO MAKE MALAYSIA AN ASIAN TIGER AGAIN"
Dr Mahathir's campaign on Sunday lasted from 9am until 10pm – with several hours of rest in between.
The journey stretched more than 200km between the states of Selangor and Melaka. It included a few stops where he delivered speeches and mobilised support for Pejuang candidates.
The nonagenarian travelled by car from the fresh market to a local restaurant in Sepang, followed by a homestay in Kuala Langat and a campaign venue in Melaka City.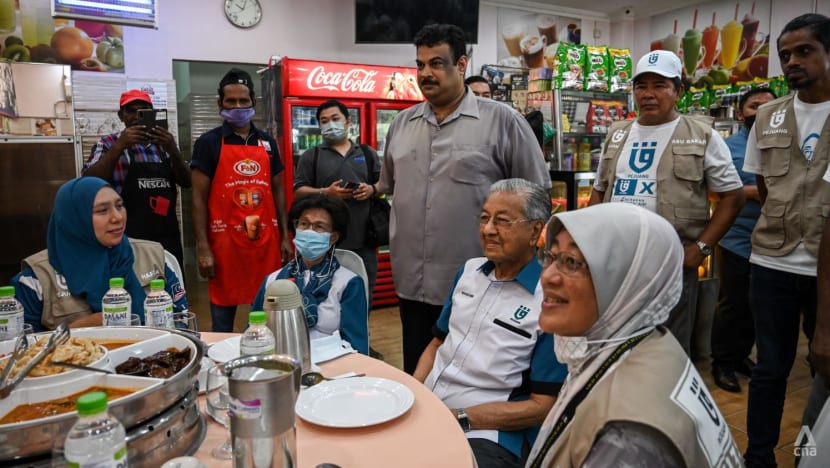 Resonating through his campaign was a message about Malaysia's glorious past, when its economy was expanding under his leadership in the mid-1990s.
"We don't have a long manifesto. We just promise that we will establish a clean, transparent and efficient government. We want to make Malaysia an Asian tiger again."
Dr Mahathir is Malaysia's longest-serving prime minister. His tenure spans a total of 24 years, from 1981 to 2003 and then from 2018 to 2020.
In the 1990s, the Southeast Asian country enjoyed strong economic growth and was considered one of the region's Tiger Cub Economies. Its economic progress brought the optimism that it could grow into the fifth Asian Tiger beside Hong Kong, Singapore, South Korea and Taiwan.
However, Malaysia never joined the ranks of the Asian Tigers after the 1997 Asian financial crisis disrupted its course.
To many Malaysians, Dr Mahathir still represents the golden age of their country.
G. Gowri, who managed to snap a picture with the former prime minister was beaming when she spoke to CNA at the market in Sepang. "I have no words to say. He built up this country. I feel very happy that I could take a picture with him," said the 48-year-old.
Shortly after his speech, Dr Mahathir left for an eatery 10km away and shared a meal with his followers. He wrapped his morning campaign at about 10.30am and headed home to rest before the next event in Kuala Langat district.
"THE RECEPTION WAS VERY GOOD"
"Stand by! Stand by!" a Pejuang supporter shouted as Dr Mahathir's convoy turned the corner of Jalan Sempadan Batu 7 in Kuala Langat just before 2pm. 
This time, he came in a grey Proton SUV with his wife and received another warm welcome by supporters at a homestay. One of them was Pejuang candidate Ridzuan Abdullah, who is standing in the parliamentary seat of Kuala Langat.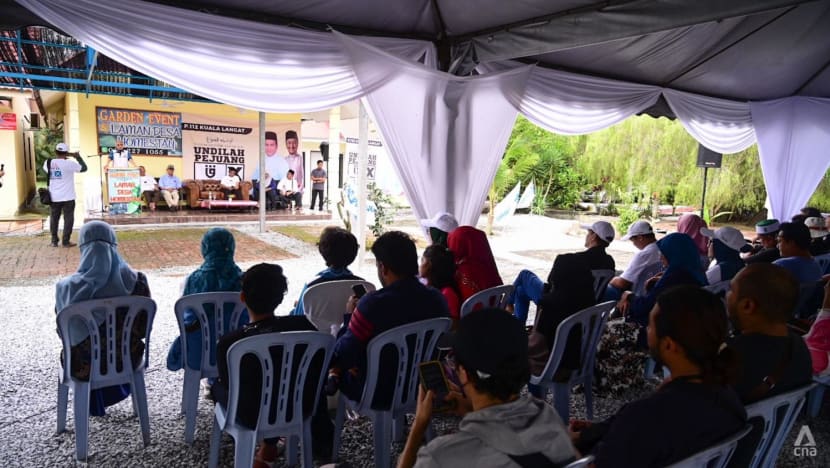 During his speech, Dr Mahathir continued talking about the past, when he was still prime minister of Malaysia, chairman of the BN coalition and president of its lynchpin party – United Malays National Organisation (UMNO).
Standing on a podium, he told several dozen supporters how he managed to create business opportunities and increase the people's income while leading the BN government in the past.
He also claimed his former party UMNO used to fight for the people of Malaysia but it is no longer the same.
"That's why we must change the government and replace it with one led by Pejuang," said Dr Mahathir.
The air was hot and humid after the rain. The former prime minister spent about half an hour delivering his speech. 
Smiling, Dr Mahathir sat down on a plastic chair for a photo session with his supporters. Many of them came to take selfies with him and his wife. Others came to offer their best wishes.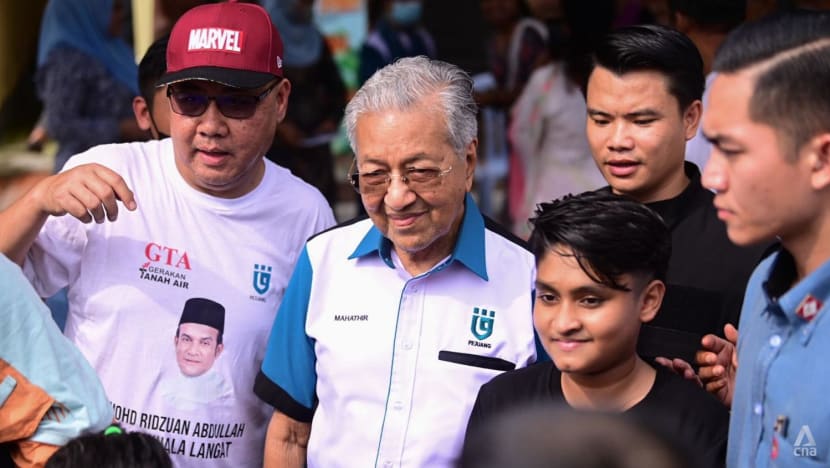 "I'm feeling very good. I've been to Kedah. I've been to many places. The reception was very good. All the people came out and they all shouted," he told CNA, followed by a little pause. "'Pejuang'."
Noting the long campaign on Sunday, including a late event in Melaka, Dr Mahathir said he was ready for it. 
"I have to be ready," he added, before leaving the homestay to rest and prepare for the final campaign activity which is 160km away. 
"WE HAVE TO TAKE CARE OF MALAYS' INTERESTS"
By 9pm, about 200 people had gathered at the campaign event in Taman Sri Cempaka, a neighbourhood in central Melaka City.
Dr Mahathir and his wife arrived in a shiny Lexus sedan, along with their entourage of followers and police escorts. They joined the supporters in singing the national anthem and praying.
Half an hour into the programme, the former prime minister delivered his third speech of the day. People clapped and cheered as he recounted how Malaysia became more developed after its independence from British rule in 1957, and how it progressed when there was unity among ethnic Malays.
"These were all done by Malays. They were united, they fought and they developed the country with other races until we became an Asian Tiger," he claimed.
"Unfortunately, ladies and gentlemen, today we are no longer a tiger, not even a cat."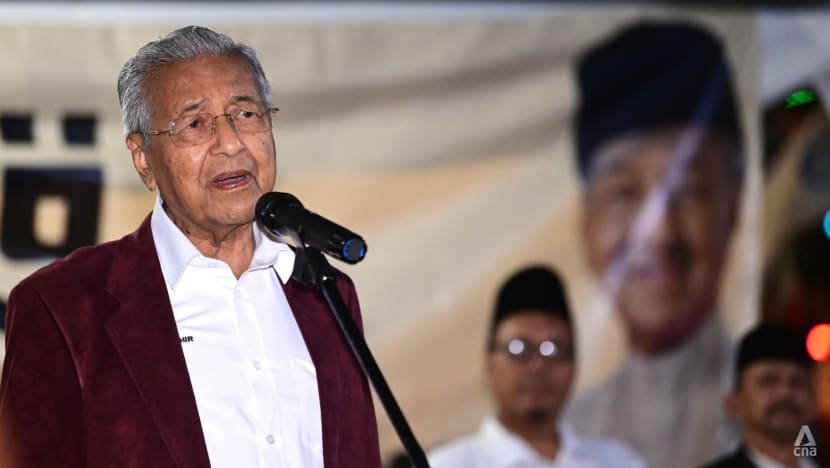 Malaysia is a multi-racial country dominated by ethnic Malays. Other races include the Chinese, the Indians and indigenous people.
Before ending his speech, Dr Mahathir highlighted Pejuang's focus on Malays, who form the largest group of voters in the country.
"We have to take care of Malays' interest. Only Malays themselves can take care of Malays' interests. That's why we formed Pejuang as a Malay party. It is a Malay movement too because Malays are aware of the problems they are facing," he said.
His campaign in Melaka ended at about 10pm. After answering questions from the press, Dr Mahathir walked slowly to his car, followed by his wife. 
A big crowd of supporters circled around him and his face was lit up by a burst of camera flashes under the gentle rain.
Come Nov 19, Malaysians will decide which coalition should lead their country for the next four years, and whether the 97-year-old would once again return to parliament.