In rural Kelantan, locals create life-size exhibits to mark Malaysia GE15
Giant replicas of a helicopter, motorcycle and excavator were spotted in the villages, with people visiting to take pictures.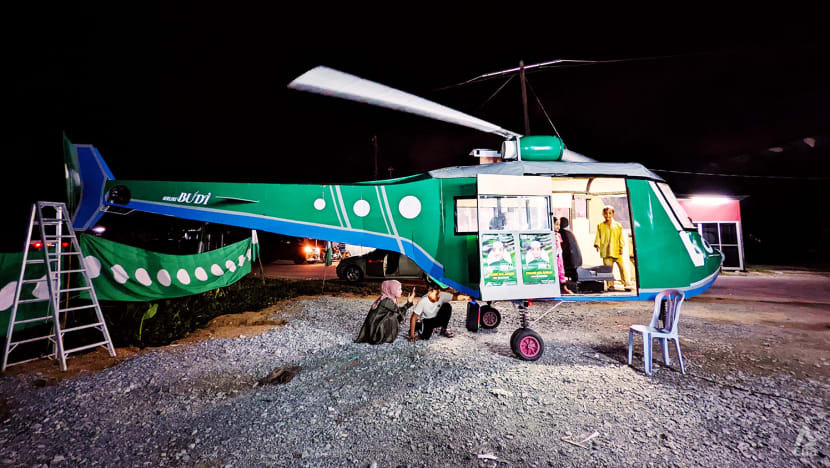 KOTA BHARU, Kelantan: In the rural area of Bachok, a half-an-hour drive from Kota Bharu, villagers have a rather unusual way of expressing support for their election candidates.
These villagers have built outsized replicas of a helicopter, motorcycle and excavator in a bid to drum up the atmosphere ahead of Polling Day on Saturday (Nov 19).
The replicas are illuminated and displayed by the roadside, often drawing crowds in the evenings when people from other places come to take photos, gather for dinner and soak in the festivities.
They are adorned in colours symbolising Parti Islam Se-Malaysia (PAS). The state of Kelantan is considered a stronghold for the party.
These exhibits, versions of which have been featured in previous elections, are built from scratch using scrap material and old electrical components, sometimes donated by villagers. Their creators said this showcases creativity, community spirit and party strength.
And not just in Kelantan. Social media clips show a life-size airplane model built by PAS supporters in the district of Sik in Kedah, one of three states alongside Kelantan and Terengganu governed by the Islamist party.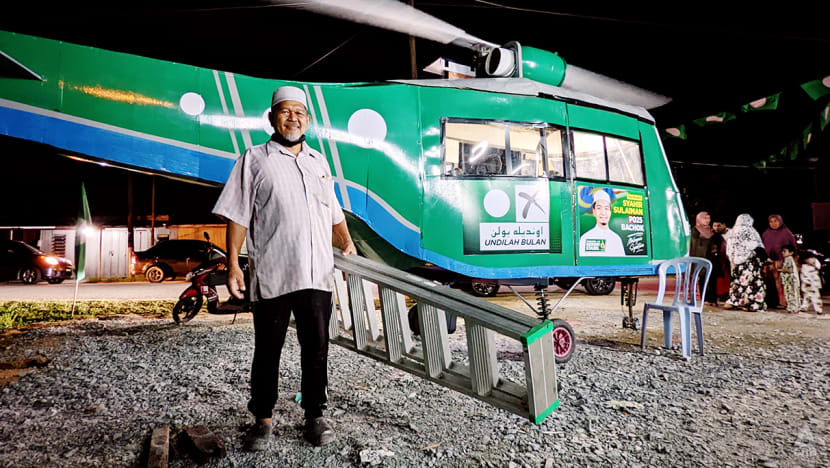 "We want to show that our own Malay people can create things like this," said Mr Damsali Abdullah, a former electrical engineer who built a life-size helicopter replica complete with a spinning rotor in Kampung Budi.
The 57-year-old told CNA that he first started making PAS-themed models during the 2013 national polls, when party supporters in his village asked him to build a fighter jet replica out of bamboo.
The self-confessed tinkerer, who now repairs household appliances like washing machines, extracted the speaker of an airplane toy and reprogrammed its engine sounds for his model jet.
In 2018, Mr Damsali decided to take things up a notch and build a life-size helicopter.
Without any reference or technical drawings, he welded together a wrought iron skeleton and moulded plywood and plastic to form its main panels.
Mr Damsali downloaded helicopter sounds into a thumb drive and plugged it into the helicopter's internal sound system. The sound was so loud that it could be heard at a mosque 500m away, he said.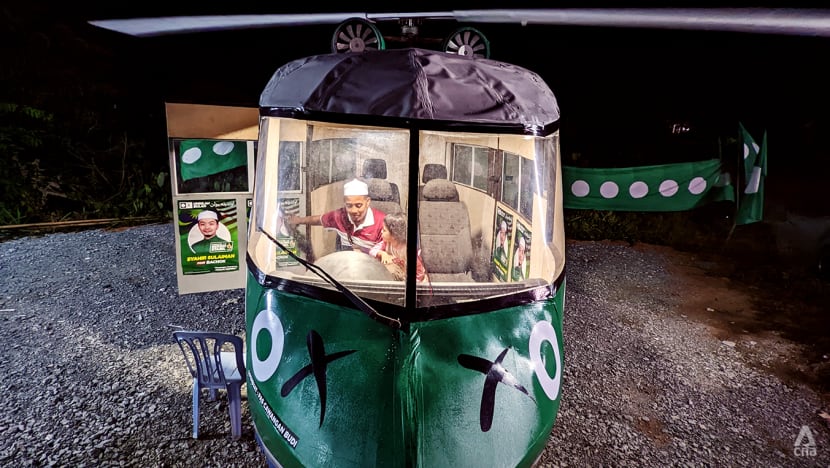 About 15 villagers worked around four hours a day to complete the project in three weeks, he said. Many others chipped in with money and scrap material. Without these contributions, he estimated that a replica of this size would cost up to RM8,000 (US$1,760) to make.
"So many people came to visit that the roads were jammed," he added, his fingers twiddling with a screw. "I was even congratulated by people from Brunei."
This year, Mr Damsali gave his helicopter a fresh coat of paint and added accessories like wipers and a motor to spin the top rotor. For the sound, he used an external speaker as the previous internal system burnt out from overuse.
These "upgrading works" took around two weeks and five to six people to complete, Mr Damsali said, adding that it was again a collective effort by the whole village. 
The helicopter was ready about three weeks ago, in time for Nomination Day on Nov 5.
Mr Damsali drove the helicopter a short distance from his makeshift workshop to a PAS election operations centre in the Tok Jawa polling district. 
He removed the steering wheel so children who climb into the carpeted cabin - fixed with old car seats - do not hurt themselves against sharp edges.
When CNA visited on Tuesday evening, cars were parked on the roadside as families stopped to catch a glimpse of the unusual sight. They snapped photos and helped themselves to steaming bowls of noodles.
"People are shocked when they learn of my age. They think that these things are usually built by younger people," Mr Damsali said.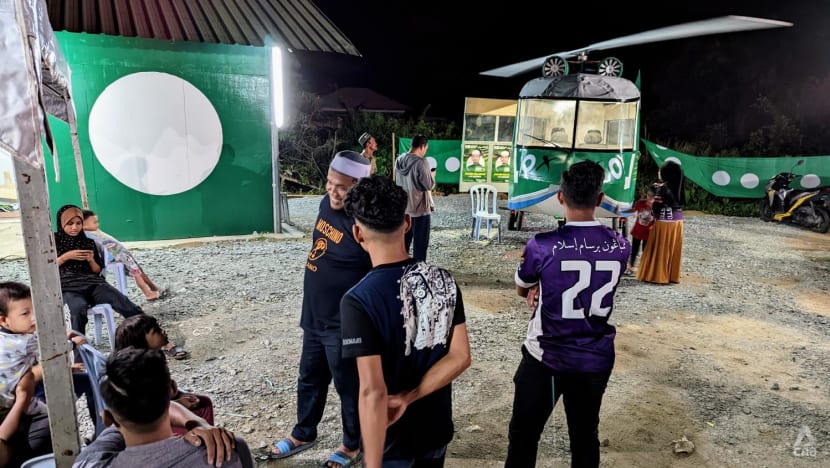 For the next Kelantan state election, which must happen by March next year, he plans to build a large PAS-themed drone. While he said he was confident that he could make it fly, he noted that this might be against regulations.
Mr Damsali said his exhibits usually attract more people during the state elections, which for the first time are not being held concurrently with the general election.
"I am happy when many people come to visit. We want to bring recognition to our kampung," he said at the operations centre, just down the road from a mosque named after PAS' late spiritual leader Nik Abdul Aziz Nik Mat.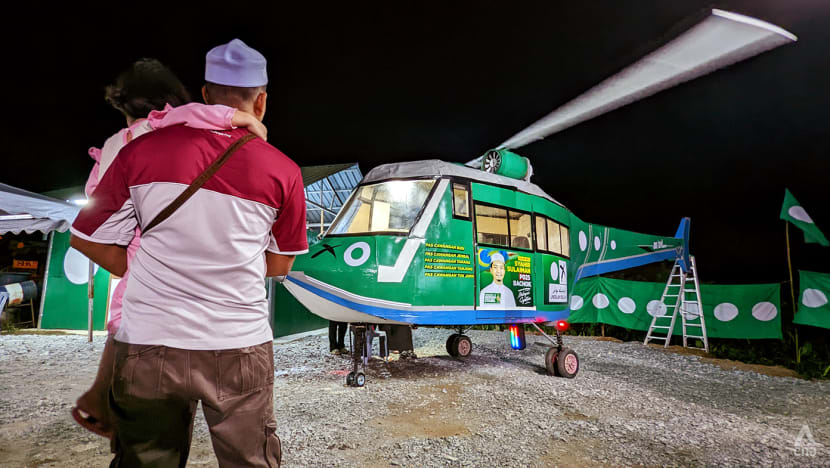 Mr Damsali pointed out that his family have been PAS supporters for generations, although he stressed that he is not against the federal government. 
He said he would accept requests from other coalitions to construct replicas, but none have so far been forthcoming.
A PROMINENT LANDMARK
South of Kampung Budi, Kampung Tempoyak is the home of a giant PAS replica of a motorcycle cruiser. It is reminiscent of a Harley-Davidson, but with three enormous tractor wheels instead.
The motorcycle's fairings are painted in green-and-white PAS colours, while the flags of PAS and its parent coalition Perikatan Nasional hang from the rear.
The motorcycle, which has a ladder going up to the rider's seat, made its debut at the 2018 polls in a more rudimentary form: Just a frame without a headlight, mud guard and fuel tank.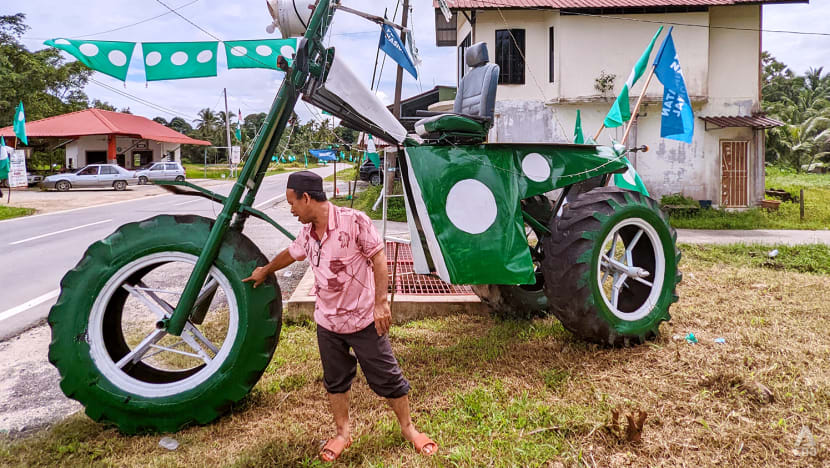 Its creator Mohd Rosdan Che Omar, 46, told CNA on Wednesday that he chose to design a motorcycle to make it stand out, as opposed to more typical replicas like airplanes and tanks that have featured over the years.
The motorcycle is made from scrap metal and old wheels from a tractor owned by Mr Rosdan, who runs a rice paddy farm. He estimated that a similar, brand-new motorcycle replica would cost tens of thousands of ringgit.
"If we can make things like this, it shows that our party is strong," the rice paddy farmer said, adding that four people worked on the motorcycle to get it ready by the time parliament was dissolved on Oct 10.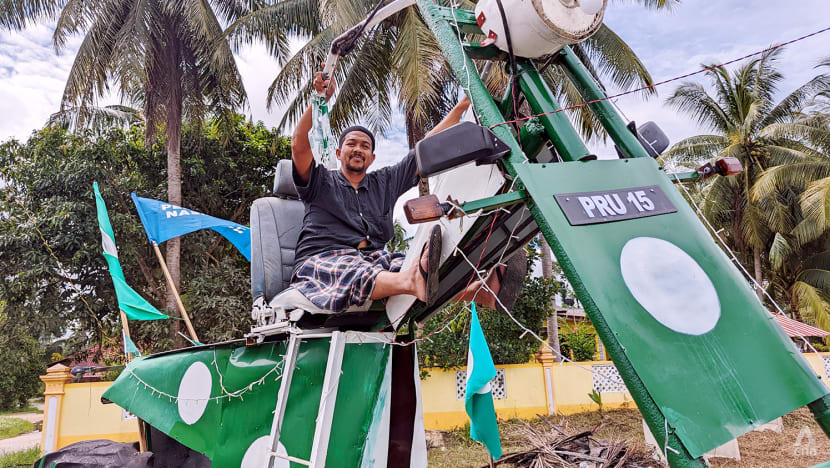 Mr Rosdan said his party operations centre receives hundreds of visitors every evening. There has also been free food provided each day since Oct 23.
"We buy the ingredients and everyone chips in to cook," he said, pointing to a whiteboard showing donations from the community and the menu for the day, from nasi goreng kampung to laksa lemak.
Mr Rosdan said the motorcycle has become a prominent landmark in his village that outsiders refer to when getting directions. For the next state election, he plans to insert an engine so the motorcycle could be driven like a tractor.
"If the PAS candidate comes to visit at the next election, we could drive it down the road slowly and people could take photos," he said.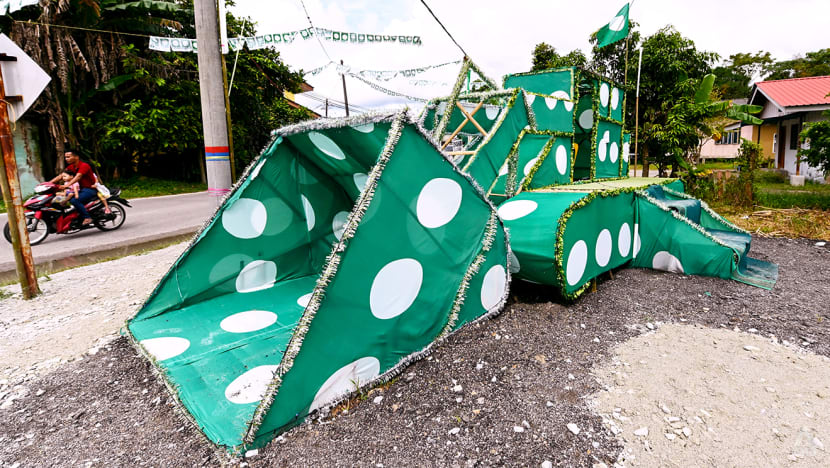 A five-minute drive away from the motorcycle is a large replica excavator, decorated with twinkling lights and slips of shiny paper.
The excavator, made with bamboo sticks and cloth from PAS flags, took three people and three weeks to build. It is the brainchild of odd-job worker Anwar Jusoh, 38, who similarly said he wanted a unique design.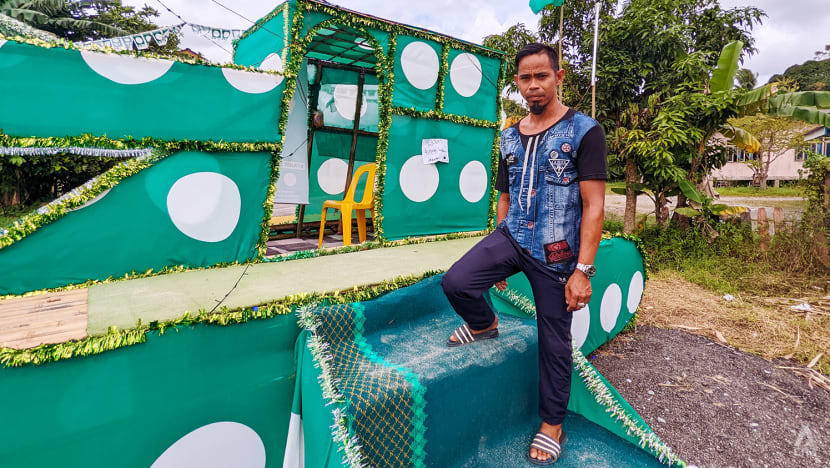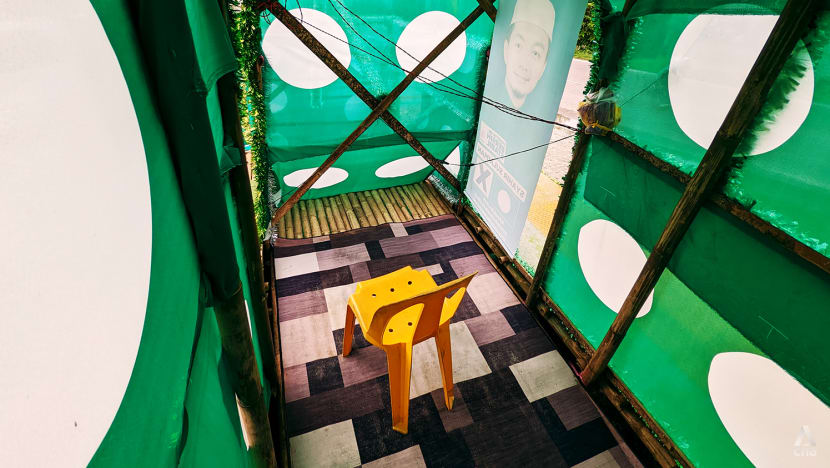 Mr Anwar said PAS candidate for Bachok Mohd Syahir Che Sulaiman, who will contest the seat in a five-cornered fight, stopped by his exhibit during a walkabout on Tuesday evening.
"I feel proud when people come to visit," Mr Anwar said. "God willing, I think he (Mr Mohd Syahir) can win."