In what could be his last Malaysia election, can Muhyiddin help Bersatu weather a tough challenge?
The former PM has a strong legacy in his home state of Johor. But some voters have questioned whether Bersatu can represent their interests in the long term and remain relevant in the political landscape.
PAGOH, Johor: Perikatan Nasional (PN) chairman Muhyiddin Yassin stood up to speak to a group of around 30 Chinese residents in the small town of Bukit Pasir Selatan. 
Pointing to his own chest, the 75-year old said: "If Perikatan wins, Muhyiddin will be prime minister. I will ensure Pagoh gets better development."
"I know this Bukit Pasir area is tough for me (to get support), but this time will be my last. So will you please vote for me?" he asked, concluding his speech which was delivered in Bahasa Melayu mixed with Cantonese phrases. 
There was applause and loud cheers. "Muhyiddin for PM again!" exclaimed one resident. 
It was a warm reception on the first day of Mr Muhyiddin's campaign in the federal constituency of Pagoh in northern Johor for Malaysia's 15th General Election (GE15). This will also likely be the last time the veteran politician contests in the national polls. 
In a Facebook post a few hours after he was confirmed as a candidate for Pagoh on Saturday (Nov 5), Mr Muhyiddin wrote: "God willing, this General Election contest will be the last in my political journey and I've decided to fight only because of my determination to complete our struggle. 
"I chose to lead PN for this GE because I am not willing to see this country fall into the hands of kleptocrats. I also do not want this country to be governed again by a political coalition that fails to fulfill its promises to the people and does not respect racial and religious sensitivities of multi-ethnic communities in our country," he added.
PN comprises Parti Pribumi Bersatu Malaysia (Bersatu), Parti Islam Se-Malaysia (PAS), Parti Gerakan Rakyat Malaysia (Gerakan) as well as Sabah-based parties Parti Progresif Sabah and Parti Solidariti Tanah Airku. Mr Muhyiddin is the president of Bersatu. 
PN is contesting in 171 out of 222 federal seats in the polls, and Mr Muhyiddin has said that the coalition is aiming to form a new government on its own by garnering a simple majority of at least 121 seats on polling night. 
In northern Johor, encompassing Pagoh, Muar and Bukit Bakri federal seats, Mr Muhyiddin's popularity and support remains strong. 
Yet, some voters have raised doubts about whether his party Bersatu can weather the tough challenge in the upcoming polls and garner sufficient seats to remain relevant in the formation of a new government. 
MUHYIDDIN REMAINS FAVOURITE FOR PAGOH SEAT 
For the Nov 19 polls, Mr Muhyiddin will be defending his Pagoh seat against Barisan Nasional (BN) veteran Razali Ibrahim and Pakatan Harapan's (PH) Iskandar Shah Abd Rahman.
Mr Muhyiddin has won in Pagoh in the last six General Elections, five of which he contested under BN. He has held the seat since 1995.
In 2018, Mr Muhyiddin contested as a Bersatu candidate under the PH banner. He clinched the seat with around a 7,000 vote majority. 
His popularity in Pagoh is clear. 
Almost every street within the constituency is lined with PN flags and his posters. Many residents fondly refer to Mr Muhyiddin as "abah", or father, a moniker that first became popular during his 17-month stint as prime minister.
Mdm Sharrifa Ariqa Syed Salleh, who has converted her home into a PN grassroots centre, told CNA that Mr Muhyiddin's family has deep roots in the area and is able to connect better with the voter base than other candidates.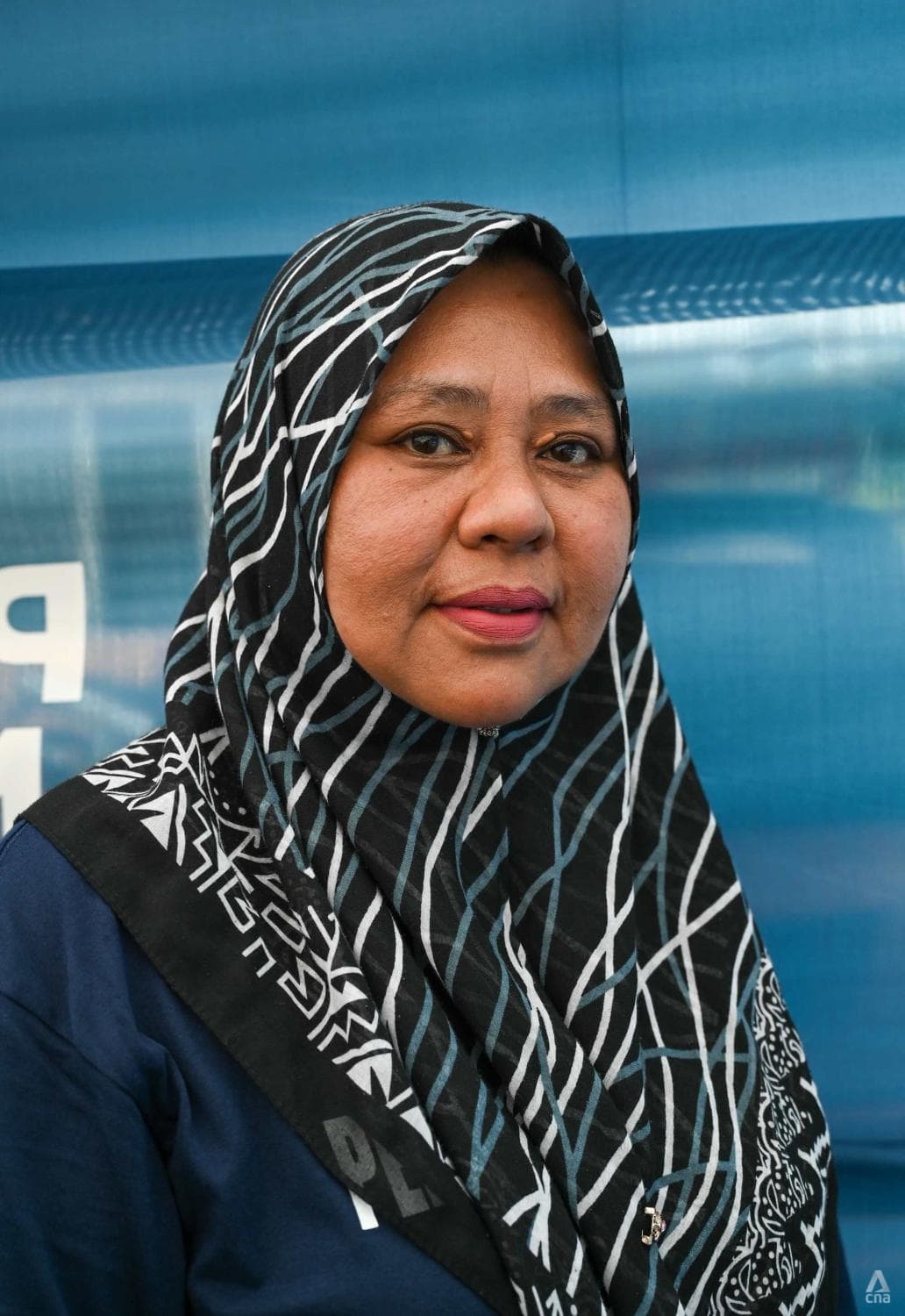 "I heard that he is looking to step down and this will be his last General Election. Let's hope this is not true, we don't want him to retire yet," said the 48-year-old who lives in Kampung Sungai Terap. 
"We all knew him and his family since he was young. His family opened an Islamic (religious) school nearby and I still meet his family members around town. In spite of what he has achieved, they have all continued to live humbly," she added.  
Mr Muhyiddin's main opponent for the seat is Mr Razali, who is a United Malays National Organisation (UMNO) supreme council member. Mr Razali was previously a three-term member of parliament for Muar, Johor. 
Speaking to CNA on the sidelines of the candidate nomination, Mr Razali acknowledged that he is "the underdog" in the contest.
"We are not nervous to contest here because I am not the incumbent in this area. We are the underdogs and we do not come with the expectation that we will win. This gives us encouragement to work hard," said the former deputy minister for youth and sports and deputy minister in the Prime Minister's Department. 
However, Mr Razali feels he still has a chance to win because he believes that some residents would prefer a candidate who is part of the coalition that eventually forms the government. He is confident that BN would attain enough seats to return to power. 
"There are voters who believe in the importance of having an MP that is part of the federal government. This is what we offer to the voters. If voters pick other candidates, they will have an opposition MP in Pagoh," he said. 
POTENTIAL TRUST DEFICIT AFTER SHERATON MOVE
While his legacy in Johor is evident, some voters have expressed doubt over Mr Muhyiddin's party Bersatu, particularly whether it is a party that can represent their interests for the long term.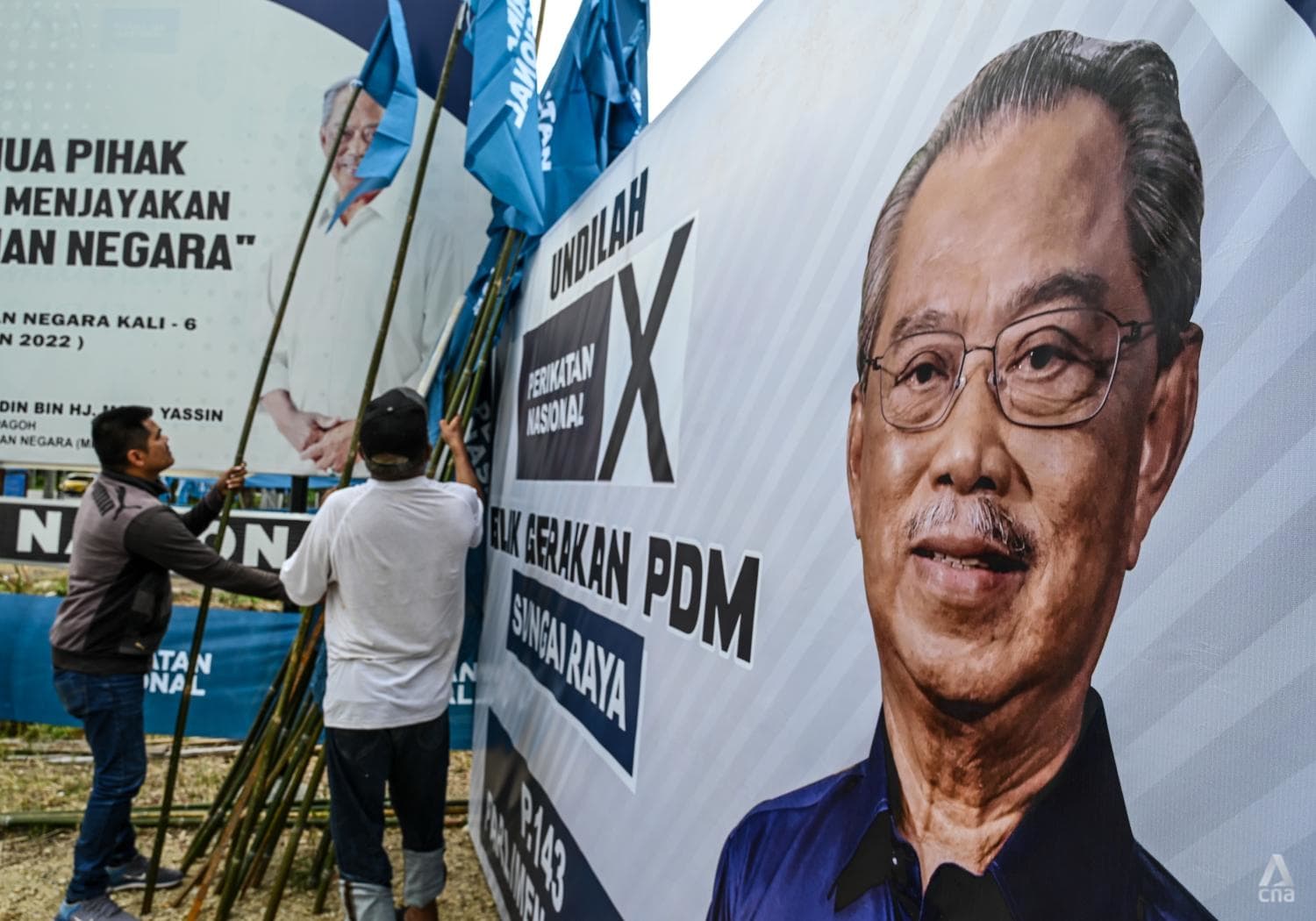 A Bukit Pasir Selatan resident who only wanted to be known as Mr Yap told CNA that he was proud that a local like Mr Muhyiddin rose through the ranks to be prime minister. 
However, he remembers the role Mr Muhyiddin and Bersatu played in the fall of the Pakatan Harapan government in 2020.
"I voted for him as a Pakatan Harapan candidate in 2018. But he betrayed that trust after the Sheraton Move by helping to topple the government," said the 54-year-old who works in the furniture industry. 
Mr Mohd Burhan Hameed, an electrician who will cast his vote in Muar, said that he feels "uneasy" supporting PN because Bersatu had "robbed Malaysians" and "betrayed the mandate" given in the 2018 General Election. 
In the so-called Sheraton Move in February 2020, Bersatu withdrew from PH and then prime minister Mahathir Mohamad resigned, creating a power vacuum.
Subsequently, the king determined that Mr Muhyiddin, the Bersatu leader, likely commanded the support of the majority of lawmakers in the Lower House. Mr Muhyiddin was sworn in as prime minister, leading the PN coalition.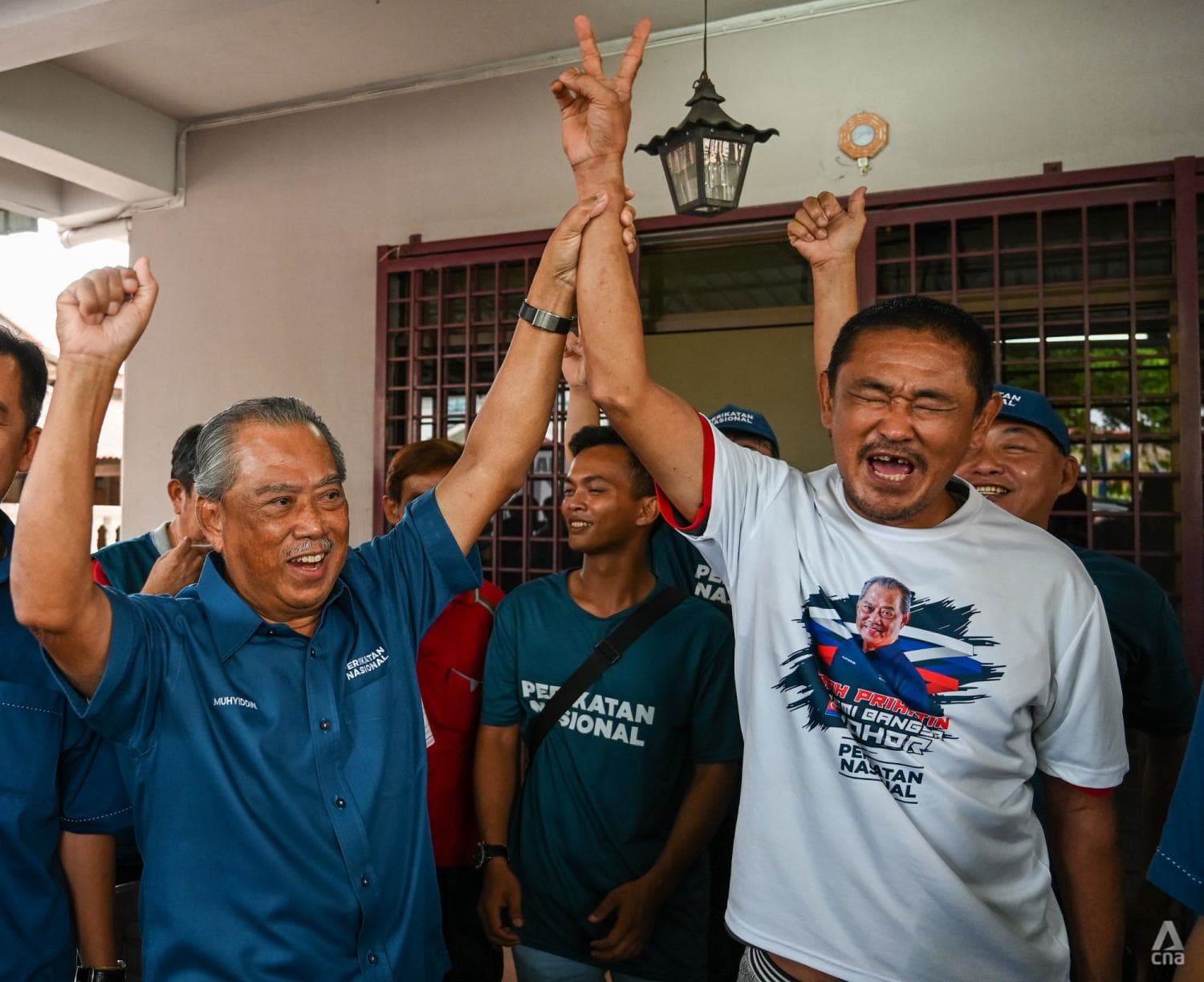 However, his tenure only lasted until August 2021 when some MPs from BN's main component party, the United Malays National Organisation (UMNO) pulled their support for him and put forth party vice-president Ismail Sabri Yaakob to replace Mr Muhyiddin as prime minister.
At the start of his GE15 campaign, Mr Muhyiddin rejected PH's label that he and Bersatu politicians were "traitors". 
Speaking during a campaign walkabout in Sungai Raya, Pagoh on Nov 5, Mr Muhyiddin stated: "We (Bersatu) made a decision to leave PH because we felt our coalition partners no longer cared for the interests of the Malays and the sovereignty of Islam. Is that wrong? 
"You can call me a traitor but I cannot betray my race, religion and country." 
Mr Hafidzi Razali, a senior analyst with strategic advisory firm Bower Group Asia told CNA that it was highly likely that Mr Muhyiddin will retain his seat as he "remains a popular figure" in Pagoh. 
However, he outlined that some other Bersatu members who are contesting in more ethnic-mixed or urban constituencies may be in for a difficult campaign. 
"While Muhyiddin himself might not be a casualty of the Sheraton Move, other Bersatu incumbents will face an uphill task to defend their seats - especially those contesting in mixed seats," said Mr Hafidzi.
"Non-Malay voters, especially, would hesitate to give Bersatu a second chance," he added. 
Mr Hafidzi also pointed out that having Islamic-based party PAS as its main ally in PN might discourage non-Muslims from supporting Bersatu.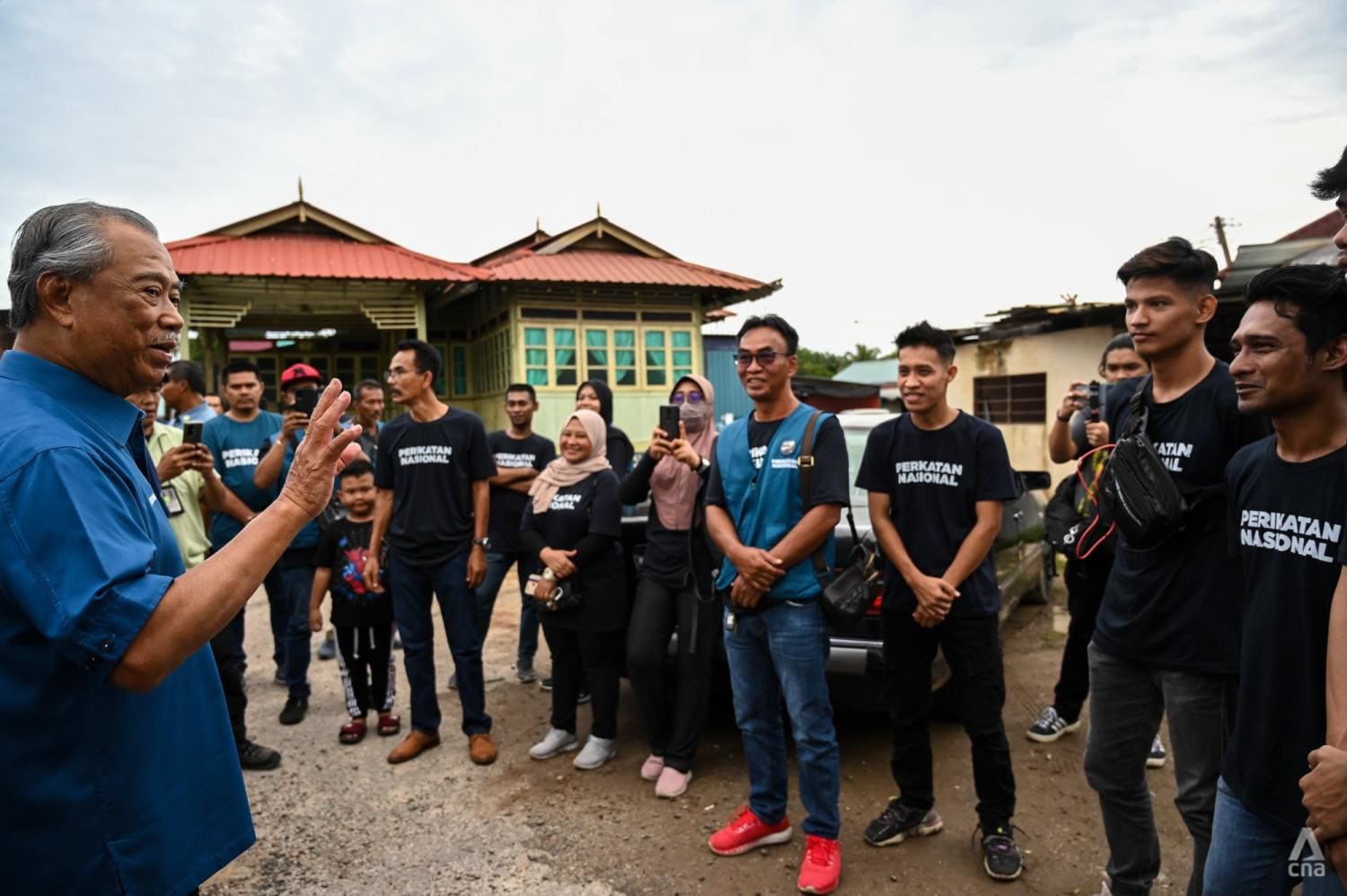 Some Bersatu members who are contesting in fierce fights in mixed-race urban seats include PN information chief Azmin Ali, who will have to fend off the challenge of Selangor chief minister Amiruding Shari in the federal seat of Gombak, Selangor. 
Another is Bersatu deputy president Ahmad Faizal Azumu who is facing PH prime minister candidate Anwar Ibrahim in the Tambun federal seat. 
Pagoh resident Nurul Normah Puteh, who is also a Muhyiddin supporter, told CNA that she acknowledged that Bersatu may not garner enough seats to form a new government. 
However, she still believes that Mr Muhyiddin will continue to play a big part in Malaysia politics, even as an opposition MP. 
"If he gets elected, I think Mr Muhyiddin will still play a major role regardless of whether PN or Bersatu is in power," said Mdm Nurul Normah. 
"Whether he is in government or in opposition, the people in Pagoh will support him for what could be his last term as our MP," she added.