Range anxiety and long charging time: The ups and downs of my EV road trip in Malaysia
Electric cars are causing a buzz everywhere but are they realistic options for long-haul trips in Malaysia? CNA's Amir Yusof attempts a 1,200km journey to find out.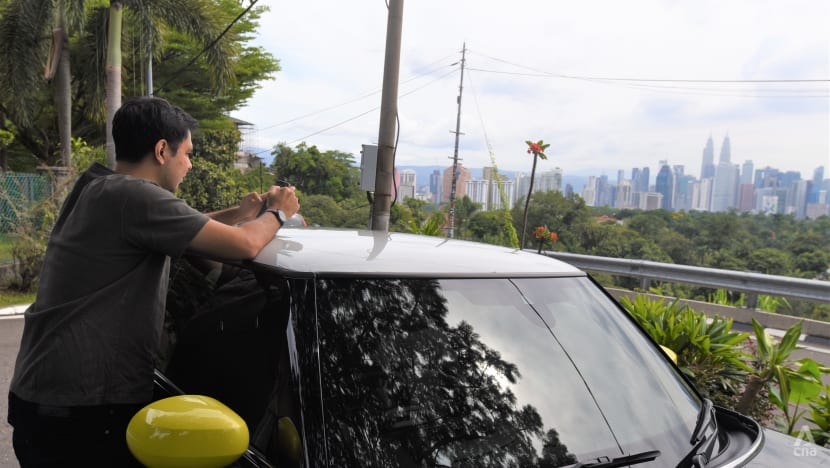 KUALA LUMPUR: The electric car has been touted as the future of travel, essential to the fight against climate change. 
However, for this vision to become a reality, these cars must become a viable option to the masses. 
The average user should be able to afford an electric car, and the infrastructure to support quick and efficient charging must be in place. 
Many countries are supporting the switch from cars with internal combustion engines to electric vehicles (EVs) to improve public health and fight climate change.
In an effort to encourage users to switch to electric cars, the Malaysia government recently announced in its 2022 national budget that EVs would be completely exempted from import duty, excise duty and all taxes.  
This is a welcome move, but it may not be enough. 
Making them more affordable is one thing, but ensuring that they are practical is equally important.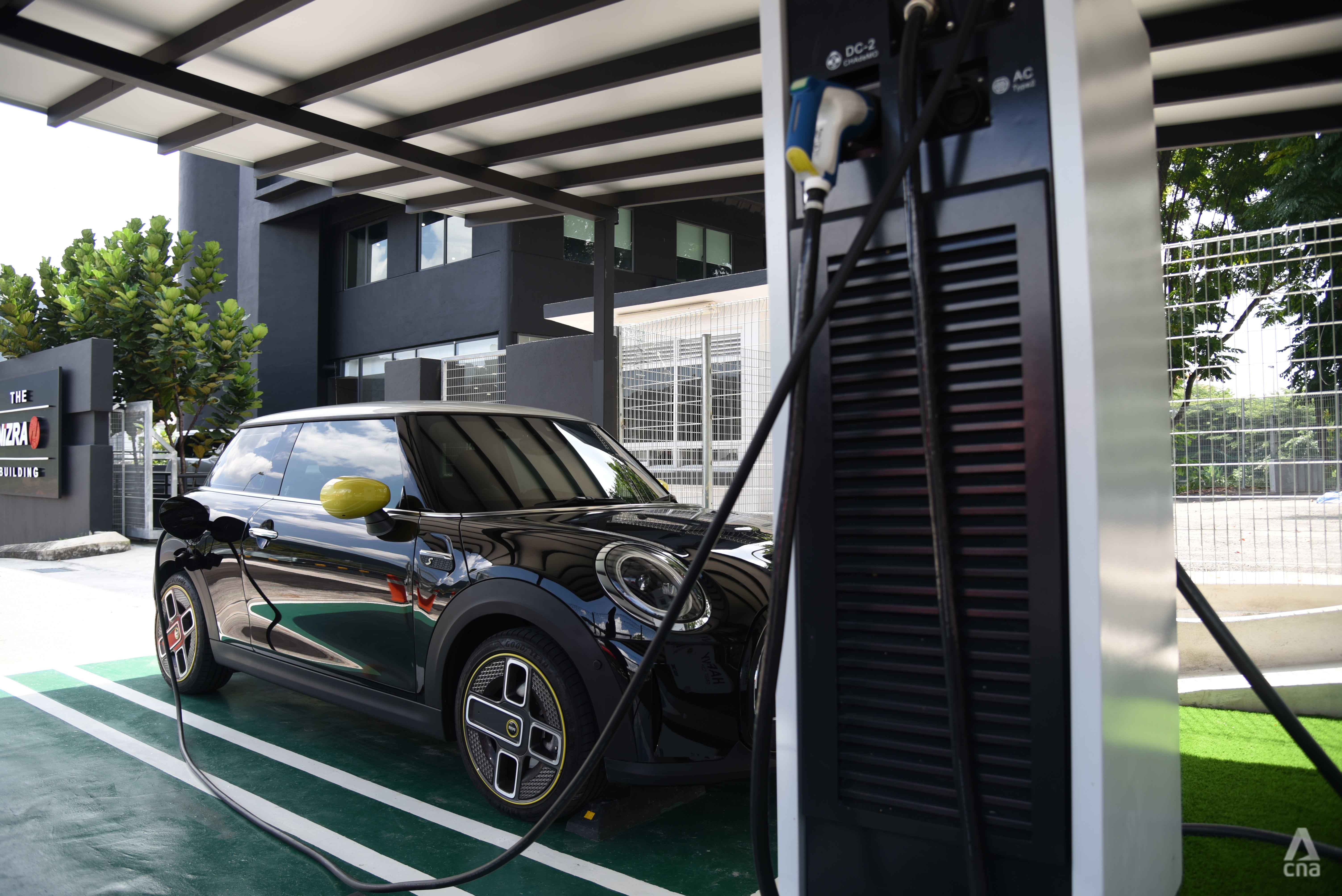 Most electric cars need to be plugged in after travelling 200km to 300km, a much shorter distance than similar-sized petrol cars. Charging may also take an hour or more, a vast difference compared to the five minutes it usually takes to pump gas. 
For an area like Peninsular Malaysia where users regularly travel long distances across state lines for vacations, to visit loved ones in their hometowns and even for work, convenience is a huge factor. 
To better understand what driving an electric car around Malaysia is like, I hopped into a fully electric Mini Cooper SE recently and attempted to travel between key cities Kuala Lumpur, Melaka, Kuantan and Kuala Terengganu – journeys that locals make regularly. 
An important point to note is that the Mini Cooper SE has a relatively short range of around 200km, which means it needs to be plugged in mid-journey for each leg of my journey.  
Perhaps the journey would have been more comfortable in a Tesla electric car or Hyundai Kona, which have longer ranges of around 400km to 600km. 
However, the truth is that these electric vehicles are not easily available for rent and that the only fully electric one available for this assignment was the Mini via car-sharing platform Trevo. 
There are 10 EV models in the market, according to Carbase.my, and Mr Shahrol Halmi, president of the Malaysia Electric Vehicle Owners' Club, said there are around 400 EVs in use nationwide.
Price tags and lack of charging points are the reasons why EVs are not as prevalent in Malaysia yet, and I experienced this inconvenience first-hand during my journey. 
My planned route consisted of travel between the four main cities, which encompasses routes across Peninsular Malaysia as well as journeys on both east and west coasts. 
This plan meant that the car's range and the availability of charging points in both rural and urban areas would be put to the test. 
Read on to find out how my journey went.
KL-MELAKA-KL: SMOOTH START BUT CHARGING DELAYS 
A few minutes into the journey from Kuala Lumpur to Melaka, it started to dawn upon me what all the fuss surrounding electric cars was about. 
The handling and torque were silky smooth. Lane changing and acceleration had never been more effortless. Light taps on the accelerator and small tugs on the steering wheel and the car seemed to glide through traffic. 
Another surprise was how serene the driving experience was. There were no loud engine noises or vibrations that are commonplace in petrol cars.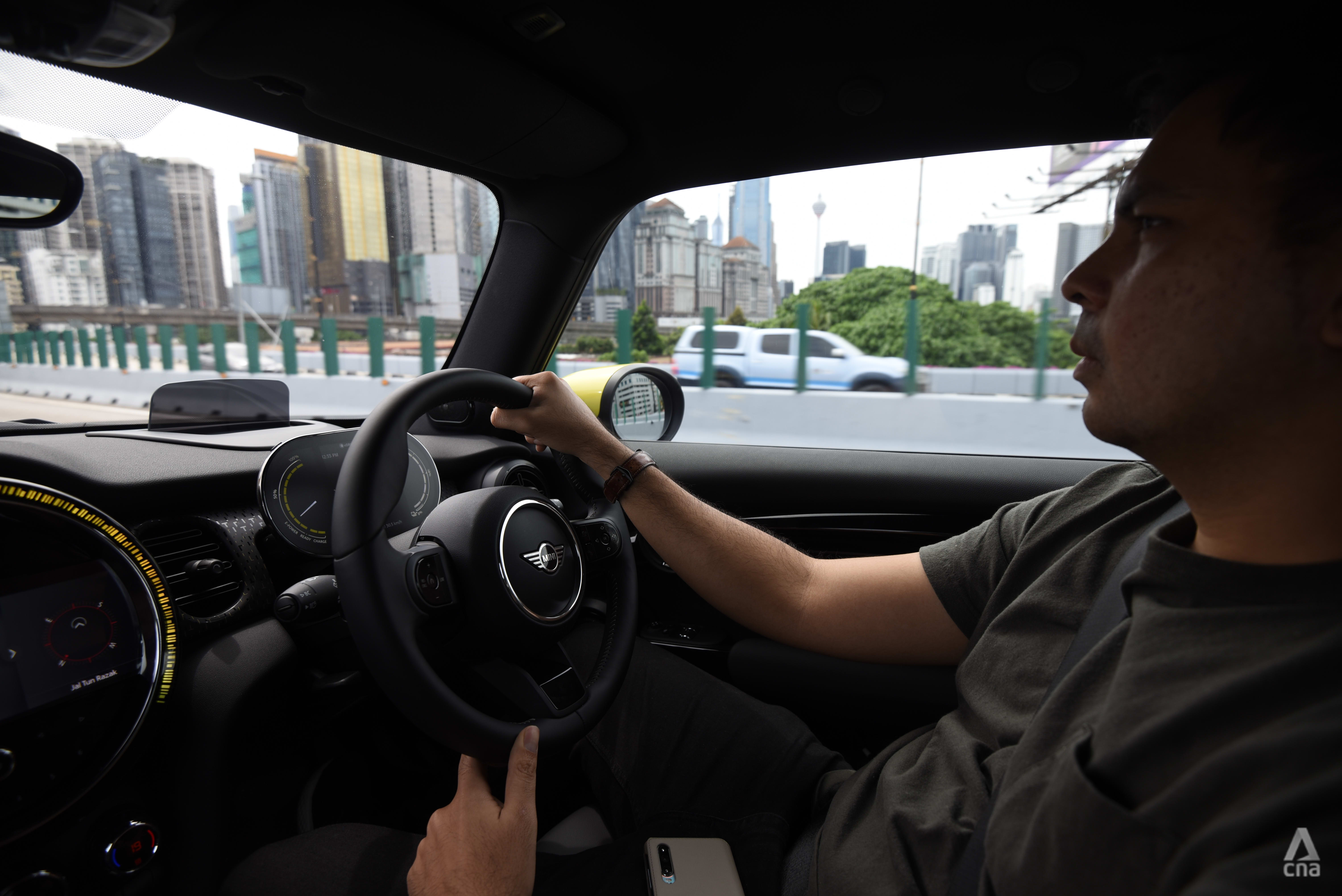 I plugged my audiobook into the Mini's stereo system and it was crystal clear listening on the road. Pure bliss. 
Barely an hour however, reality set in. My lead foot tendencies to veer through the North-South Expressway traffic meant that I had only 20km left in the vehicle's range and had to plug in. 
I pulled over at a rest stop in Ayer Keroh where a Direct Current (DC) charger was listed to be available, as indicated on the PlugShare mobile application which shares information on publicly available electric chargers all around the world. 
DC chargers are superchargers and allow electric cars to be fully charged within 45 minutes to an hour. Meanwhile, Alternating Current (AC) chargers will take around three hours or more to juice up a car fully. 
To my dismay, the charger was not in operation. There was an "out of service" sign pasted on it, but no indication of when it would be restored. 
Luckily, there was another DC charger at a nearby Caltex station, but when I arrived, a blue Porsche Taycan was already plugged in. 
Flustered, I went to grab a coffee at a nearby food court, peeking out every 10 minutes to see if it was my turn to charge. 
The Porsche was done charging after 45 minutes, and I had to wait another hour on top of that to fully charge the Mini.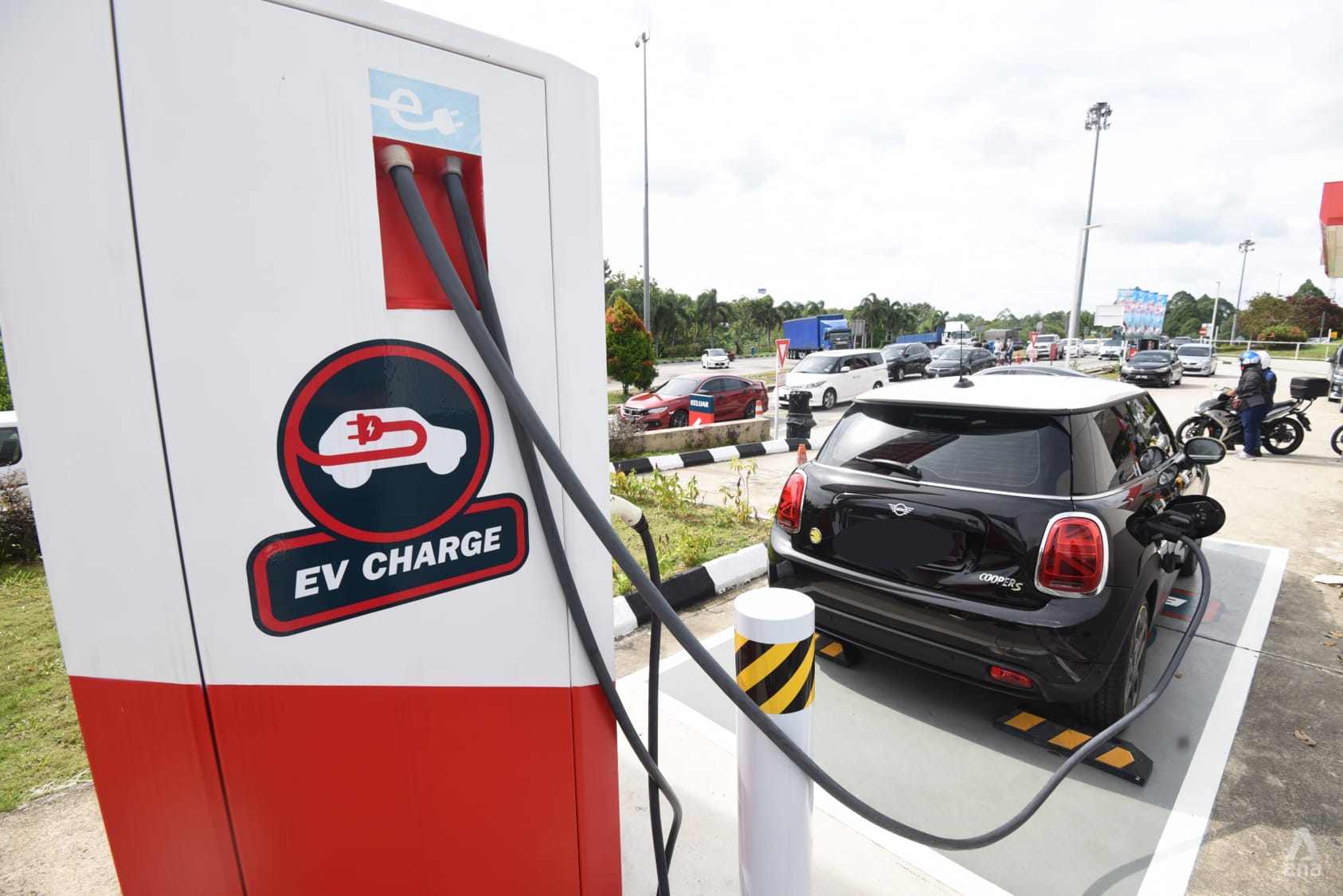 Just like that, I had been delayed by almost two hours just because of charging for the route that would typically take one-and-a-half hours on a petrol car. 
I arrived in Melaka in time for dinner, and headed back to Kuala Lumpur in haste. Unfortunately, all initial plans to explore Jonker Street flew out of the window because of the delay. 
I only reached Kuala Lumpur at 11pm after being stuck in a three-hour traffic jam on the North-South Expressway. Fortunately, the battery held firm and I reached my destination with around 30 per cent charge left.
Day one of my journey was supposed to be my easiest - efficient highway with multiple DC chargers. Yet, I was already physically and mentally exhausted. 
KL-KUANTAN: SLOWEST VEHICLE ON THE ROAD
The drive in the Mini electric car from KL to Kuantan was almost going to be mission impossible.
The two cities are around 236km apart, above the car range of about 200km. On top of that, the only available charging point along the journey was an AC charger at a pump station at Gambang, 192km from KL. 
Nevertheless, I decided to give it a go. Godspeed. 
A member of the Malaysia Electric Vehicle club advised me to try out a technique that might allow me to maximise the range of the car - hypermiling. 
This involves driving at a relatively low speed along the highway and avoiding accelerating too much. I had to be economical with stepping on the accelerator or risk getting stranded.
Heeding his advice, I was driving the Mini on the left lane, keeping the speed to around 80km/h while all kinds of vehicles whizzed past - pick-up trucks, hatchbacks and even huge cargo lorries. 
I was likely the slowest vehicle on the highway that day. 
Thankfully, this seemed to work. I reached Gambang with 50km left in the range. 
Unlike my experience charging in Ayer Keroh on day one, however, the charger at Gambang was AC. The dashboard indicated that it would take around three hours for the car to be fully charged. 
I had to get creative on how to kill time at a pump station in the middle of nowhere, and the cellular and data reception was weak. 
Perhaps one day there should be an electric car drivers' lounge with crossword puzzles, magazines and complimentary refreshments. 
A fellow driver who was pumping petrol into a Toyota Hilux looked bewildered when I told him I was driving an electric car. 
"I didn't know there was such a thing even," said the Pahang native, grinning as he refuelled his car with petrol, paid and pulled away in less than 15 minutes as I looked on.
It was already sundown when the Mini finally had sufficient charge for me to complete my journey to Kuantan. 
Normally, the journey between KL and Kuantan would take around two-and-a-half hours. I took close to five hours in total. 
This method of travel did not seem practical at all. 
KUANTAN-KUALA TERENGGANU-KL: TRIP CUT SHORT 
If the planned route on day two already gave me range anxiety, what was in store for day three was overwhelmingly daunting. 
I was due to travel to Kuala Terengganu, northwards along the East Coast Expressway. I would then U-turn and head back to KL via Kuantan. 
This entire trip would be around 700km. 
However, upon looking at the available charging points for this journey, and the 6pm deadline we had to arrive in KL, I decided against going to Kuala Terengganu. 
There was just one charging point along the way from Kuatan to Kuala Terengganu, a 22kW AC charger at Kijal. It would take me around two hours to fully charge the car using this point.  
I was also concerned if the charger was not working, or if I had to wait for my turn.
It is unfortunate that there was a dearth of EV chargers along the east coast of Malaysia. There was no DC charger at all and the AC chargers were all few and far between. 
There is a clear discrepancy between the west coast and east coast of Peninsular Malaysia. 
Chargers are mainly distributed in major urban cities like KL, Melaka, Johor Bahru and Penang, as well as along the North-South Expressway. 
However, in the more rural areas and cities along the east coast, AC chargers were rare and DC chargers non-existent. Even in Kuantan, a relatively modern city, there were only two AC chargers and no DC charger.
Sad that I could not experience the coastal drive to Terengganu, I returned to KL, charging at a petrol station near Genting along the way back westwards. 
CHARGING INFRASTRUCTURE A WORK IN PROGRESS 
On the whole, the trip was mostly exhausting and frustrating. 
There were certainly some positives - the driving experience was smooth and driving at a slower speed had its charm as I could enjoy the scenery more. 
However, all this was outweighed by the lack of charging infrastructure. 
There are not enough fast-charge charging points, especially in rural areas. Moreover, the journey overall took too long on the hypermiling technique, combined with the lengthy delays waiting for the car to charge. 
Across the three days of driving, I spent around nine hours charging the car. Most of these were spent mostly waiting idly at petrol stations or at highway rest stops. 
Yet, there is promise that EVs could one day be the option for Malaysian drivers. 
According to a report by Techwire Asia, 1,000 DC charging points are being planned to be installed by 2025. 
In the shorter term, Porsche and Shell have announced that six DC new charging stations will be installed along the North-South Expressway by the first half of 2022.
However, until the network of DC chargers gets a substantial boost, most Malaysian drivers would likely still prefer fossil fuel-powered vehicles over electric cars. 
I look forward to the day when I can cruise along the east coast in a smooth, slick electric car. 
However, for practical reasons, I am going to stick to my petrol car for long-haul trips within Peninsular Malaysia for now.