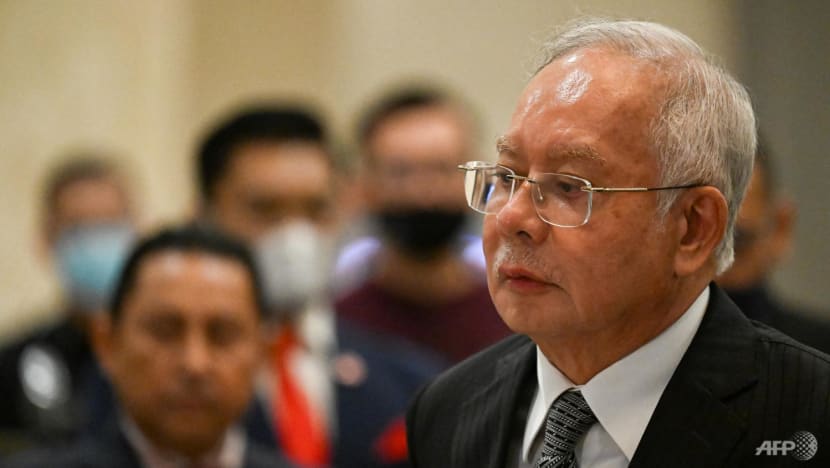 KUALA LUMPUR: Former Malaysian prime minister Najib Razak has denied allegations that he will be freed immediately via a royal pardon if Barisan Nasional (BN) wins the 15th General Election (GE15).
In a press statement issued by Shafee & Co on Tuesday (Nov 15), the law firm said Najib has expressed his deep disappointment that his name is still being used as baseless political propaganda despite his imprisonment - that if the party wins, he will be freed immediately via a pardon.
"Our client wishes to categorically deny these allegations. Our client has consistently maintained since the commencement of his trials in 2018 that he wishes to get acquitted through the judicial process of the courts because not only does he want to secure his liberty but also his legacy and integrity.
"He is confident that his best chance of being released from prison is via the upcoming review application filed pursuant to Rule 137 of the Rules of the Federal Court 1995," said the statement, according to Bernama.
"Najib's application for review is primarily on the basis that the process and decisions made by the Federal Court at his appeal, amounts to a deprivation of his constitutional rights to a fair hearing as his counsel was not provided the opportunity to sufficiently prepare himself for the appeal resulting in no submissions or arguments heard in his defence - essentially leaving our client without an effective voice in court."
According to the firm, if the application for review is in Najib's favour, the former prime minister shall seek a re-trial under a fair and just process to prove his innocence.
On Oct 11, the prisons department said that Najib will not be allowed to go out to campaign during GE15 as long as he is still serving his sentence.
The director of prisons department Nordin Muhammad also said that Najib is not receiving any special treatment since he was sentenced to jail in August, as alleged by some quarters.
Najib had been MP for Pekan in Pahang state for more than 40 years. His eldest son Nizar Najib, who has long been groomed to be his political successor, was widely expected to defend his father's seat in Pekan.
Instead, BN, in unveiling its election line-up, announced that incumbent Peramu Jaya assemblyman Sheikh Mohamed Puzi Sheikh Ali would stand in the Pekan ward.
Najib, 69, who served as prime minister from 2009 to 2018, was convicted for the misappropriation of RM42 million from SRC International, a former subsidiary of 1Malaysia Development Berhad (1MDB). 
He was sent to jail on Aug 23 after the Federal Court upheld the conviction and sentence by the High Court in July 2020 when he was found guilty on all seven charges of criminal breach of trust, money laundering and abuse of power.
He has filed for a royal pardon and a review to overturn his conviction. Until there is an outcome, he will not be able to run for GE15. 
There are more than 900 candidates contesting in GE15 where some 21 million eligible voters will choose among them to be elected to the 222-seat Lower House of Parliament on Nov 19. 
Early voting took place on Tuesday.