Malaysia GE15: Urban poor voters could decide fate of country's top leaders
Bread and butter issues will be a key focus of Malaysian voters at the ballot box, said observers. Political parties have been focusing their campaigns on ways to help those struggling with rising living costs.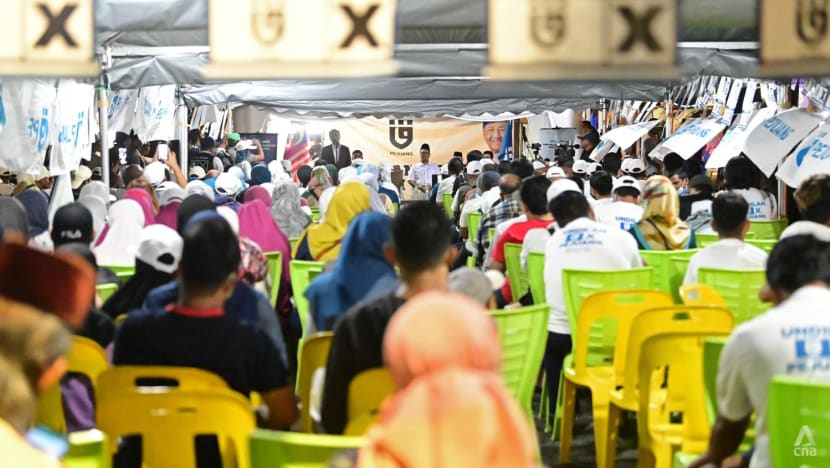 KUALA LUMPUR: The growing number of poor Malaysians living in urban areas could well decide the fate of the country's politicians at the ballot box come Saturday (Nov 19).
Promises such as tackling poverty, creating jobs and solving rising food prices are likely to appeal to these voters, as Malaysia heads to the polls in its 15th General Election (GE15), said analysts. 
The group of lower-income Malaysians in large cities, known as the urban poor, has grown over the years as more people move out of rural areas to find work. 
The stakes are higher for them at this general election, as they have to worry about when their next meal will be, observers pointed out. Though help is available, it is not always easy for some to find it.
BREAD AND BUTTER ISSUES A FOCUS OF GE15
"I really went out of my way to find assistance," said Mr B.J. Kemrry, who lost his job during the COVID-19 pandemic. 
"There are people who do not know what to do because they're in such dire situations. I spoke to government officers, I told certain NGOs that there are people (living) under the bridges."
Urban poor voters shared their concerns over bread and butter issues, such as surging inflation and rising living costs amid the pandemic.
Meanwhile, government agencies face challenges such as data management and getting access to the communities, said incumbent Lembah Pantai Member of Parliament (MP) Fahmi Fadzil, who has been MP for a ward made up of the richest and poorest Malaysians.
"If you were to look at each public housing block, how do you know which units have received what assistance from various agencies?" said the Pakatan Harapan (PH) candidate, who is defending the ward which he won in 2018. 
"Right now, largely because of the silo effect among government agencies, that data is not fully shared among agencies. So you could get certain situations where this family gets multiple assistance from three or four agencies, and yet some have no assistance."
At the last general election, Mr Fahmi had campaigned strongly to help the urban poor.
The then-PH government started examining how it should define poverty, including looking not just at income but also the quality of life.
"We have a lot of urban poor who live in private low-cost flats and these families often get a double-whammy effect. They don't get a lot of government assistance for housing. They can't work for a long time, so many of them get into a lot of financial difficulty," Mr Fahmi said. 
"So the challenge for urban poor and going forward, tackling issues and policies around urban poverty, has to do with sustainability." 
CHARITIES STRUGGLING TO KEEP UP
For now, non-governmental organisations (NGOs) are doing what they can to spread the safety net wide for those who need it. 
But even they are struggling to keep up.
Veteran NGO founder Munirah Abdul Hamid, who heads Pertiwi soup kitchen, said it is important for politicians to commit to promises made to help the poor. 
"There was one time under a certain government that they allowed us to go into the ministry and try to work with the policy division to try to come up with relevant policies," she added. 
"Now, that rapport, I have not seen again because we have not had that relationship with the changing governments, or perhaps they have not stayed long enough."
Ms Munirah said charities like hers are finding it more difficult to get donations. 
"It used to be so easy. The big companies will just call up and just donate," she said. "Now, even knocking on doors, those companies are no longer in existence."
PARTIES WOO VOTERS WITH PRACTICAL PLANS
Observers said political changes, coupled with the impact of COVID-19, mean parties must woo voters with practical plans that will keep costs of living low.
"The rising cost of living is a major issue in this election," said political analyst Amir Fareed of public affairs and political risk consultancy KRA Group. 
"The main theme that all the politicians who are vying for votes from the electorate would have to seriously consider is the issue of the rising cost of living and managing inflation."
Food prices have also risen, due to the pandemic and geopolitical tensions pushing up the prices of raw materials.
For Malaysians, that means less consumption and weaker purchasing power.
One voter said: "The prices of food and other items have risen, so I have to think twice about eating out. It is better to eat at home."
"I do two, three jobs so that I can cope with the lifestyle right now. Once you've reached a certain level of lifestyle, it's hard for you to scale back so we have to work hard to maintain that," said another voter. 
"I used to work 9am to 5pm. Now, I have to work two jobs such as driving Grab."