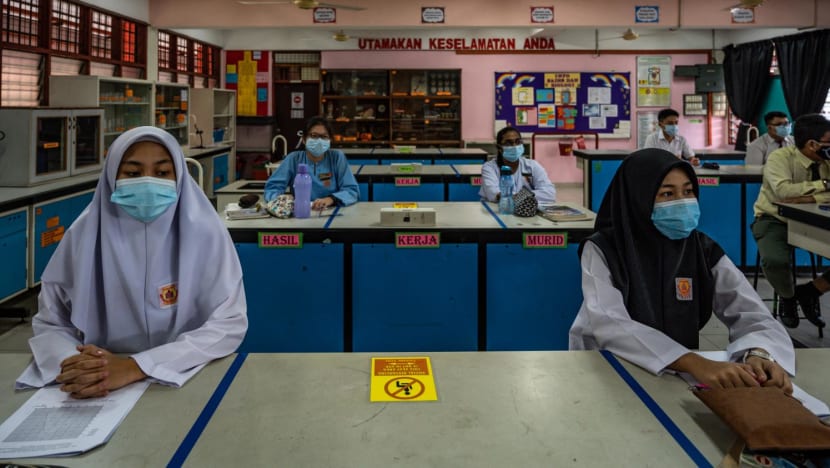 KUALA LUMPUR: Malaysia's health ministry is mulling the implementation of a mask mandate in schools amid a rise in COVID-19 cases. 
Health Minister Zaliha Mustafa in a Berita Harian report on Wednesday (Apr 26) said that she will meet with Education Minister Fadhlina Sidek to discuss the issue soon.
"I will meet Fadhlina this week to discuss guidelines and why we need to control the spread of COVID-19 in schools, especially with the new Arcturus variant," she reportedly said. 
The Arcturus – or XBB.1.16 - is a subvariant of the Omicron virus which, according to a study by the University of Tokyo, spreads about 1.17 to 1.27 times more efficiently than the XBB.1 and XBB.1.5 strains. Test results from the university also suggest that the variant is "robustly resistant" to a variety of COVID-19 antibodies. 
According to the latest data from the health ministry, the number of confirmed COVID-19 cases rose by 30.4 per cent in the 14 days leading up to Apr 22. The health ministry also recorded 14,161 active cases as of that date. 
The standard operating procedures (SOP) on the use of masks in schools will be released before school reopens next Tuesday, said Dr Zaliha.
"The SOP regarding the control of COVID-19 will be issued before students return to school on May 2 as a precautionary measure." 
"This is important because we are worried that students will get infected after moving around during the Hari Raya holidays which may cause COVID-19 to spread again in schools," she was quoted as saying by Berita Harian. 
Meanwhile, the Malaysian Medical Association (MMA) said that there is "no need for a face mask mandate in schools".  
"Only students with symptoms or a medical condition that may put them at high risk, should be wearing face masks," said MMA president Dr Muruga Raj Rajathurai in a statement issued on Wednesday. 
Dr Muruga advised that it is more important to wash or sanitise hands than to wear face masks. 
"As an added preventive measure, schools can get their teachers and students to self test themselves once on Sunday evenings ahead of school on Monday. But this should only be for a brief period, to prevent any outbreaks in schools after the Raya holidays," he said.
He also stressed that children need to build a strong immune system by observing a healthy diet, exercising regularly and taking up sports activities. 
"We also have to take steps to look after our health - a key point that hasn't been sufficiently emphasised. A person with a weak immune system will have an increased risk of severe COVID-19," he said. 
Since September last year, the use of face masks on school premises was no longer mandatory but was encouraged. Currently, masks only need to be worn on public transport and in healthcare facilities as well as for those who have tested positive. 
According to Berita Harian, Dr Zaliha revealed on Tuesday that six cases of the Arcturus subvariant were detected in Klang Valley, bringing the number of infected cases to 12 so far.