KUALA LUMPUR: Malaysia's Lower House has postponed a vote on the Bill that seeks to ban smoking and vaping for those born from 2007 and onwards.
The Control of Tobacco Product and Smoking Bill 2022 will instead be referred to a parliamentary special select committee for further scrutiny, said Health Minister Khairy Jamaluddin in wrapping up the debate on Tuesday (Aug 2).
 
"As a minister I have to take this issue seriously. For laws that are important like this, we wouldn't want to be forced to support or pass before an in-depth refinement," he said. 
 
He said he wanted the Bill to get support from parliamentarians from all sides of the divide. 
 
"There is no perfect law in any legislature but let it be as good as it can be. Don't let perfect be the enemy of good either," he said.
The committee has to prepare a statement on its suggestions to improve the Bill within a month, or no later than the first day of the next parliament meeting, the minister said later when tabling a motion to bring the Bill to the committee.

The next meeting is scheduled to begin on Oct 26.  
 
While most of the parliamentarians who debated the Bill on Monday and Tuesday agreed with the ban in principle, they said there is a need for the Bill to be fine-tuned.  
 
The Bill proposed a ban on the sale of cigarettes, tobacco and vape products to anyone born in the year 2007 and after, hence it is dubbed a "generational endgame".  
 
The proposed law also bans those born after 2007 from buying, possessing, or using tobacco and other related products.
Shopkeepers and retailers are also not allowed to display tobacco products, smoking devices as well as their substitutes.
Currently, tobacco can only be sold to those aged 18 and above.
The Bill aims to reduce the prevalence of smoking among Malaysia's population to below 5 per cent by 2040. The prevalence of smoking was 21.3 per cent in 2019, according to the National Health and Morbidity Survey. 
Mr Khairy said last week in a Twitter video that the country had to spend RM6.2 billion (US$1.4 billion) in 2020 to treat three diseases caused by smoking – lung cancer, heart disease and chronic obstructive pulmonary disease (COPD).
This cost was expected to increase to RM8.8 billion by 2030, he said, adding that the tax collected from the tobacco industry yearly was about RM3 billion.
In his speech tabling the Bill for second reading on Monday, Mr Khairy said that it is time for a brave and radical approach to stem the problems caused by smoking.
"If we knew what we knew about smoking 50 years ago, there is no way we would have allowed it to be sold, just like a ban on drugs. Now is the time to do something," he said.
Mr Khairy said according to the Asean Tobacco Atlas Malaysia factsheet, about 27,000 deaths in the country yearly were attributed to smoking.
He also stressed that the regulations will not affect those smokers who are above 18 years old.
"We will not disturb you. You can smoke until you die. We just want to stop the cycle of smoking among a new generation," he said.
Mr Khairy also said that the problems caused by smoking are compounded with devices such as e-cigarettes and vapes.
"From 2015, these devices entered the Malaysian market and until now the number of users of these devices among children and teenagers has increased," he said, adding that they are not regulated enough under existing laws.
The ministry made several changes to the Bill on Monday after discussions with the Parliamentary Select Committee (PSC) on Women, Children and Social Development and the PSC on Health, Science and Innovation.
Standard fines in the Bill have been reduced from RM5,000 to RM500, with the addition of community service in lieu of a fine.
There will be no body searches for anyone under 18 and no punishment for possession for all related offences, Mr Khairy added.
"This Bill is too important not to get broad bi-partisan support," he said.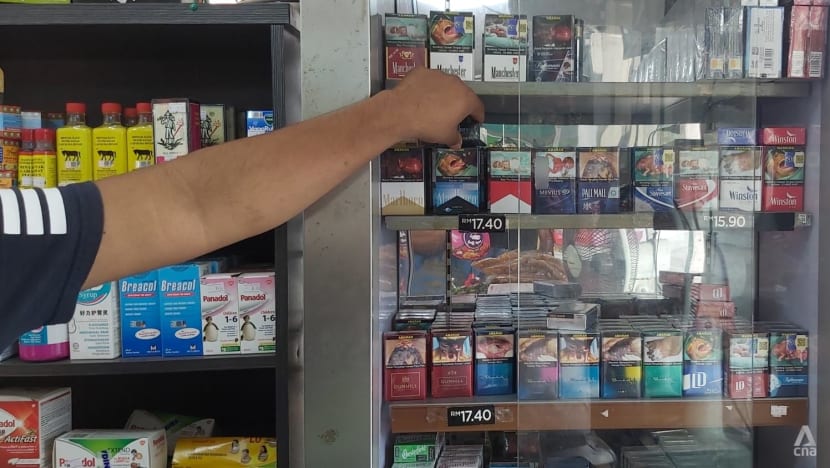 CONCERNS ON PERSONAL FREEDOM AND ENFORCEMENT POWERS 
During the debate, some MPs hailed the Bill as a game changer while some felt that parts of the Bill could be construed as an infringement of personal liberty.
Padang Rengas MP Mohamed Nazri Abdul Aziz, for instance, said on Monday that the Bill was discriminatory and that people could bring the case to court in the future.
"We have to think carefully about this. Freedom of choice is very important to everyone," he said.  
Kuching MP Yii Lee Wuen said the Bill has to be reviewed extensively by a special select committee to ensure safeguards to prevent the laws from being abused.
Dr Yii, who is also the chairman of the Parliamentary Special Select Committee of Health, Science and Innovation, said in a statement that there are concerns about implementation gaps, possible loopholes and overreaching enforcement powers.
Among others, provisions in the Bill grant enforcement officers the powers to enter any premises and seize baggage, he pointed out.
Enforcement officers also have the power to conduct a body search on people suspected of possessing any tobacco products, he added.
"This is disproportionate and open to abuse especially when there is inconsistent enforcement from different agencies," Dr Yii said.