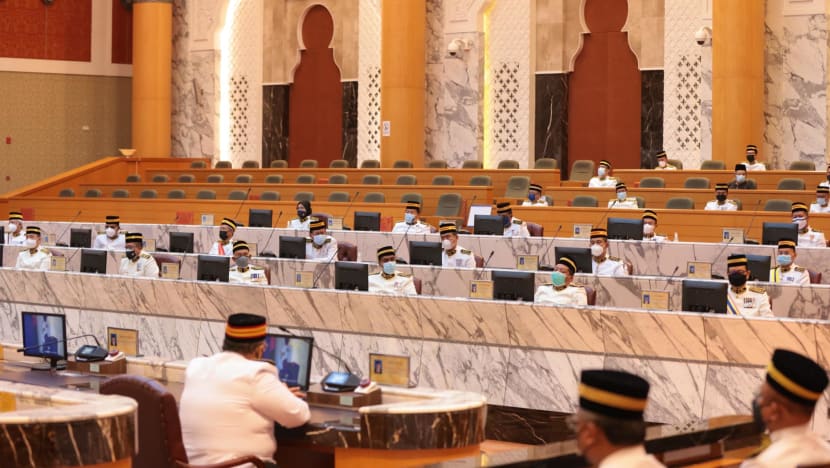 KUALA LUMPUR: Malaysia's Election Commission (EC) has announced that polling day for the Johor state election will be on Mar 12, with nominations to take place on Feb 26. 
At a media conference after chairing a special meeting on the Johor state election on Wednesday (Feb 9), EC chairman Abdul Ghani Salleh said early voting would take place on Mar 8.
"According to the updated voters' register, there are 2,597,742 voters for the Johor state election," he added.
Johor's state assembly, which has 56 seats, was dissolved by Sultan Ibrahim Iskandar on Jan 22.
The sultan gave his consent for the dissolution after meeting with Chief Minister Hasni Mohammad.
Prior to the dissolution, Mr Hasni justified that his state government needed a fresh mandate as it only held a slim majority following the death of former chief minister Osman Sapian in December last year.
Mr Hasni said that the election was necessary as the stability of the Johor state government was a prerequisite for investors and businesses to expand their operations in the state.
With the death of Mr Osman, who was also state assemblyman for Kempas, the Johor state government held a one-seat majority, with Barisan Nasional (BN) in control of 16 seats while its coalition partners, Parti Pribumi Bersatu Malaysia (Bersatu) held 11 seats and Parti Islam Se-Malaysia (PAS) had one.
The opposition Pakatan Harapan (PH) coalition, comprising the Democratic Action Party (DAP), Parti Amanah Negara (Amanah) and Parti Keadilan Rakyat (PKR), held 27 seats.
On Jan 24, the United Malays National Organizations (UMNO) announced that it would contest in 42 of the 56 seats.
It was also said that as the main component of BN, it would only allocate four seats to PAS if both parties agreed to cooperate in the upcoming election.
UMNO had also said that any political cooperation between BN and PAS in the Johor polls will be carefully studied, according to Bernama, quoting BN deputy chairman and UMNO deputy president Mohamad Hasan.
He said that so far, the majority of UMNO's grassroots and divisional leaders wanted BN to enter the election alone.
UMNO, PAS and Bersatu are part of the federal government under the prime ministership of UMNO vice president Ismail Sabri Yaakob.
In the Melaka state election last November, PAS had chosen to side with Bersatu under the Perikatan Nasional (PN) banner and went against UMNO in seven seats.
Bersatu, which leads the PN coalition under the leadership of former prime minister Muhyiddin Yassin, has not announced how many seats it will contest in Johor.
Its information chief Wan Saiful Wan Jan, however, said that PN had finalised the distribution of seats among its other coalition partners, namely PAS and Gerakan.
On Monday, Bersatu's senior council member Mohamed Azmin Ali said that the party was confident that it will be able to retain its 11 seats.
Bersatu has been rocked by a series of defections among its members in Johor, the latest was when 300 members of its Tanjung Piai division announced on Sunday that they were leaving for Parti Warisan (Warisan).
This follows reports of defections of Bersatu members including those from Desa Harmoni branch under the Pasir Gudang division and resignations of two state Bersatu leaders.
AMANAH, DAP AND MUDA WILL NOT CONTEST AGAINST EACH OTHER  
The PH coalition announced on Jan 23 that it had finalised the seat allocation among its component parties.
They will contest all the 56 seats with both PKR and Amanah allocated with 20 seats each and DAP will contest in the remaining 16 seats.
Amanah president Mohamad Sabu was also reported as saying that PH is still open for talks with other parties that want to cooperate with the opposition alliance in the Johor election.
Mr Mohamad said that PH is willing to consider cooperating with parties that have chances of winning seats in the election.
Under such circumstances PH could consider working together with the Malaysian United Democratic Alliance (MUDA) and Parti Pejuang Tanah Air (Pejuang), said Mr Mohamad as quoted by the Star.
PH chairman Anwar Ibrahim said on Feb 6 that MUDA has asked for 10 seats to contest in Johor.
Free Malaysia Today (FMT) also reported Mr Anwar as saying that MUDA has been told to provide a list of candidates for the seats it wishes to contest in order for further discussions.
On Tuesday, MUDA president Syed Saddiq Syed Abdul Rahman, however, denied that it had set conditions on the number of seats that the party wants to contest.
The Malaysian Insight quoted the former youth and sports minister as also saying that negotiations over seats with PH were still ongoing.
In a press statement issued on Wednesday, Amanah, DAP, and MUDA said that they had come to an agreement and would not contest against one another in the Johor polls.
The leaders of the three parties said that they had conducted negotiations with one another even though MUDA was not part of PH.
They added that negotiations were however still going on between MUDA and PKR.