'Voices of parties cannot fall on deaf ears', says Johor chief minister on possibility of state polls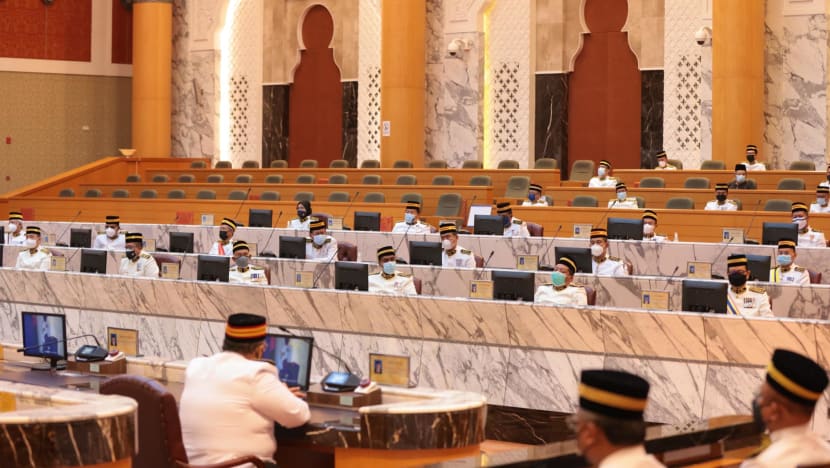 JOHOR BAHRU: Amid calls for the Johor state assembly to be dissolved and state elections to be held in the short term, chief minister Hasni Mohammad has stated that the voices of various political parties cannot fall on deaf ears.
Speaking to reporters at the sidelines of an AirAsia media event on Monday (Jan 17), he said: "With such a slim majority (in the state assembly), and with regards to the stability of the government, I have to be careful, to be sensitive.
"(This is) so that programmes to build the state economy, programmes that have been planned are able to be implemented and implemented successfully." 
Mr Hasni added that stability in the Johor state government was a prerequisite for some investors and businesses to expand their operations into the southern state. 
"Then surely I have to find a solution so that this doesn't become an excuse for investors and businesses to not expand," he said. 
"I've said that on the need to hold the Johor state elections, I can't reject it. I have to research and look at the matter closely. The voices from various parties cannot fall on deaf ears."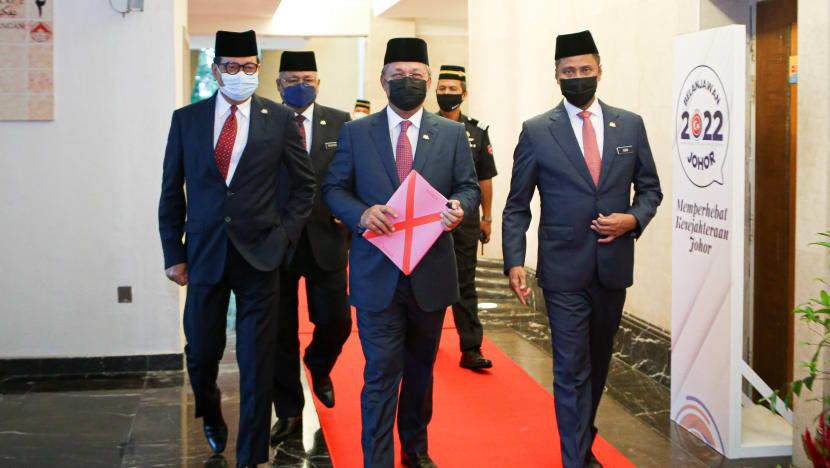 The recent demise of Mr Osman Sapian, former Johor chief minister and Kempas assemblyman, has set tongues wagging of an impending state election. 
Mr Osman was a member of Parti Pribumi Bersatu Malaysia (Bersatu), one of the key components which rules the Johor state government, alongside the United Malay National Organisation-led (UMNO) Barisan Nasional (BN) coalition.
His death means that the ruling coalition now holds a slim one-seat majority, with 28 out of the 56 seats in total. 
On the back of a strong performance in the Melaka state elections, some UMNO members have publicly called for the Johor state assembly to be dissolved.
The opposition, meanwhile, has insisted that this is not the right time to call for an election, especially when Johor and many other parts of the country are recovering from monsoon floods.
"I WILL ADHERE TO LAWS AND CONDITIONS SET BY THE STATE GOVERNMENT"
In his doorstop with reporters on Monday, the chief minister maintained that he would consider views from all parties on the next state polls. 
"(But) we have rules, we can't arbitrarily decide. It's not for me to advise His Majesty the Sultan (of Johor) to dissolve the assembly tomorrow or the day after. I can't act (according to my) whims and fancies," said Mr Hasni.
"There are regulations, there are certain conditions and these have to be adhered to. So all parties need not worry. I will adhere to laws and conditions set by the state government," he added.
Mr Hasni said that UMNO's leaders in Johor have yet to discuss the possibility of holding state elections ahead of a national general election later this year. However, some UMNO members in the state have publicly voiced their opinions that it was important for the Johor polls to be held sooner rather than later. 
UMNO Johor deputy chief Nur Jazlan Mohamed had told CNA last week that the Johor state government is presently in a "precarious position" given its razor-thin one-seat majority. 
"In my opinion the Johor government presently is always blocked, subject to threats," said Mr Nur Jazlan.  
"The chief minister does not have the support of every one even though there's an agreement in place. Better they settle this by going to (a state) election and give the mandate to the people," he said then. 
In a Facebook post on Sunday, UMNO vice president and former Johor chief minister Khaled Nordin said that holding state elections is necessary so that the state government may avoid having to rely on the opposition's support to continue ruling.
"Holding a Johor state election is not an irresponsible action. This is actually being responsible. We must return the mandate to the public when the government is in a position that is too fragile and not stable," Mr Khaled wrote. 
However, the opposition Pakatan Harapan (PH) coalition in Johor has insisted that this is not the right time to call for an election, especially when Johor and many other parts of the country are recovering from monsoon floods. 
In a media statement on Monday, Democratic Action Party's Johor state secretary Andrew Chen reaffirmed PH's stance that holding an election is unnecessary. However, he stated DAP is ready if polls were to be held.
"The flood and its aftermath are still unsettled in Johor, and the Omicron variant that is ravaging the world is already in Malaysia. We have to address the people's needs first," he said.