KL club event featuring men in women clothes cancelled: Malaysian police
The men - known collectively as "Thai Hot Guy" - are popular on social media. They are waiters from Staneemeehoi restaurant in Bangkok and have gone viral for dancing while dressed in women's clothes.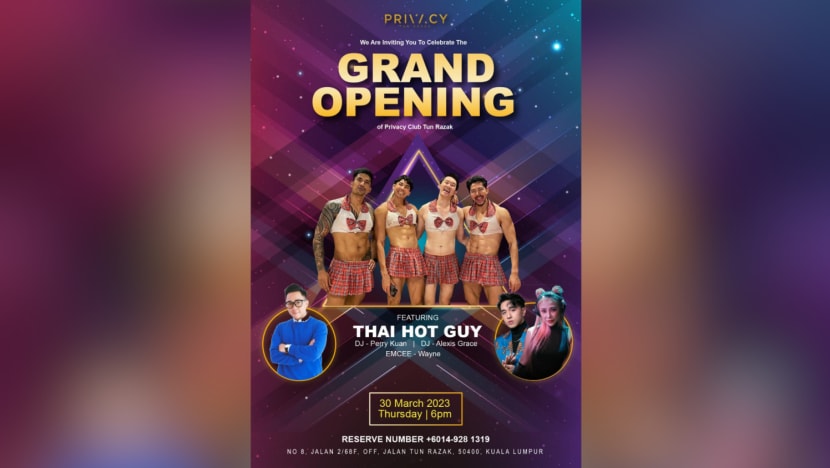 KUALA LUMPUR: The grand opening of a club in Kuala Lumpur later this month that was set to feature male waiters from Thailand dressed in female outfits has been cancelled.
In a statement on Wednesday (Mar 22), Wangsa Maju police chief Ashari Abu Samah said that the organisers had agreed to the cancellation of the "Thai Hot Guy" event following a warning from the authorities. Wangsa Maju is a district in Kuala Lumpur.
Mr Ashari said that the police were made aware of the event via a video on social media. 
"The police issued a stern warning to the organisers not to proceed with the event and to cancel it.
"Both the organisers and management agreed to cancel it, and no event or programme will be held such as that being spread online," said Mr Ashari.
He added that the police received 60 reports against the event. 
The issue first came to the fore after Parti Islam Se-Malaysia (PAS) secretary-general Takiyuddin Hassan criticised the event for allegedly promoting "hedonistic culture, pornography, and casual sex".
Posters circulating on social media of the "Thai Hot Guy" event feature several muscular men dressed scantily in short skirts and halter tops. According to the poster, the event was set to take place on Mar 30 as part of Privacy Club Tun Razak's grand opening in Kuala Lumpur. 
The "Thai Hot Guy" group is famous on social media. They are waiters from the Staneemeehoi restaurant in Bangkok and have gone viral online for dancing while dressed in women's clothes. 
In his statement early on Wednesday, Mr Takiyuddin criticised the scheduled event and urged the authorities to reconsider it. 
"PAS is very upset and strongly objects to the … official opening event of a bar … on the basis that it is outrageous, insensitive, immoral and even disgusting," said Mr Takiyuddin.
"PAS urges the authorities, especially the DBKL (Kuala Lumpur City Hall) to reconsider the (granting of) permission … for the event in question, that is clearly very contrary to the local values and insensitive to the position of Islam as a federal religion, not to mention held in the month of Ramadan." 
Mr Takiyuddin also called for individuals to ensure that Malaysia is not exposed to a "destructive and unconstructive culture". 
"Individual or economic freedom can never be used as an excuse to justify or do negative acts and tendencies like this. It is appropriate that all parties have a civic responsibility to ensure that our society is not exposed to a destructive and unconstructive culture like this," he said. 
Following Mr Takiyuddin's criticism, the Political Secretary to the Prime Minister Azman Abidin said that the premises of the club only has a restaurant licence and that it had expired more than two years ago. 
"The premise also does not have an entertainment license nor did it apply for one to conduct entertainment activities," said Mr Azman. 
He added: "DBKL is also in the process of reviewing (the situation and will) take enforcement action if any violations of rules and conditions by the organisers are found."
Home Minister Saifuddin Nasution Ismail on Wednesday said that events such as "Thai Hot Guy" should not go on as it could cause anxiety especially among Muslims who will be observing Ramadan, reported The Star. 
Mr Saifuddin added that there must be mutual respect among Malaysians especially during the holy month of Ramadan. Ramadan is observed by Muslims in the country and lasts for a month. It is expected to begin on March 23. 
Just two weeks ago, a PAS lawmaker had urged the Malaysian government to "control" the increasing number of concerts and performances held by foreign artistes in the country after a concert by Korean girl group Blackpink drew more than 60,000 fans. 
Padang Terap Member of Parliament Nurul Amin Hamid said that such concerts had caused "a bit of unease" among Muslims in the country. 
Last year, PAS youth wing chief Ahmad Fadhli Shaari also criticised foreign concerts as they encourage "hedonism", following a concert held by American singer-songwriter Billie Eilish, Free Malaysia Today reported.