JELEBU, Negeri Sembilan: Malaysian Prime Minister Ismail Sabri Yaakob said there have been weaknesses in coordination efforts for the massive flood and promised improvement going forward.
He said managing flood disasters was not solely the responsibility of the federal government, but also the authorities at state and district levels, Bernama reported. 
"I don't deny (the weakness) and will improve in the future ... The responsibility is not that of the federal government alone, but also the state governments and the frontliners are the districts," he told reporters after visiting flood victims in Jelebu, Negeri Sembilan, on Tuesday (Dec 21). 
"The National Disaster Management Agency only coordinates ... If it is considered a weakness in coordination, I do not defend anyone in this situation. For me, everyone must be held accountable," he was quoted as saying.
The prime minister said the flood situation in Selangor was unexpected. 
"In Selangor, there is a problem … We are transparent about this and I do not want to cover anyone," he said.
"In other states, (like) in the east coast, floods have become like an annual event, so all the preparations have been made, only waiting to see whether (there is a need to) open the PPS (relief centres) or not. 
"Every year, the flood evacuees will move to the same place," he added.
Heavy rains on the west coast of Peninsular Malaysia last Friday and Saturday had resulted in the worst flooding in years, with Selangor and Pahang being the most affected. 
People who were left stranded complained that the authorities have been slow to act.  
More than 20 lives were lost in Selangor and Pahang, and close to 67,000 flood victims were evacuated to 422 relief centres in seven states and the federal territory of Kuala Lumpur on Monday. 
As of Tuesday noon, the number of evacuees rose in Pahang and Negeri Sembilan to 39,806 and 765 respectively, while the total of victims housed in relief centres in other states reported a decline, according to Bernama.  
For instance, all three centres in Kemaman, Terengganu, were closed and Terengganu Meteorological Department director Rosli Zakaria was quoted as saying that good weather was expected to last for another week in the state. 
Meanwhile, opposition leader Anwar Ibrahim said in a statement on Tuesday that the leadership has failed to protect the people from the heavy rainfall and floods.
"A government that cannot warn the people when they see a natural disaster escalating or change its schedule to help when people are stranded and transportation is disrupted, do not give confidence that they will be able to help us recover from other crises, including the ongoing pandemic," he said. 
Mr Anwar also urged the prime minister to establish a royal inquest as well as a parliamentary committee to improve and update Malaysia's disaster response procedures. 
In a blog post, former prime minister Mahathir Mohamad cautioned that there would be more natural disasters and stressed the need to prepare for global warming. 
"The rise in temperature we are experiencing now is part of the changes the planet goes through. It may get worse. We need to prepare for this change. We must expect more natural disasters," he said.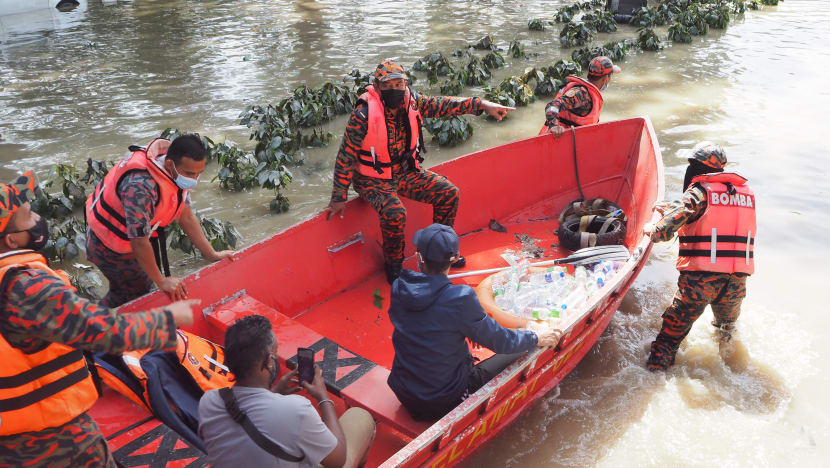 "NOT A QUESTION OF UNPREPAREDNESS" 
In Selangor, Chief Minister Amirudin Shari said during a press conference on Tuesday afternoon that flood preparations had begun back in November in anticipation of the year-end rainy season, but the authorities were caught off guard by the amount of rainfall. 
"Average rainfall for one month came in one day," he said, adding that rainfall for November was 200mm to 300mm, but 300mm to 400mm of rain pounded beginning Dec 16. 
"It's not a question of unpreparedness," he said.   
Mr Amirudin added that all state machinery was mobilised on Dec 18 afternoon and when the state received the report of the "overwhelming" situation, he contacted the prime minister and Defence Minister Hishammuddin Hussein at night to request for federal support. 
"(Was there) a lack of coordination (between state and federal authorities)? Yeah, but it's because we were caught by surprise by the amount of water. But is it because we did not communicate? We do communicate," he stressed.
"It's not a blame game. 
"It's time to (focus on) searching and rescuing the people, and it did happen from the time I called the prime minister. Coordination continued until today and that's why we can see the rescue process took place at a quicker pace," he added.   
As of Tuesday 8am, a total of 30,632 victims were placed in 203 relief centres, the chief minister said. The number of evacuees was set to increase as water levels at the districts of Kuala Selangor, Kuala Langat and Sepang were still rising, he said.   
Seventeen bodies have been found in Selangor so far, including one volunteer participating in the search and rescue efforts, Mr Amirudin said.