Corruption a key election issue as Malaysia heads to the polls on Nov 19
The country has been plagued with several cases of corruption, with former Prime Minister Najib Razak currently serving a 12-year jail sentence for his involvement in the 1MDB scandal.
SINGAPORE: A recent scandal involving the Malaysian navy and a multi-million dollar purchase of new ships is unlikely to sink the ruling party's election chances in the Nov 19 polls, but the issue of corruption in the country remains a major one for voters, said observers.
Malaysia has been plagued with several cases of corruption, with ex-Prime Minister Najib Razak currently serving a 12-year jail sentence for his involvement in the 1MDB scandal.
But observers do not expect the littoral combatant ships (LCS) saga to impact the results of the upcoming elections as greatly as the 1MDB saga did back in 2018, as there is no clear target to rally against this time round.
The Malaysian government had ordered six of the vessels a decade ago in a contract worth around US$2 billion. While it has paid out more than US$1.3 billion, none of the ships have been delivered yet. 
Meanwhile, some political parties have taken to declaring their candidates' assets, to prove their transparency and accountability to the electorate.
WILL SHIP SCANDAL SINK THEIR CHANCES?
Since the revelation about the LCS saga, the opposition camp has been using the recent campaign period to target the issue, along with other alleged abuses of power, said Universiti Sains Malaysia senior lecturer Azmil Tayeb.
"But we're not seeing the same impact as the 1MDB issue four years ago," he told CNA's Asia First on Tuesday (Nov 15).
"Things move very fast in Malaysian politics. The difference, I guess, between 2018 and today, (is that) the characters implicated in the LCS are not holding government positions."
He explained that in 2018, when the Pakatan Harapan (PH) coalition led by former Prime Minister Mahathir Mohamad defeated the long-term ruling Barisan Nasional (BN) coalition, there was a clear target in former leader Najib Razak.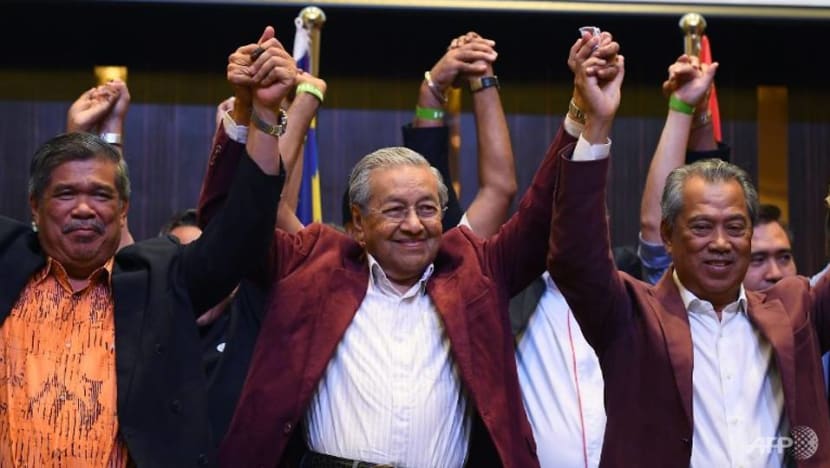 The narrative was also more well coordinated, with the abuse of public funds linked to spiraling costs of living, in light of the newly introduced Goods and Services Tax, he noted.
"But that is not the case today. The prime minister today, the caretaker prime minister (Ismail Sabri Yaakob), who has been named as his party's poster boy, is not implicated in the case," noted Mr Azmil.
Mr Azmil said there was an initial outrage when the scandal broke in the lead-up to the dissolution of parliament and the announcement of the general election date.
He noted that opposition parties are now trying to direct their efforts towards a new target - BN chief Ahmad Zahid Hamidi and his 47 pending court charges for corruption and money laundering.
"What's really more significant now, what we can actually observe in election campaigns on the ground right now, is this concerted focus by both PN (Perikatan Nasional) and PH on Zahid Hamidi. Basically, the message is that a vote for BN is a vote for Zahid Hamidi," he said.
He said that voters care about corruption, and the political parties know this, with all three major coalitions projecting themselves as being trustworthy, clean and competent.
DECLARING ASSETS
Ahead of the upcoming election, one party, the Parti Keadilan Rakyat (PKR), has made its candidates, including party president Anwar Ibrahim, declare their assets.
Anti-graft activists from the Center to Combat Corruption & Cronyism have called for all election candidates to follow their example, in the interest of public accountability.
Mr Azmil agreed that having candidates declare their assets will bring an element of transparency in the political process, "which is sorely lacking in Malaysian politics right now".
He added that it will boost the confidence among voters, who will have a fuller and clearer idea of who they are voting for.
Mr Adib Zalkapli, director at political consultancy BowerGroupAsia, said it would be more of just a symbolic move for parties to convince their voters of their reliability.
"It also sets a new benchmark for leaders and politicians who aspire to hold public office. It matters for opposition supporters, especially hardcore opposition supporters who hold their leaders (and) parties to a higher standard," he told CNA's Asia Now.
Mr Adib added that with four days to go, the opposition's attempt to play up the LCS issue has not really taken off.
However, there is still time for them to improve their narrative, he said, by simplifying the anti-corruption message in the coming days.
"Perhaps simplify the message, make sure the right target is in the crosshairs like it was in 2018," said Mr Adib.