It's a 'stupid' move, says PAS chief on PKR's decision to declare assets ahead of Malaysia election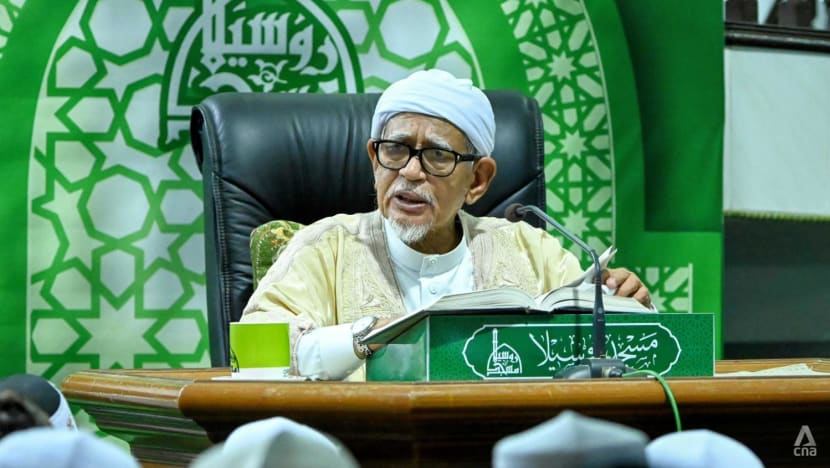 MARANG, Terengganu: Parti Islam Se-Malaysia (PAS) president Abdul Hadi Awang has criticised a move by Parti Keadilan Rakyat (PKR) to have its candidates declare their assets ahead of the 15th General Election (GE15).
Speaking to reporters on Friday (Nov 11), he described PKR's decision as a "stupid" move, although he did not see anything wrong for any PAS' members who want to follow suit in declaring their assets.
He was responding to media reports that PKR's candidates for GE15, including its party president Anwar Ibrahim and his deputy president Rafizi Ramli, have already declared their assets ahead of the Polling Day on Nov 19.
When asked about his views on PAS members who might want to declare their assets, Mr Abdul Hadi said he has no issue with it.
"But I think this asset declaration is stupid. It is meant to show off to people that you are good. But let the people themselves judge whether you are good," said Mr Abdul Hadi, who is also deputy chairman of Perikatan Nasional (PN).
According to Mr Abdul Hadi, he did not see any need for PAS candidates to declare their assets as the party's candidates are not rich, with millions of ringgit of assets.
For most, their assets are just around hundreds of thousands of ringgit, said Mr Abdul Hadi. He added that PAS supporters who are millionaires do not usually get involved in politics.
He also said that so far none of PAS' politicians in Kelantan or Terengganu where the party rules, have been found to be implicated with wrongdoings.
This is not the case with politicians from PH or Barisan Nasional (BN) who have been dragged to courts for wrongdoings, he noted.
In Perak, PN's election director Mohamed Azmin Ali also dismissed the PKR's move, describing it as theatrics.
"We don't have to follow what others do," Mr Azmin was quoted as saying by Free Malaysia Today (FMT) on Thursday evening.
Mr Azmin said that PN candidates will declare their assets to the Malaysian Anti-Corruption Commission (MACC) should the coalition come into power and if the candidates are appointed as ministers.
The caretaker senior minister said that Cabinet ministers were usually required to declare their assets to the anti-graft agency. "This we have done," he said.
Caretaker health minister and BN's candidate for the Sungai Buloh parliamentary seat, Khairy Jamaluddin also dismissed the need for election candidates to declare their assets, as this is usually done only after the politicians are appointed as Cabinet ministers.
PKR FIRST TO DECLARE CANDIDATES' ASSETS 
PKR is the first party to ask its candidates to declare their assets as part of the party's campaign against corruption.
On Wednesday, Mr Anwar who is also PH chairman disclosed his assets which are worth about RM11.17 million (US$2.4 million) as of Oct 30. 
Malaysian media reported that Mr Anwar's assets include a house and three plots of land worth RM10.35 million. He also has about RM829,000 in cash and savings.
Last week, Mr Rafizi declared that his net assets are worth about RM18.9 million, which include more than RM16 million worth of investments and shares from his company Invoke Solutions Sdn Bhd.
Both Mr Anwar and Mr Rafizi have urged other party leaders to follow PKR's lead and declare their assets as well.
In explaining why PKR required its candidates to declare their assets, Mr Rafizi said the party wants to be as transparent as possible to show to the public that its candidates can be trusted.
"It's about setting a higher standard for candidates, if they wish to serve in public office, they must be open to public scrutiny about their finances," said Mr Rafizi as quoted as saying by FMT.
Malaysian United Democratic Alliance (MUDA) president Syed Saddiq Syed Abdul Rahman has also followed suit, declaring his net asset of over RM1.9 million as of September 30.
The former sports and youth minister is currently facing trial for four charges of misappropriation of assets, money laundering and abetting in criminal breach of trust.
The High Court has ordered Syed Saddiq to defend himself when his trial resumes in Feb next year.
MUDA has a GE15 electoral pact with PH.
Meanwhile, Democratic Action Party (DAP), a component party in the PH coalition, has said that the party does not have any plans to make it mandatory for its candidates in GE15 to declare their assets.
"We do not have such a policy. Only if we are elected and sworn in as Cabinet minister, we will do so (declare our assets) just like in the past," DAP secretary-general Anthony Loke said to the media in George Town on Thursday. 
Among the priorities listed in the PH manifesto for GE15 which was released on Nov 2, include eliminating corruption from government.
More than 21 million voters are expected to cast their ballots on Polling Day on Nov 19, while early voting will be on Nov 15.