'I feel sad and worried': Rohingya community in Malaysia in shock over detention centre breakout
As of Friday morning, 96 people are still on the run.
KUALA LUMPUR: When Rohingya refugee Jamil Shah, 40, heard about the rioting incident involving members of his community at the Sungai Bakap immigration detention centre in Kedah, he was in shock.
It reminded him of his two-month stint in an immigration detention centre in Taiping, Perak, when he arrived here from Myanmar about 22 years ago.
"I feel sad and worried about the escape attempt," Mr Jamil told CNA, adding that it takes a toll emotionally when people are being confined to such detention centres. 
"Refugees like us … we just want to escape from Myanmar because we want to live," said the man who sells vegetables at the Selayang wholesale market in Selangor. 
A community leader among the Rohingya refugee community in Kedah, Mr Yusof Ali, also said that the Wednesday (Apr 20) incident was harrowing for the community.
The Rohingyas only wanted to live with dignity, he said.
"We are peace loving people and only want to live with some freedom. We don't mean (to create) any trouble here and we respect the country's laws," he said.    
On Wednesday, a total of 528 Rohingya detainees had escaped the immigration detention centre following a riot, with six of them killed while trying to cross the North-South Expressway after the breakout. 
Home Minister Hamzah Zainudin had said that all the detainees who escaped were ethnic Rohingya refugees transferred from a camp in Langkawi island after being detained for trespassing in Malaysian waters and violating the country's immigration laws in 2020.
Malaysia is considered to be a favoured destination for the Rohingyas who undertake dangerous and deadly journeys by boat from either Myanmar or Bangladesh.
However, Malaysia is not party to the 1951 Refugee Convention nor its protocol. Hence, there is no asylum system regulating their status and rights. 
Refugees in Malaysia mostly seek temporary livelihoods, while waiting for resettlement to a third country, a process that could take years. 
Some like Mr Jamil have been issued a United Nations High Commissioner for Refugees (UNHCR) card, which is an identity document.
According to the UNHCR website, the card serves to recognise a refugee and asylum seeker's need for international protection. It does not give the person immunity from the law, the website adds. 
The UNHCR website also says that every country has the sovereign right to manage illegal immigration on its territory, including deporting those who violate immigration laws. 
But under customary international law, every country – regardless of whether or not they are party to the 1951 Refugee Convention and its associated 1967 protocol – has a responsibility to not forcibly return refugees to a situation where their lives or freedoms may be at risk, it also says.
As of Friday morning, the authorities have arrested 432 of the undocumented migrants who escaped, and 96 were still at large. 
Kedah Criminal Investigation Department (CID) chief G Suresh Kumar revealed on Thursday that riot and breakout happened because the escapees wanted their freedom, after questioning about 200 detainees.
It was not because the detainees were unhappy with the camp management, he added. 
GROUP THAT ESCAPED HAS BEEN DETAINED FOR MORE THAN 2 YEARS 
Mr Hamzah, the home minister, said on Thursday that the group had been detained for more than two years at the centre because the deportation process could not be done.
He was quoted by Bernama as saying that the Myanmar government was not willing to accept them and did not recognise their citizenship status.
"So, where can they be deported to? This is a problem for us," he noted.
Expressing his sadness over Wednesday's incident, Mr Rafik Shah Mohd Ismail, 46, better known as "Ustaz Rafik" among the Rohingyas in Selayang, said words cannot describe his feelings.  
"I was really at a loss and feeling down, even yesterday after the incident, because these people have been through so much already," he told CNA on Friday.
According to the UNHCR website, Malaysia hosts some 181,000 refugees and asylum-seekers as of January 2022. 
Almost 85 per cent of them are from Myanmar, including about 103,000 Rohingyas.
Mdm Yante Ismail, UNHCR spokesperson in Kuala Lumpur, told CNA that they did not have any information regarding the Wednesday breakout or the individuals involved, but expressed the organisation's sadness over the incident.
She added that UNHCR has not received approval from immigration authorities to access detention centres since August 2019. 
Mr Hamzah, the minister, had in June 2021 rejected calls for the UNHCR to be allowed access to immigration depots, saying that those inside had violated the country's laws. 
"This is our country. Why do they want to enter our immigration (depots)? What is the reason?" Mr Hamzah was quoted as saying by the Star at that time.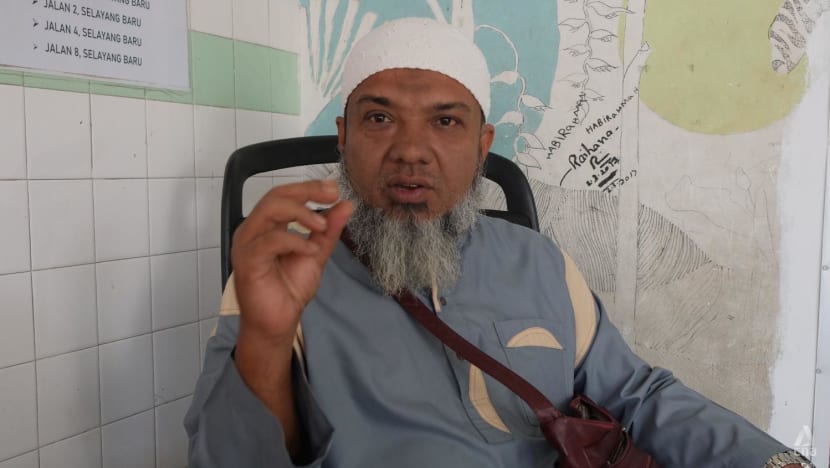 Former prime minister Najib Razak, in a Facebook post on Friday, said the government should step up diplomatic efforts to resettle the refugees or give them opportunities to contribute to the country's economy temporarily before workers from other countries. 
"Anyway, It is unfair and unreasonable for us to let them be detained for years," he wrote. 
The Pekan MP added that the government has to bear high costs to keep them in detention depots. 
Mr Rafik, the Rohingya community leader in Selayang, said Wednesday's event made other Rohingya refugees worried about their safety.
"I am worried that this will draw attention again on us, when all we want to do is survive," he said.