Malaysia GE15: Borneo electoral bloc is possible if Sabahans vote for local parties, says Shafie Apdal
The president of Warisan said that the Sabah and Sarawak electoral bloc can be realised if local parties are given the mandate in GE15.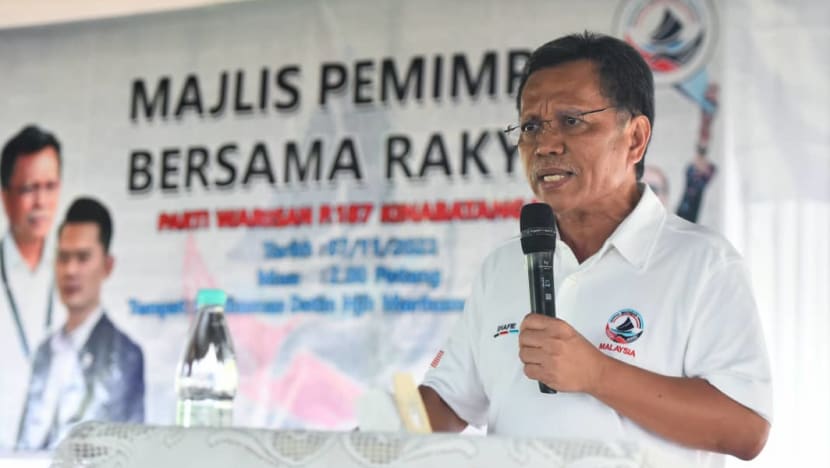 KOTA KINABALU: The formation of a Borneo bloc comprising federal members of parliament from Sabah and Sarawak is possible if Sabahans vote for local parties in the 15th General Election (GE15), said Parti Warisan (Warisan) president Shafie Apdal on Monday (Nov 14).
Speaking during a campaign event in Kota Kinabalu, the former chief minister said that cooperation between Warisan and Gabungan Parti Sarawak (GPS) is possible to realise the regional bloc.
"We have not yet had formal talks over the formation of a bloc, but if Sabahans vote for a local party with a strong mandate, I'm sure GPS will willingly talk to us – and vice versa – in the interests of both states," said Mr Shafie as quoted as saying by the Star. 
"But if the people of Sabah vote for the federal parties, …Why should they (GPS) talk to a local party (affiliated with federal parties) when they can directly talk to Kuala Lumpur?" he asked. 
Mr Shafie is believed to be referring to Peninsula Malaysia-based parties such as Parti Pribumi Bersatu Malaysia (Bersatu) in Gabungan Rakyat Sabah (GRS) and the United Malays National Organisation (UMNO) in Barisan Nasional (BN).
Mr Shafie cited Sarawak's minister Abdul Karim Rahman Hamzah, who said that Sarawak would not work with parties that will require them to discuss the state's demands with leadership in Kuala Lumpur.
"Every time they (Sarawak parties) work with parties who are based in the peninsula, they have to report to their bosses in KL before they can talk (in favour of) Sarawak's interests," he reportedly said. 
Mr Shafie said that it is important for Sabahans to choose local parties as it would be easier to meet the people's demands without having to go through any federal party leadership.
Last month, another Warisan leader Benedict Sakunil said that the Borneo bloc would translate into a political will that could help Sabah and Sarawak to be independent of influences from the Peninsula. 
"Under the umbrella of a Borneo bloc, GPS and Parti Warisan that are free of Malayan influence will assist one another to defeat any exploitative and manipulative agenda against Sabah and Sarawak," said Mr Sakunil as quoted as saying by Malay Mail. 
In GE15, Warisan, which started as a Sabah-based party, is fielding 52 candidates for the federal seats, 27 in Peninsula Malaysia and 25 in Sabah. 
In Malaysia's 222-member Lower House of Parliament, Sabah's representatives make up 25 of the MPs while Sarawak has 31 MPs.
Major coalitions such as Barisan Nasional (BN) and Pakatan Harapan (PH) have been making gestures to parties in Sabah and Sarawak for a possible collaboration in GE15, such as by offering the post of deputy prime ministers (DPM) to the two states. 
Last week, BN chairman Ahmad Zahid Hamidi said the offer to create the DPM posts, each to represent Peninsular Malaysia, Sabah and Sarawak still stands even though it was not included in BN's GE15 manifesto. 
PH chairman Anwar Ibrahim has also said that he would appoint two DPMs, including one for Sabah and Sarawak, if the coalition is elected to lead the government after GE15.  
I UNDERSTAND SABAH POLITICS: MUHYIDDIN  
Meanwhile, Perikatan Nasional (PN) chairman Muhyiddin Yassin stressed on Monday that he understood Sabah politics quite well as he had been involved in the state's political affairs for more than 40 years.
He said that he therefore understood very well the sensitivities involved in Sabah politics, Bernama quoted Mr Muhyiddin as telling reporters after chairing a PN Supreme Council meeting in Kuala Lumpur on Monday. 
He was responding to the criticism against PN's decision to place its candidate from Bersatu, Dr Ronald Kiandee, to contest the parliamentary seat of Beluran.
Mr Muhyiddin said the decision to place him there was a fair and reasonable decision. 
Earlier, local media quoted Gabungan Rakyat Sabah (GRS) chairman Hajiji Noor as saying that the politics in Sabah was a "bit different' and unique", thereby dismissing Mr Muhyiddin's views on the seat allocation for Beluran. 
GRS, which consists of Bersatu, Parti Bersatu Sabah (PBS), Parti Solidariti Tanah Airku (STAR), Sabah Progressive Party (SAPP) and USNO, governs Sabah along with Barisan Nasional (BN).
Sabah BN has fielded former Sandakan district council president Benedict Asmat as its candidate in Beluran.
Dr Ronald, who held the Beluran seat since 1999 under the BN-UMNO banner, was dropped from the line-up of GRS candidates fielded in GE15. The caretaker federal agriculture and food industries minister left UMNO in 2019 to join Bersatu as its vice-president.