Warisan promises clean, inclusive government in Malaysia GE15 manifesto: Shafie Apdal
The East Malaysia-based party said that the essence of the manifesto includes a vision to strengthen unity and transparent governance.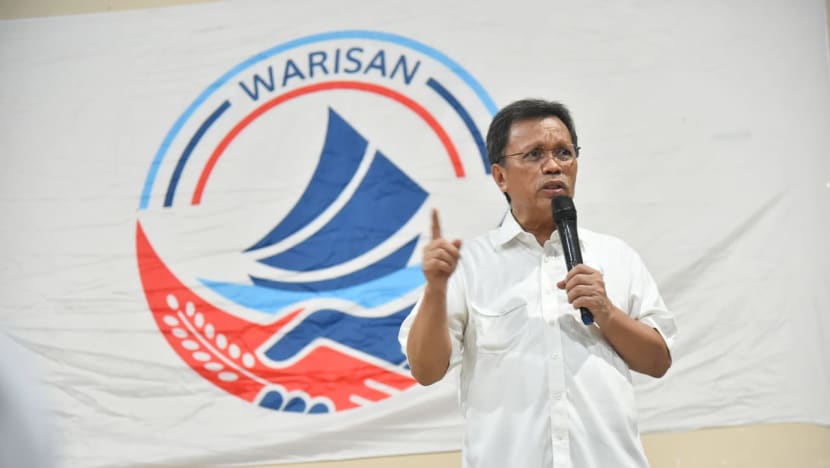 KINABATANGAN, Sabah: Parti Warisan (Warisan) president Shafie Apdal said that the mission of his party for the upcoming 15th general election (GE15) is to offer Malaysians a clean, inclusive, and fair government with integrity.
Speaking to the media after a constituency event on Monday (Nov 7), Mr Shafie said that the essence of the manifesto includes a vision to strengthen unity and offer transparent governance if elected. 
The Warisan manifesto will be a simple one but with a deep content, added Mr Shafie who was quoted as saying by Bernama. 
"We want a government that carries out its responsibilities in a transparent, fair and equitable manner, so that all strata of people are entitled to (get) help from the government," he said. 
However, he did not provide a date for the launch of the manifesto. 
On the possibility of the Sabah and Sarawak parties coming together to form the so-called 'Borneo Bloc', Mr Shafie was reported to remain mum on the idea about Warisan and Gabungan Parti Sarawak (GPS) forming the bloc. 
"When the time comes, I will announce it," The Star quoted him as saying when he was asked whether he had met with GPS leaders last week to discuss the matter. 
Earlier, there was talk that both Warisan and GPS were considering the formation of such a bloc in the event that Warisan wins the election.
"Sarawak's voice is on the same frequency. They talk about protecting Sarawak's rights, we are also about protecting Sabah's rights," the Star quoted Mr Shafie. 
In GE15, Warisan, which started as a Sabah-based party, is fielding 52 candidates for the federal seats, 27 in Peninsula Malaysia and 25 in Sabah. 
For the Kinabatangan seat in Sabah, Warisan is fielding Mazliwati Abd Malek against the incumbent, Barisan Nasional (BN) Sabah chairman Bung Moktar Radin. 
Mr Shafie said that Warisan would not have fielded a candidate for the Kinabatangan contest, if they did not have the confidence to win in that area.
The Kinabatangan parliamentary seat is a straight fight between Ms Mazliwati and Mr Bung Moktar who has also held the seat for five terms since 1999. 
In GE14, Mr Bung Moktar won with a majority of almost 9,500 votes, defeating Warisan's Ghazali Abdul Ghani, and Parti Harapan Rakyat Sabah's (HR) Mustapa Datu Tambuyong.
CANDIDATES RESPONSIBLE FOR SUPPORTERS' ACTION: POLICE CHIEF 
Meanwhile, Malaysian police have issued a warning to political parties to be responsible for the actions of their supporters in order to prevent incidents such as in Tenom, Sabah from recurring. 
The warning was issued after a commotion broke out among supporters of Parti Kesejahteraan Demokratik Masyarakat (PKDM) president Peter Anthony, when his election nomination was rejected by the Election Commission (EC) at the last minute during last Saturday's Nomination Day. 
In a Facebook statement on Monday, the police chief Acryl Sani Abdullah Sani said that the police would take strict action against any individual who tries to incite provocations, disrupt public peace and violate the law during the election period. 
Mr Acryl Sani said that candidates and campaign managers must bear the responsibility of managing the sentiments of their supporters to ensure that the Tenom incident does not happen again. 
Mr Anthony has also urged all the party's supporters to be patient and not too emotional over the rejection of his GE15 candidacy, according to Bernama. 
The state assemblyman for Melalap also said that there was still legal room for a review of the EC's decision as the court case was still pending.
In May this year, the Kuala Lumpur Sessions Court sentenced Mr Anthony to three years' jail and a fine of RM50,000 (USD10549.64) after he was found guilty of falsifying a letter over a maintenance work and service contract with Universiti Malaysia Sabah.
The court had also on, Aug 1, allowed Mr Anthony's application to set aside the conviction and sentence to enable him to contest in GE15.