Don't trust promises for Sarawak: State premier questions PH's offer to cooperate in GE15
GPS chairman Abang Johari Openg said that any talk of cooperation with Anwar Ibrahim's Pakatan Harapan will depend on the outcome of Malaysia's 15th General Election on Nov 19.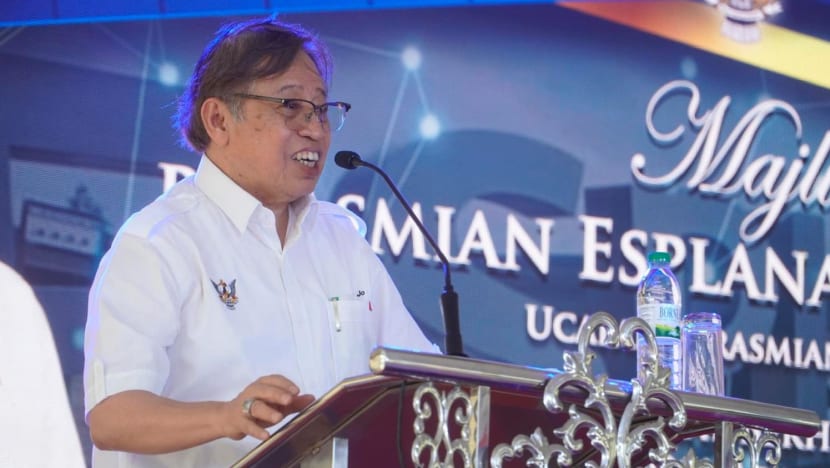 KUCHING: Sarawak premier Abang Johari Abang Openg said on Sunday (Nov 13) that Pakatan Harapan's (PH) promises to resolve issues relating to the Malaysia Agreement 1963 (MA63) is something that cannot be trusted. 
Mr Abang Johari was asked to comment on the offers made by PH chairman Anwar Ibrahim on Saturday that the coalition would fully implement MA63 and give health and education autonomy to Sarawak, should it come to power after Malaysia's 15th General Election (GE15).  
Mr Anwar also said that PH was open to the possibility of working with Mr Abang Johari's Gabungan Parti Sarawak (GPS) to form the next federal government. 
"Can you trust them? After what had happened during their 22 months in power?" asked Mr Abang Johari as he was quoted as saying by Malay Mail.  
The GPS chairman was referring to the short-lived PH administration between May 2018 to February 2020, where he claimed that Putrajaya had cancelled various projects in Sarawak. 
He also said that PH had failed to fulfil its 2018 general election manifesto where it promised to pay Sarawak 20 per cent of its oil royalty. 
On Mr Anwar's offer of cooperation between PH and GPS in GE15, Mr Abang Johari said that it would depend on the outcome of the general election.
"Let us contest (the election) first, then we will see," said Mr Abang Johari as quoted as saying by the Star. 
In his speech at an event earlier, Mr Abang Johari said that Sarawak would work with a prime minister who would be fair to the state.
"We've been left behind for too long and we're still negotiating several issues under MA63," he said.
He also called on Sarawakians to send as many GPS representatives as possible to parliament to fight for the state's rights and interests.
"If possible, we want to win all 31 seats. Don't let Putrajaya take us for granted," he added.
Previously, Mr Abang Johari had criticised the PH federal government for its "half-hearted" efforts to amend the Federal Constitution, by proposing amendments without referencing MA63 and the Inter-Governmental Committee (IGC) Report. 
He said that any amendments to the Federal Constitution relating to the issue of the formation of Malaysia must have reference to MA63 and the IGC Report.
The MA63 issue refers to the restoration of Sabah and Sarawak's status as outlined in the 1963 agreement, which gives the two states and Malaya equal status as the original founders of the Malaysian federation. 
It seeks to undo the 1976 amendment to the constitution which placed Sabah and Sarawak with the rest of the states in Malaysia, seen as a "downgrade" by many Sabahans and Sarawakians. 
The IGC Report also acknowledges Sabah and Sarawak's equal status to Peninsular Malaysia.
In GE15, GPS, which comprises four parties, is contesting all 31 parliamentary seats in Sarawak.
Before the coalition was formed in June 2018, the four parties won 19 out of 31 seats when they contested in the 14th General Election under the Barisan Nasional banner.  
PH leaders including Mr Anwar have said that the coalition is confident of winning more than 90 seats in the peninsula and is open to cooperation with an alliance in East Malaysia to form the federal government. 
Parties or coalitions will need to secure at least 112 of the 222 seats in the Malaysian parliament in order to form the new government. 
About 21 million eligible voters are expected to cast their ballots on Polling Day on Saturday, with early voting to begin on Nov 15.