'They've lost everything again': Quake worries Syrian refugees in Malaysia still reeling from war
KUALA LUMPUR: Rasha Rashed Salo flashes a huge smile every now and then at her students during Arabic lessons at a primary school for refugee children in the suburbs of Kuala Lumpur.
Deep down, however, the 37-year-old Syrian refugee is only trying to put on a brave face as she worries for family members who were caught in a deadly earthquake that ravaged parts of northern Syria and southern Türkiye.
"Already, people were without food before this. Now they have lost their homes and everything else," the volunteer teacher told CNA on Thursday (Feb 9). 
Mdm Rasha, who has been in Malaysia since 2015 said that several of her family members live in Aleppo, Syria and in Gaziantep, Turkey. 
Both places were among those badly affected by the magnitude 7.8 earthquake on Monday and its subsequent aftershocks.
Mdm Rasha said that in Türkiye, the wife of her elderly uncle injured her hand badly while a cousin's husband had his leg crushed by falling debris.
The cold weather has made things worse, hampering the movement of her loved ones in Türkiye who are now forced to live in a crowded tent as their homes were badly damaged.
Mdm Rasha said that they are without electricity, clothes and water while the Internet connection is very unreliable.
"Because of the war, they lost everything when they ran away from Syria to Turkey. Now they have lost everything again," said Mdm Rasha whose three children are together with her in Malaysia.
Meanwhile, her other family members who remained in Syria had their homes badly damaged and are now living with their neighbours.
"I am very worried for my family and my country," she told CNA tearfully as she showed a video clip of the destruction that was sent by her family members. 
In the past decade, Syria has been decimated by civil war and violence that has seen millions including Mdm Rasha flee the country.
Mdm Rasha, who grew up in the capital city of Damascus, said that Aleppo was close to her heart as her father is from there.
She said that she could only weep when she saw pictures of the devastation caused by the earthquake, including the Great Old Mosque and a bazaar that she used to frequent when she went to Aleppo. 
"I hope the war ends and I want to go back home. I love Malaysia, but it's not home," she said. 
The Türkiye-Syria border is considered to be one of the world's most active earthquake zones.
Monday's earthquake has claimed more than 15,000 lives, with thousands more feared to be injured and trapped under the rubble.  
The initial quake on Monday morning, which was the worst to hit Türkiye this century and the world's deadliest in a decade, was followed by numerous aftershocks.
 
Two Syrian teens told CNA that they could not contain their feelings when they saw the news and photos of the destruction caused by the earthquake.
Jina, 16, who is from the city of Homs said that her uncle lived in the town of Al-Bab, located at the Syria-Türkiye border.
She recounted that when they learned of the disaster, her father was worried as he could not contact her uncle.
Eventually, they managed to get in touch with the latter but communication since then has been sporadic.
While her uncle and his family are fine for now, there is concern over what will happen in the event of another aftershock, said Jina.
She said that it was heartbreaking that she couldn't do anything to help her countrymen.
"It's a privilege that I am here and safe, but that does not make me feel good. I will never feel better knowing that there are people and children like me who are constantly afraid and scared.
"It's winter and there's a war ongoing. We can only share awareness through social media," she said, adding that she hopes to go back and serve her country one day.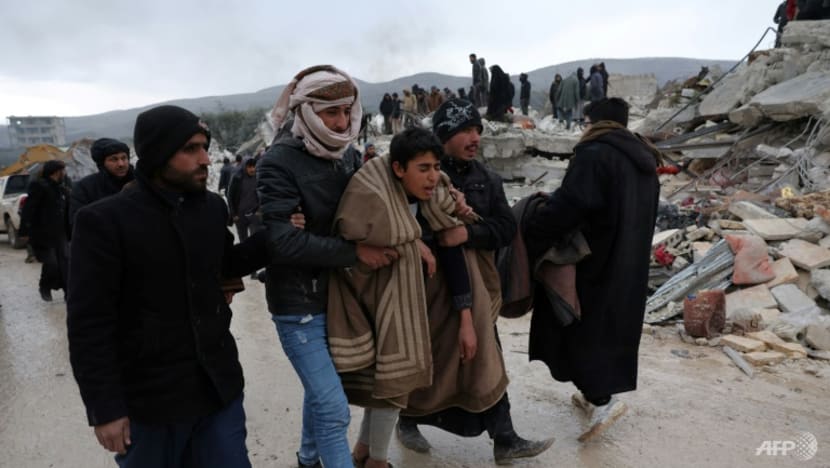 Fatimah, 16, who is from Damascus recounted that her aunt in the town of Termanin called her family during the earthquake.
"Her house was shaking," she said, adding that her aunt and family ran into the street while it was raining.
"Every several hours we try to call her. Sometimes we call her but there is no Internet and we worry more about her, especially when we see the news on social media. Sometimes she replies late," she added.
Fatimah said that she was also worried for Syria as a whole.
"They were having war and now an earthquake. I feel sad and worried about the future of the country. I hope there will be peace one day and I can go back," she said.