Türkiye-Syria quake: Turkish community in Singapore calls for aid, worries about missing relatives
Four Türkiye nationals living in Singapore tell CNA how they have been affected by the deadly earthquakes that struck earlier this week, and how they have helped in donation efforts.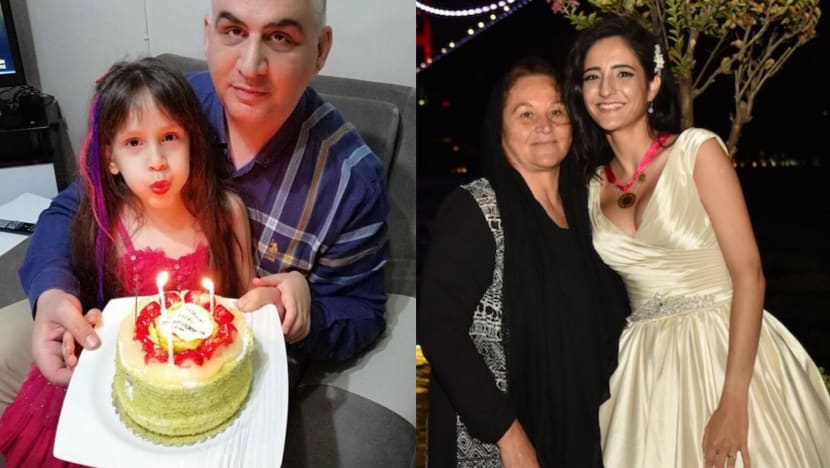 SINGAPORE: When Ms Canan Dolma Vandenbrink's mother called her on Monday (Feb 6) morning, she instantly knew something was wrong. It was 4am in Türkiye – five hours behind Singapore time.
Ms Vandenbrink's worst fears were soon confirmed. A magnitude 7.8 earthquake had struck Türkiye and Syria, including the southeastern city of Adiyaman where her entire family has lived since the 1700s.
Her mother told her there was a "big earthquake" and everyone was fine, but the mobile connection was so poor that she was unable to hear much more.
Because news of the disaster had not yet reached mainstream media, Ms Vandenbrink – who has worked in Singapore since 2019 as a regional marketing manager – went to work in the morning.
But when lunchtime rolled around, the 37-year-old began seeing "terrible photos" online. Among them were images of flattened buildings and street signs from her hometown.
In the three days that have passed since then, her aunt and uncle remain missing under the rubble of their respective apartment buildings. She is also only able to get updates from her parents sporadically, she told CNA.
"Every day after work, we will call my mother and talk to my family. The last few days, around the same time, my son is coming and pointing at my phone," she added.
"That breaks my heart."
Ms Vandenbrink was among four Türkiye nationals living in Singapore who spoke to CNA about how they have been affected and how the community is rallying to collect donations.
The Singapore Civil Defence Force has sent two teams of officers from its Operation Lionheart contingent to Türkiye to assist in rescue efforts. The Singapore Red Cross has also pledged US$100,000 in humanitarian aid and activated its Restoring Family Links service to help Singapore residents looking for affected family members.
The violent earthquakes have claimed more than 11,000 lives in Türkiye and Syria so far, with thousands still injured or feared trapped.
The initial quake on Monday morning, which was the worst to hit Türkiye this century and the world's deadliest in a decade, was followed by numerous aftershocks. This included another quake on Monday afternoon that was almost as large as the first.
Rescue efforts have been hampered by freezing winter temperatures as well as transport routes being destroyed by the quakes.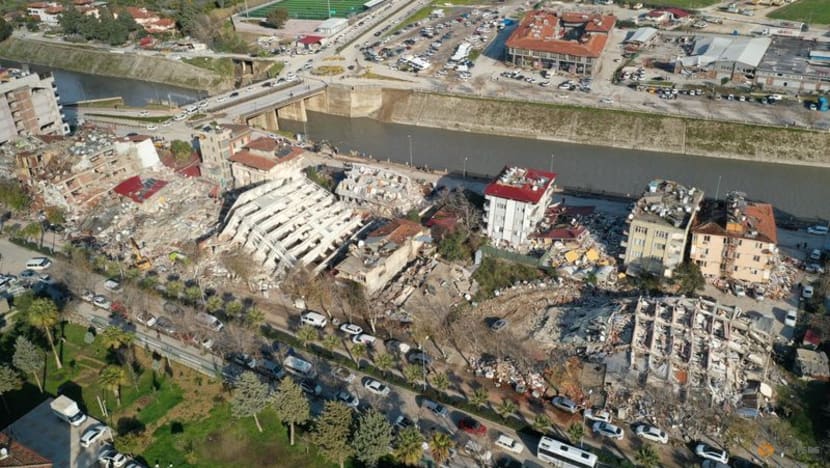 Ms Vanderbrink spoke of feeling helpless from where she is in Singapore. She even thought of flying back to Türkiye but realised that would be a fruitless effort too.
Faced with no help, Ms Vandenbrink's family members have been digging in the rubble of her aunt's and uncle's buildings in a frantic bid to save them.
Her family is currently sheltering at a petrol station owned by another relative and have little access to food, running water and electricity. They have not contacted Ms Vanderbrink since Tuesday morning.
"I asked if they can run to their apartment to pick up anything else, pick up passports so they can fly over here and stay with me, but they're not willing. My mother's siblings are still under the debris and they don't want to leave until they find out if they're dead or alive," Ms Vandenbrink said.
"It's so hard to be away from them. My ability to help is very limited."
"EVERYONE RESPONDED EXCEPT HIM"
For Mr Sertac Yeltekin, the quakes stirred up "really bad memories".
The 54-year-old not only has relatives from the maternal side of his family who live in Hatay, one of the worst-hit provinces, but also previously lost three cousins to a 7.4-magnitude earthquake that struck the Turkish region of Duzce in 1999.
More than 17,000 lost their lives then, including about 1,000 in Istanbul where his cousins were.
This time, another cousin, his wife and their child have been missing for more than two days after their apartment building in Hatay collapsed.
Mr Yeltekin, a venture capitalist who has lived in Singapore for five years, told CNA that he is now glued to his mobile phone for any developments.
"We have a WhatsApp chat with all the cousins. When we heard the news, we checked in to see if everyone was all right. Everyone responded except him."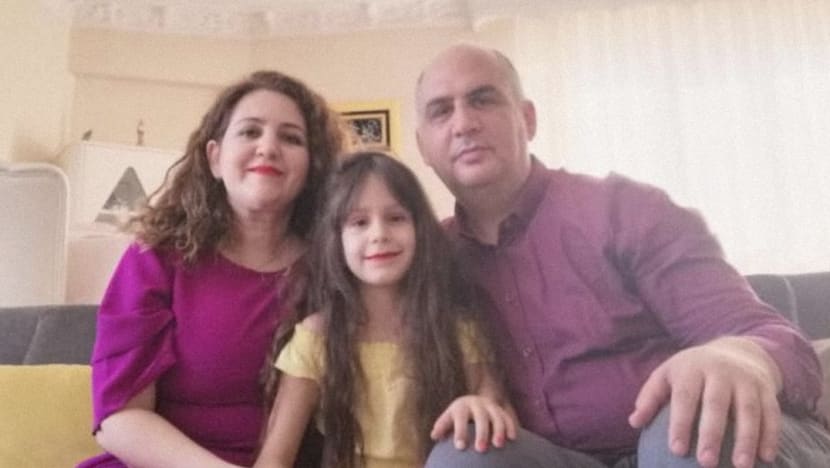 His missing cousin's elderly mother also recently underwent a complicated surgical procedure and was staying with Mr Yeltekin's mother when the quake hit, he said.
"Her son is lost … She also lost her home," Mr Yeltekin added in a somber tone.
"The whole city is impossible to reach right now… Time is running out, it's winter, it's cold. We're all really worried."
DONATION CAMPAIGNS
Mr Syafiq Mardi, who spent the better part of a decade completing his undergraduate and Master's studies in Türkiye, is one of those helping to raise funds for rescue efforts.
The Singaporean tied the knot with a fellow student, Ms Gulsum Kaya, last November. The couple – both aged 29 – have been staying in Singapore due to his work and planned to travel to Türkiye in June to visit her parents.
That was before the quake hit. Now, Ms Kaya's relatives are seeking refuge at a compound beside a mosque in the southern city of Diyarbakir, one of the affected areas.
Mr Syafiq has since teamed up with non-profit organisation BeKind Project to raise donations for those in Türkiye. He said that they will hand over the funds to the Turkish embassy in Singapore, which will in turn give the money directly to the Turkish government.
They have collected more than S$4,000 since starting on Wednesday morning.
CNA followed him and Ms Kaya to a donor's home at Bedok Reservoir on Wednesday afternoon, where they elaborated on what Ms Kaya's relatives have gone through.
The apartment building where Ms Kaya's older sister and her family lived began to crumble in the wee hours of Monday. They managed to escape from their seventh-floor apartment, running down the stairs while the stairs were collapsing, but not everyone was so lucky.
They drove 30 minutes to Ms Kaya's parents' village and have since been sheltering there.
However, cracks have begun forming on the walls and ceiling of the compound, while the Turkish government has also warned that dams – found in every city – are in danger of caving in.
Mr Syafiq added: "For the past three days, my wife has been crying. But I told her if you keep on crying, there is nothing we can do.
"What we can do is put out a call for action. At least we can help them."
Another Turkish living in Singapore, Mr Emre Buyukkilic, has helped spread the word of several donation campaigns among the Turkish community here. One of them is an online fundraising campaign run by the Singapore Red Cross.
Mr Buyukkilic, 36, works as a representative of the Turkish Investment Office in Singapore and has been based here for almost five years to help in bilateral investment relations.
The Turkish Embassy in Singapore has also put out a call for donations of winter clothing and other supplies like non-perishable food items, tents, blankets, sleeping bags and feminine hygiene products. Members of the public can drop the items off at their office in the SGX Centre 1 building, or send them through the mail.
Her relatives are unable to obtain such supplies now, said Ms Vanderbrink, who took time off work on Tuesday and Wednesday to deal with the situation back home.
Aside from her aunt and uncle, her step-grandmother is also missing. 
Ms Vanderbrink last saw her family members in July last year when they went to Istanbul for a friend's wedding. Her voice shook as she told CNA about her toddler son getting to spend quality time with her grandparents then.
"I hope we will get some news and have new photos soon," she added.