BROGA, Negeri Sembilan: Settle into the pilot seat of the Boeing 727 jet, flip a switch and the control panel comes alive with lights travelling across the display.
The weather ahead looks good. Peaks of Broga Hill, which frames the skyline nearby, are clearly visible against the blue sky. 
Welcome aboard Twin Jets Resort, a newly opened spot located in Broga, Negeri Sembilan, just a stone's throw from the state border with Selangor. 
It features two cargo planes that have been converted into suites, and placed at either side of a "terminal building", a hallway that serves as a function room. 
"I was thinking one afternoon, how do I make these planes special? Then it hit me - Malaysia has Twin Towers, and if I make a bridge, it will be Twin Jets," resort owner Peter Lee Pang Say, 64, told CNA.
The idea to refashion planes into a hotel came to Lee during the lockdown in Malaysia in 2020, which sent many businesses - including his - screeching to a halt and kept people sheltering at home from the mutational coronavirus.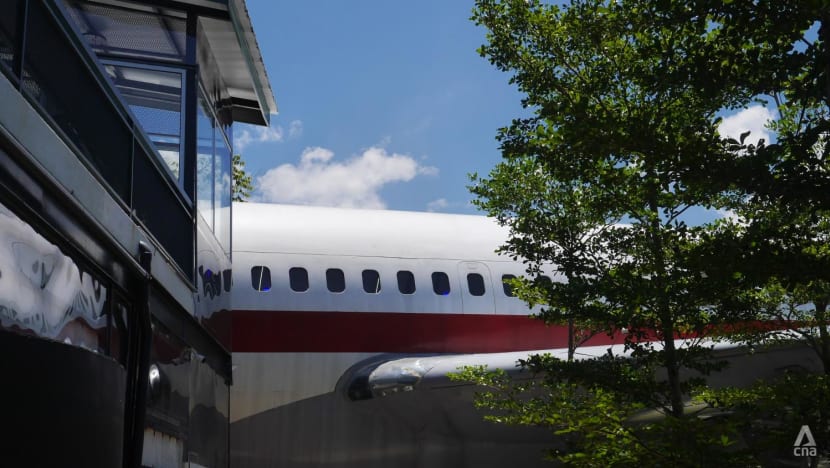 Itching to occupy himself with a pursuit, Lee was inspired to purchase his own aircraft after driving past the Boeing 737 parked at the Palace of the Golden Horses, a hotel in Seri Kembangan near where he was staying. 
But where and how does one buy an airplane? 
Lee began a relentless hunt for possible leads that could point him in the right direction, and long story short, he sent 10 trucks to pick up two Boeing 727 jets from Sultan Abdul Aziz Shah Airport in Subang to his idle plot of land in Broga in November the same year. 
The journey took two nights, as it was an arduous feat to transport the 40.5m-long planes. The trucks could only move at night when the roads were quiet, and - odd as it may sound - they had to reverse to get ahead at times. 
"At some junctions, the trucks could not make a turn like normal as they were obstructed by utility poles. They had to go in front, and then back into the road," Lee explained, adding that power lines also had to be disconnected to unload the aircrafts in Broga. 
After 13 months of renovation, plus three months of hiatus when movement curbs were in place, Twin Jets Resort is finally ready to welcome its first guests this April, just as Malaysia opens its international borders and begins its transition to COVID-19 endemicity phase.  
A PRIVATE JET EXPERIENCE
At Twin Jets Resort, a lookout structure dubbed "control tower" stands between the two aircrafts.    
The rolling hills facing the resort's entrance have a popular hiking trail, while low-rise houses make up Broga New Village, one of the Chinese settlements created to separate villagers from communist guerillas during the Malayan Emergency.
Located less than an hour away from Kuala Lumpur city centre, Broga is also home to Sak Dato Temple, a Taoist place of worship with a history of more than 140 years. There are eateries as well that have won over out-of-towners on weekend excursions.                
Taking in the view, resort manager Ivan Chong said: "In the morning, you can see mists shrouding the Broga Hill."   
Inside the jet's cabin, air conditioning units ward off the scorching tropical heat and bring the temperature down.
A lounge with karaoke set, pool table and mini bar have been installed in place of cargo tracks and pallets.
In Lee's vision, Twin Jets Resort is a venue for weddings and gatherings - happy occasions that bring people together. 
"They may not be a minister or a VIP, but they have the chance to spend a night here, fulfilling a dream," he said. 
Indeed, instead of buckling up in an assigned, narrow seat, guests are free to stride up and down the cylindrical fuselage with stripped-down interior, right from the cockpit to the rear section, where a door opens up to the aircraft's tail.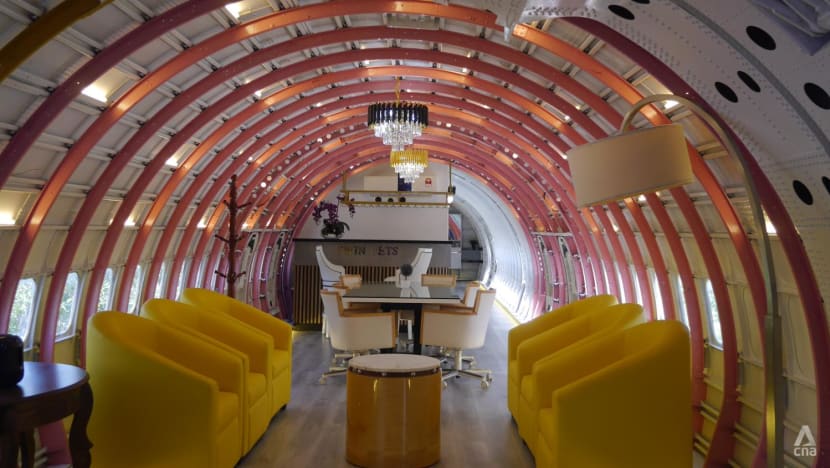 Currently, it costs RM3,000 (US$711) to stay one night in a jet on weekends, or RM2,000 on weekdays. One jet has two rooms, which can house six to eight people. 
Lee said they have started to receive bookings for the planes and guests have noted the uniqueness of the resort concept. 
A WORK IN PROGRESS
In continuation of the aviation theme, Lee, who is in the real estate industry, makes use of aircraft parts to liven up the common area. 
A wing part has been turned into a bar table. Engine covers of another Boeing 747 were made into futuristic-looking tables and seats reminiscent of sets in space fantasy films. 
The resort compound is also speckled with bright hues in the form of colourful stairs and container cabins.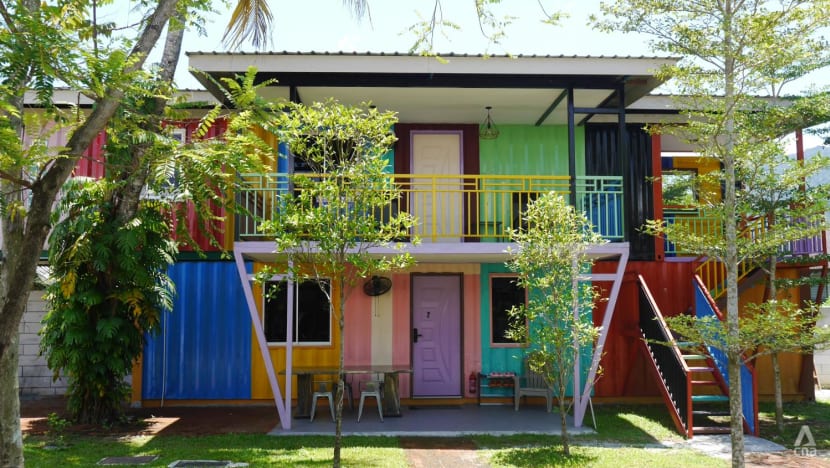 Throughout the process of putting Twin Jets Resort together, Lee designed and tweaked the details to his liking. 
"There was no floor plan, no architect. I did it myself," he said. 
And it is still a work in progress, as more accommodation choices and sports amenities will be added over time. There might also be a restaurant, Lee revealed. 
Having built the resort from scratch, Lee has grown to be attached to the place. Instead of jet setting to an overseas getaway, he is now contented with remaining in Broga, where his two planes are.
"My friends asked if I would ever be able to cover my costs, but I am doing what I desire to do, and it gives me a sense of satisfaction."