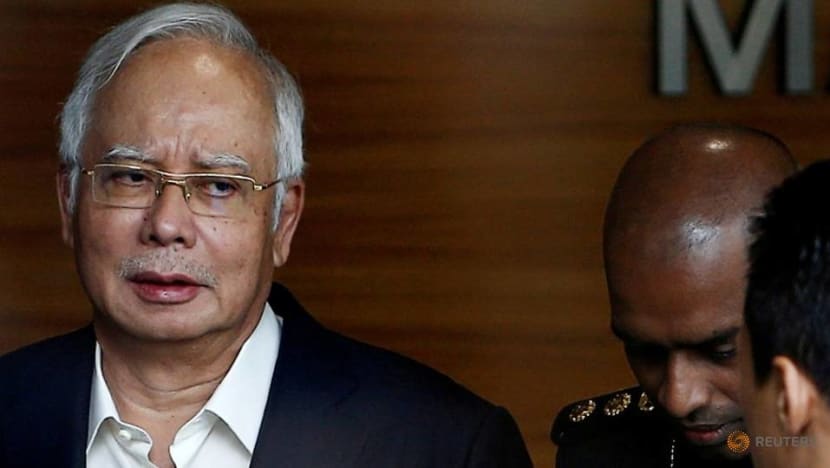 KUALA LUMPUR: Former Malaysian prime minister Najib Razak will be charged on Wednesday (Aug 8) with money laundering offences, the Malaysian Anti-Corruption Commission (MACC) confirmed in a statement on Tuesday. 
This relates to the case involving SRC International, a former unit of state fund 1Malaysia Development Berhad (1MDB). Bernama news agency, citing an MACC source, reported earlier that Najib is expected to be charged with three counts of money laundering. 
The former prime minister turned up at the Malaysian Anti-Corruption Commission Academy in a four-car motorcade at about 5pm on Tuesday, where he was said to have received three notices on the new charges against him. 
Najib left the building after about 45 minutes.
Najib was arrested and charged in Malaysia last month with three counts of criminal breach of trust and one count of abuse of power relating to an alleged transfer of RM42 million (US$10.3 million) into his personal account from SRC International.

The former leader has pleaded not guilty to the charges and was released after posting bail. He is scheduled to attend a pre-trial hearing in court on Wednesday.
If convicted, he faces a maximum of 20 years' jail. He also faces a minimum fine of five times the value of the bribe or RM10,000, whichever is higher. 

Najib and his family have faced intense scrutiny since a shock defeat in a May election by his former mentor-turned-foe, Mahathir Mohamad, who reopened an investigation into 1MDB after becoming prime minister.
1MDB is being investigated by at least six countries, including Singapore, Switzerland and the United States, over alleged money laundering and graft.
The US Department of Justice says an estimated US$4.5 billion was misappropriated from 1MDB by high-level officials of the fund and their associates.
Najib and his wife Rosmah Mansor have been barred from leaving the country.