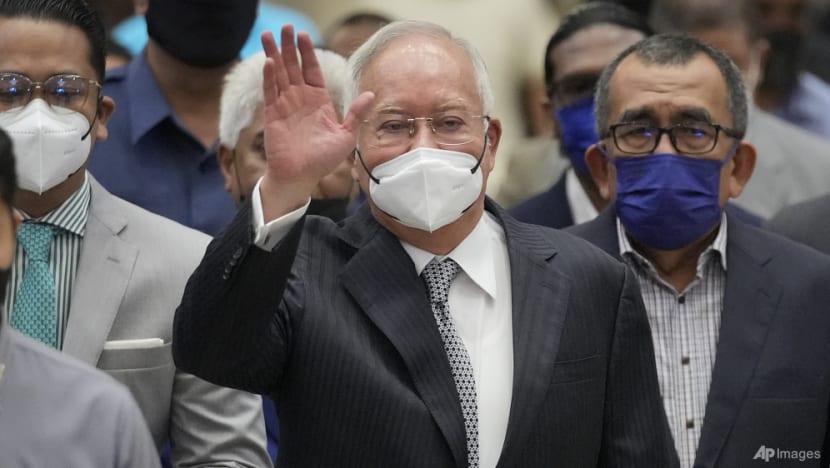 KUALA LUMPUR: Penang has followed in the footsteps of Selangor by revoking a title previously bestowed on former prime minister Najib Razak on Thursday (Sep 15), after he started serving a prison sentence for corruption last month.
According to acting Penang state secretary Mohd Zakuan Zakaria, Penang Governor Ahmad Fuzi Abdul Razak agreed for the state government to revoke a title Najib received in 2009 in light of his conviction in the SRC International case.
"Based on his conviction and sentence, his membership as a recipient of the Darjah Utama Pangkuan Negeri (D.U.P.N.) that carries the title of Dato' Seri Utama is revoked effective on Sep 15, 2022," Mr Mohd Zakuan said in a statement.   
The revocation was in accordance with the governor's powers under the state's constitution and regulations in the state's awards statute, he added. 
On Sep 12, Selangor Sultan Sharafuddin Idris Shah stripped titles bestowed to Najib and his wife Rosmah Mansor.
Selangor state secretary Haris Kasim said that the removal of the titles was in line with the Selangor ruler's prerogative to do so under the state constitution and awards statute.
Najib was conferred the award which carries the Dato' title in 1992, and later another award that carries the Dato' Seri title in 2004.  
The award Rosmah received in 2005 carries the Datin Paduka Seri title. 
Najib and Rosmah still have several titles from other states, including Pahang and Melaka, according to Malaysian media.
On Aug 23, the Federal Court dismissed Najib's appeal to overturn a 12-year-jail term and RM210 million (US$46 million) fine over seven charges in the case involving funds from SRC International, a former unit of 1Malaysia Development Bhd (1MDB).
The charges against Najib, who served as prime minister from 2009 to 2018, involved the transfer of RM42 million from SRC International into his personal bank accounts in 2014 and 2015.
He was found guilty on three counts of criminal breach of trust, three counts of money laundering and one count of abuse of power by the High Court in July 2020.
The conviction and sentence was upheld by the Court of Appeal on Dec 8, 2021. Najib later filed a petition of appeal to the Federal Court on Apr 25 this year.
He began serving his sentence at the Kajang Prison in Selangor immediately on Aug 23 after the Federal Court decision. 
His ongoing 1MDB trial was postponed this week as he had been admitted to Hospital Kuala Lumpur for medical check-ups.
On Sep 1, Rosmah was sentenced to 10 years in prison and fined RM970 million after the High Court found her guilty of soliciting and receiving bribe from a contractor of a solar panel project.
She has filed an appeal against the conviction.