In pictures: Extreme weather in Pakistan, South Korea and China highlight impact of climate change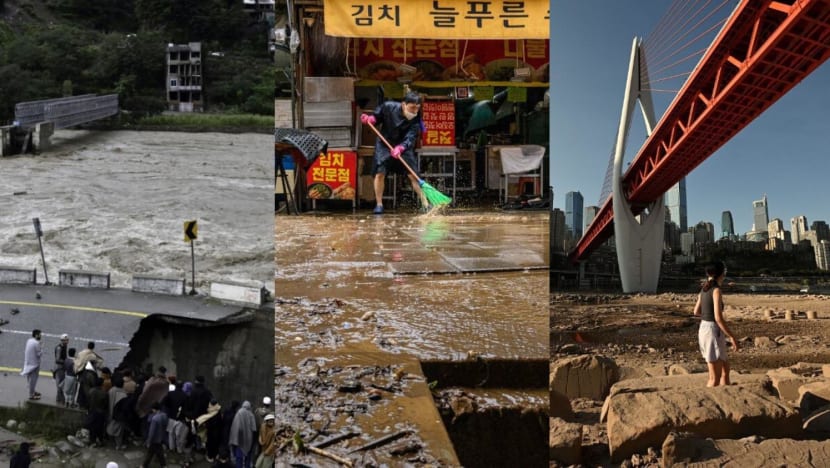 From prolonged droughts to catastrophic flooding, weather-related disasters have wreaked havoc in the region this year, highlighting the growing impact of climate change.
In August alone, three Asian countries have suffered the effects of extreme weather conditions. 
YEARLY MONSOONS, BUT "NOTHING LIKE THIS"
The scale of the devastation caused by heavy rain that continues to batter Pakistan "can't be expressed in words", the country's Prime Minister Shehbaz Sharif has said on state TV as the death toll topped 1,060 on Monday (Aug 29). 
More than 33 million people - one in seven Pakistanis - have been affected by the floods, which have destroyed or badly damaged nearly a million homes. 
"We have monsoons every year ... it is nothing like this," the country's minister for climate change Sherry Rehman told CNN. 
"This is a torrential downpour of biblical proportions." 
According to Pakistan's disaster management agency, since the monsoon rains began in June, about 810,000ha of cultivated crops have been wiped out. More than 3,100km of roads have also been destroyed and at least 149 bridges washed away. 
Officials say this year's floods are comparable to 2010 - the worst on record - when more than 2,000 people died and nearly a fifth of the country was under water. 
Weather and climate scientist Associate Professor Koh Tieh Yong suggests that the intensity of this monsoon may be linked to an equally intense heatwave that baked India earlier this year. 
"It started with the heatwave over north India in June. The abnormally intense heat sets up a sharper temperature contrast from the Arabian Sea and over time, drives a stronger monsoon circulation," said Assoc Prof Koh, who is from the School of Science and Technology at the Singapore University of Social Sciences (SUSS). 
"As the monsoon wind is uplifted by the steep Himalayas, heavy rainfall occurs causing the Indus river to flood downstream," Assoc Prof Koh explained.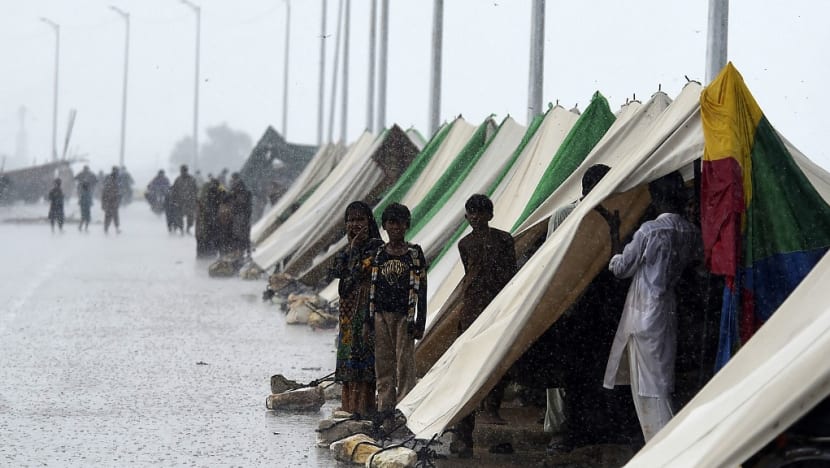 South Korea was also pounded by heavy rain earlier this month, causing widespread flooding and knocking out power in parts of the capital Seoul. 
President Yoon Suk-yeol said it was the most rain the country had seen in at least 115 years. 
While the volume of rainfall was "abnormal", Yoon said: "We have come to a point where we can no longer call abnormal weather abnormal." 
At least 12 people died and several went missing.
"We could see new record levels (of rain) at any time. We need to build our response so that we are ready for a situation that's worse than we had imagined," the president said.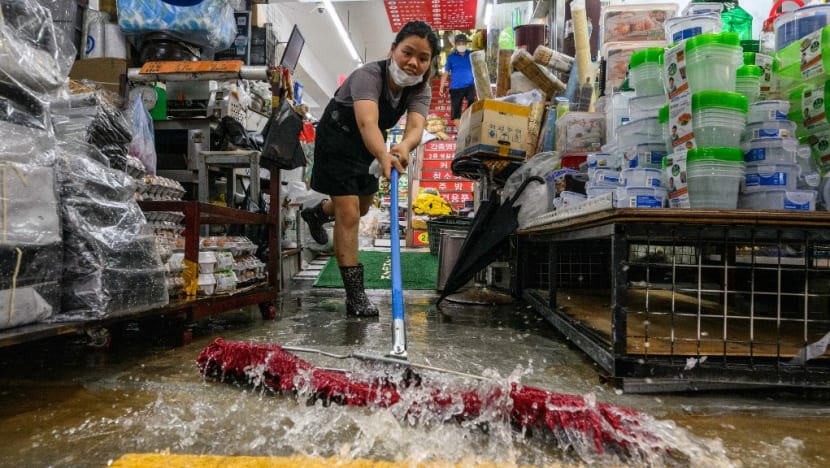 EXTREME WEATHER IS "THE NEW NORMAL" 
"These individual events fit a pattern of increasing extreme events due to climate change," said Professor Matthias Roth from the Department of Geography at the National University of Singapore (NUS). 
"Such extreme weather will likely become the new normal in a warming world," Prof Roth warned.  
A warmer atmosphere is able to contain more moisture, which means hot weather and droughts could occur on the one hand - explained Prof Roth - and on the other, more intense rainfalls, leading to floods.
That is the situation in China, where part of the country has endured weeks of extreme heat - triggering forest fires and a drought - before being battered by rain. 
Swathes of southern China experienced a heatwave for the history books this month when the region recorded its longest continuous period of high temperatures in more than 60 years. 
Experts have said the heatwave's intensity, scope and duration could make it one of the worst recorded in global history. 
The Yangtze River basin, which stretches from coastal Shanghai to Sichuan province, has been most affected by the heat with water levels plunging. 
The hot spell has hit the 370 million people who live close to the basin and several manufacturing hubs including the megacity Chongqing. 
But Sichuan and Chongqing have gained relief from the heatwave - pummelled with heavy rain on Sunday that is forecast to extend into Tuesday and prompting the government to initiate an emergency flood-prevention response.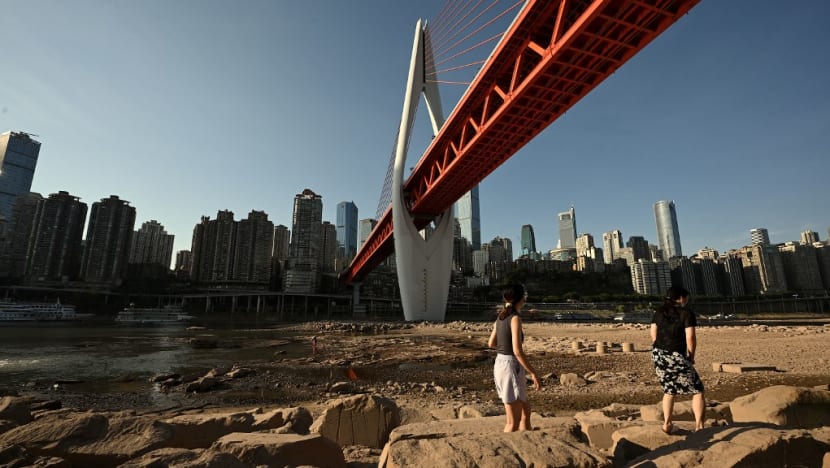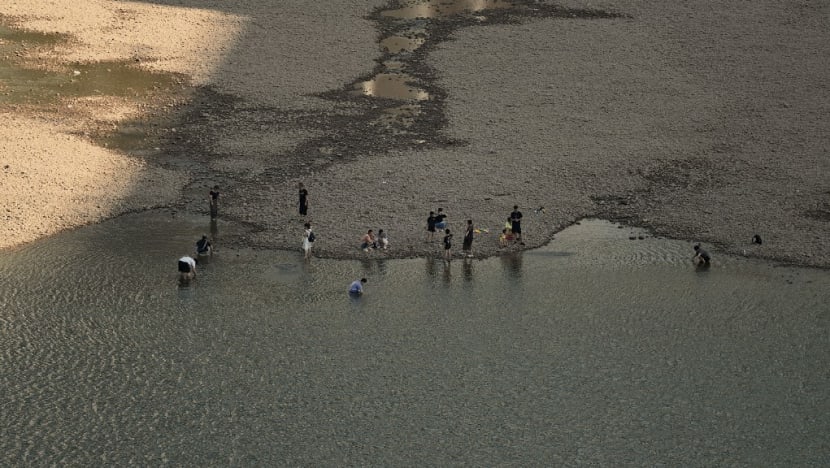 Assoc Prof Koh, the weather and climate scientist, linked the deluge in South Korea to the heatwave in China and the resulting power shortages in the country. 
In South Korea, abnormally heavy rainfall occurs along "weather fronts", he said, where hot, moist air is lifted above cool air. 
"The hot air blows in from China where it has sucked up moisture from the land (as) a heatwave increases surface evaporation there," he said.
"Around the same time, water levels fall in rivers and dams bringing on a hydrological drought in southern China" and the electricity-generating dams stop operating after losing too much water. 
"At a time when power consumption is higher due to more people turning on air-conditioners, power shortage is the result," said Assoc Prof Koh. 
As such frontal weather systems occur in succession "like waves lapping on the beach", southern China is now experiencing heavy rain along a second front, like South Korea did earlier this month, he explained. 
Assoc Prof Koh said that as the global climate evolves, "frontal weather systems are likely to intensify and move more slowly, bringing heavier rainfall along the fronts, and more severe heatwaves and longer-lasting droughts upwind of the fronts".