Pakistan floods: Better planning could have limited loss of life, immediate concerns include food security, say experts
If buildings had not been allowed to be constructed along rivers, the impact could have been less catastrophic, said one expert.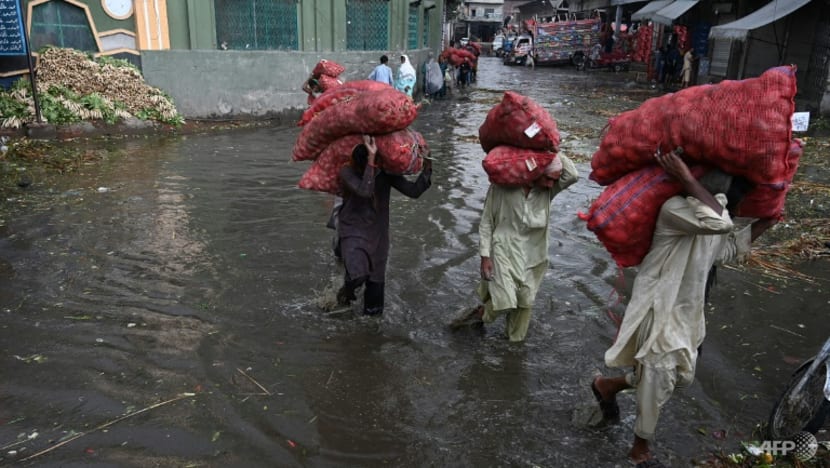 SINGAPORE: Better governance could have reduced the impact of devastating floods in Pakistan, where immediate concerns include food security and sanitation, experts said.
While the floods could not have been stopped from happening, better ecological planning could have limited the loss of life and property, Mr Michael Kugelman, deputy director of the Asia Program at the Wilson Center in the United States, said on Thursday (Sep 8).
"People living along the rivers… if those buildings hadn't been allowed to be constructed, then maybe some of the people who were hurt or who died - they were based or living in buildings near the rivers - maybe they wouldn't have suffered as much," he told CNA's Asia First.
"There's been a lot of debate about what Pakistan could have done in previous decades to practise better and more judicious, effective ecological governance," noted Mr Kugelman, who is also senior associate for South Asia at the think tank.
He explained that one way to mitigate flood risks would be to prevent constructions being developed alongside rivers because they can interrupt the water's natural flow, and affects communities living around the immediate area when a river bursts its banks.
"I think if better governance had been practised, then at least the most damaging effects, the most catastrophic effects of these floods could have been avoided," Mr Kugelman said.
The death toll from the catastrophic flooding had crossed more than 1,300 as of Thursday, with tens of millions people displaced who are facing food and housing shortages.
More than 33 million people, one in seven Pakistanis, have been affected by this year's monsoon season floods, according to the country's National Disaster Management Authority.
FOOD SECURITY, DISEASES AMONG IMMEDIATE CONCERNS
Food security issues have also been mounting, with fields of vital crops destroyed in the floods, said Mr Kugelman.
"Sindh Province is one of the main breadbasket farming areas of Pakistan that has been hit particularly hard," Mr Kugelman said.
He warned that wheat, one of the most important crops in Pakistan and consumed by a vast majority of households, is likely to face a shortage if farmers are unable to plant crops due to the floods, given that the harvest typically begins in October, or November.
This raises concerns about how to compensate for the deficit, and whether the country will need to start increasing its food imports, he said.
"But that will worsen its already very serious balance of payments crisis, it could also heighten food inflation, which was already there before the floods came," Mr Kugelman said.
Another expert, Ms Nusrat Nasab, chief executive of Aga Khan Agency for Habitat in Pakistan, told CNA938's Asia First that a priority is getting basic needs to those affected, especially the vulnerable.
"Initially, of course, food, shelter, health, water and sanitation – these are some of the key areas where the need (for help) is required during this response phase", said Ms Nusrat, whose organisation helps with disaster and humanitarian response.
Responding to a question specifically on the urgent help that children need, Ms Nusrat said nutrition is a priority for infants. Sanitation is also a "dire need" given the potential spread of diseases like dengue fever, she said.
UNICEF on Monday reported that half of those affected by the floods are children, including at least 3.4 million who need urgent support. More than 17,000 schools have also seen significant damage, further hampering the country's education infrastructure already hard hit by the COVID-19 pandemic.
Resuming schooling for children will take time as many schools are underwater, Ms Nusrat said.
Beyond relief for immediate recovery, rehabilitation and reconstruction will be a "huge challenge" that will require a lot of resources, said Ms Nusrat, whose agency has trained more than 40,000 people across the country in disaster emergency preparedness.
Collaboration among those providing aid and relief to the country will be crucial in ensuring that beyond short-term aid, there are longer-term efforts to rebuild the country's infrastructure, Ms Nusrat said.
A majority of people who have been affected by the floods are poor, she noted.

"Their economic situation may not have been very good in the past. Whatever they had, they lost it … coming to a normalcy it's very difficult for this segment of the society," she said.
However, Pakistan is a resilient nation, she said.
"People, right now, I would say they're trying to bounce back," she said.