Philippine presidential race: Family legacy a double-edged sword for Bongbong Marcos
Nationally, opinions are divided over Bongbong's candidacy and the legacy of the Marcos family.
MANILA: In the Philippines, the candidacy of one presidential aspirant evokes mixed memories and emotions.
Ferdinand "Bongbong" Marcos Jr is in the homestretch of the race for the country's top office, once held by his father Ferdinand E Marcos for two decades.
For Bongbong, 64, the role played by his father in shaping the country's history is a double-edged sword. 
The former president, whose authoritarian regime was marred by corruption and human rights abuse, is still referred to as a dictator by many Filipinos after his death in exile 33 years ago. On the other hand, there are also some who believe that his rule provided stability and security. 
With just a few days of campaigning left before the May 9 presidential election, Bongbong's critics say that his candidacy is a deliberate attempt by the Marcoses to take back power that once belonged to them.
"They want to return," said Maria Cristina Rodriguez.
The 68-year-old Filipino remembers how her life was under the old Marcos' rule. At that time, the student activist was arrested and tortured during months of imprisonment.
"Some of us believe there shouldn't be a situation where the son of the dictator whom we kicked out in 1986 is able to return to Malacañang," she said.
Malacañang Palace in Manila is the official residence and workplace of the president in the Philippines. It used to house the late president Marcos and his family until the People Power Revolution put an end to his 20-year rule.
The family fled into exile to Hawaii, with about 300 crates of belongings aboard an Air Force C-141 cargo jet. They have been accused of having unlawfully accumulated billions of dollars during the two decades when the late president was ruling the Philippines.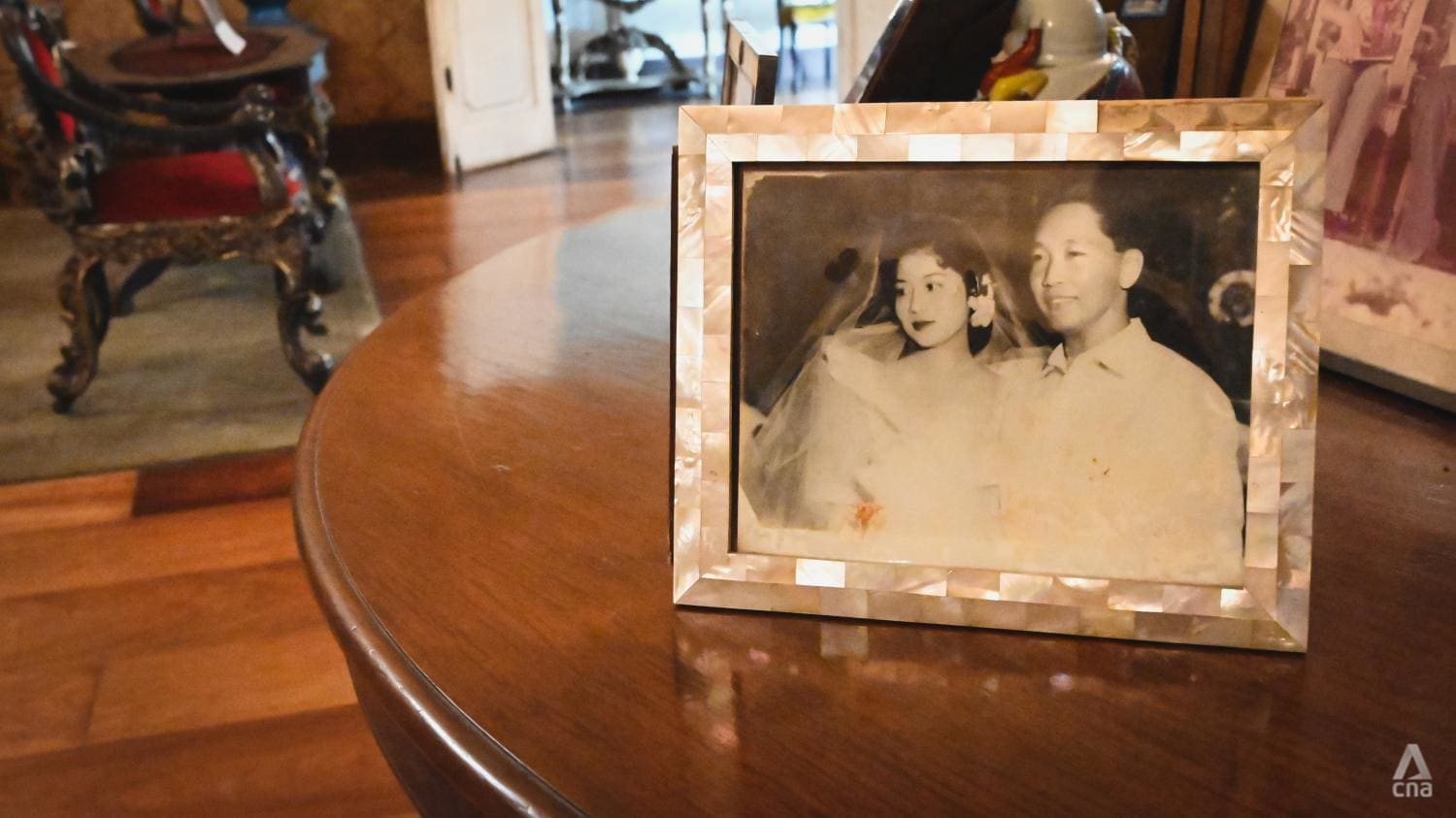 Still, surveys have shown that Bongbong is leading the pack in the upcoming election, followed by incumbent Vice President Maria Leonor 'Leni' Robredo, who, during the 2016 vice presidential race, came from behind to defeat Bongbong.
For Marcos skeptics, Bongbong's popularity in the presidential race signals a possible return to power for his family. 
Although he is not the same man as his father, many people regard him as his natural successor who has benefited from the ill-gotten wealth and arbitrary power that robbed Filipinos of their basic rights.
"This election is of value to us and to the young ones because it will be an interpretation, whether we like it or not, of how hard we've worked since we threw out the dictatorship to teach the lessons of that time," Rodriguez said.
Following Marcos' death in 1989, his wife Imelda and children were allowed to return to their homeland to face charges of tax evasion and corruption.
Although the anti-corruption court convicted the former first lady of seven counts of graft in 2018, she avoided jail term by posting bail and appealing the ruling before the Supreme Court. The appeal process for her criminal conviction is still underway.
"IT IS MUSIC TO OUR EARS, THAT WORD 'MARCOS'"
According to the Commission on Elections, 65.7 million Filipinos registered to vote in the national and local elections on May 9 and 56 per cent of them are aged between 18 and 41.
On May 2, Philippines-based opinion polling body Pulse Asia Research Inc released findings of its latest presidential preference survey. It was conducted nationwide from Apr 16 to Apr 21 with 2,400 registered voters aged 18 and above.
The results showed 56 per cent of the respondents would choose Bongbong as their new president and 23 per cent would vote for Vice President Leni. The top two contenders were followed by former professional boxer Senator Manny Pacquiao and Manila Mayor Isko Moreno, who polled 7 per cent and 4 per cent respectively.
As reflected in the survey, Bongbong registered majority voting figures in all socio-economic classes and most geographic areas.
"I'm not so close to Bongbong Marcos but in my opinion, Bongbong will continue not only the legacy of his father, not only the legacy of President (Rodrigo) Duterte, but his own legacy," said 55-year-old Marlon Taño, a registered voter in a political stronghold of the Marcos family, Tacloban.
"This country will rise. This country will have economic prosperity."
Bongbong's running mate is Duerte's daughter Sara Duterte.
Taño, a media consultant based in Tacloban, admires Bongbong's vision for renewable energy in the Philippines as well as his plan to improve the agricultural sector. He believes there is "an unquenchable thirst for freedom and economic prosperity" in the Philippines and that would be possible under the former senator's leadership. 
"This is the time when Filipinos can expect the Philippines to be great again," he said. "It is music to our ears, that word 'Marcos'."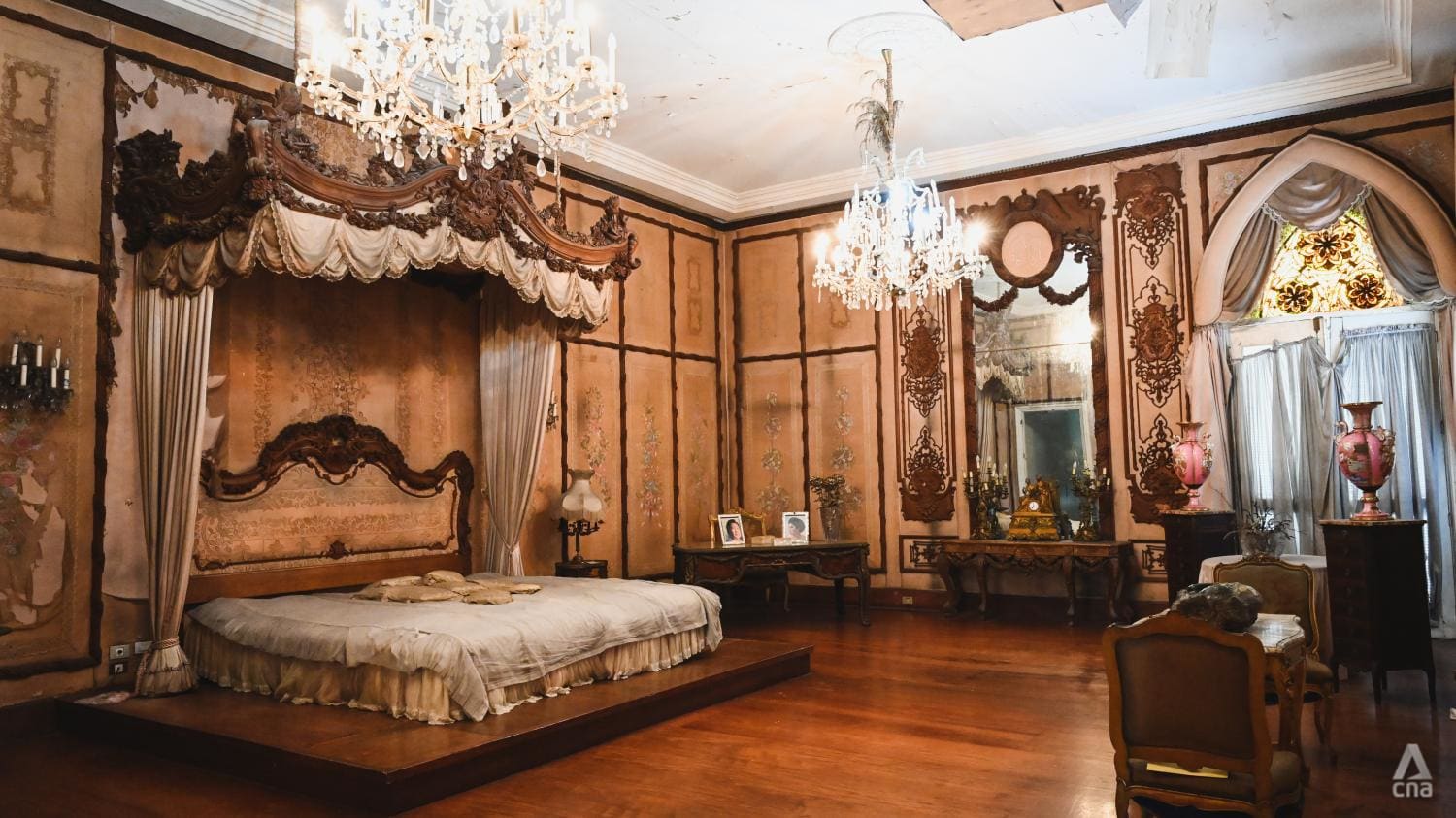 THE PHILIPPINES UNDER MARTIAL LAW
Unlike critics of the Marcos family, Taño was impressed by various development projects and opportunities during the late Marcos' regime. 
One of such projects is the San Juanico bridge in Tacloban, where the former first lady once lived. Stretching 2.1km across the San Juanico Strait, the bridge links the province of Leyte with Samar Island and facilitates the local economy as well as transportation.
The bridge also serves as a token of love from the late President Marcos to his wife on her birthday.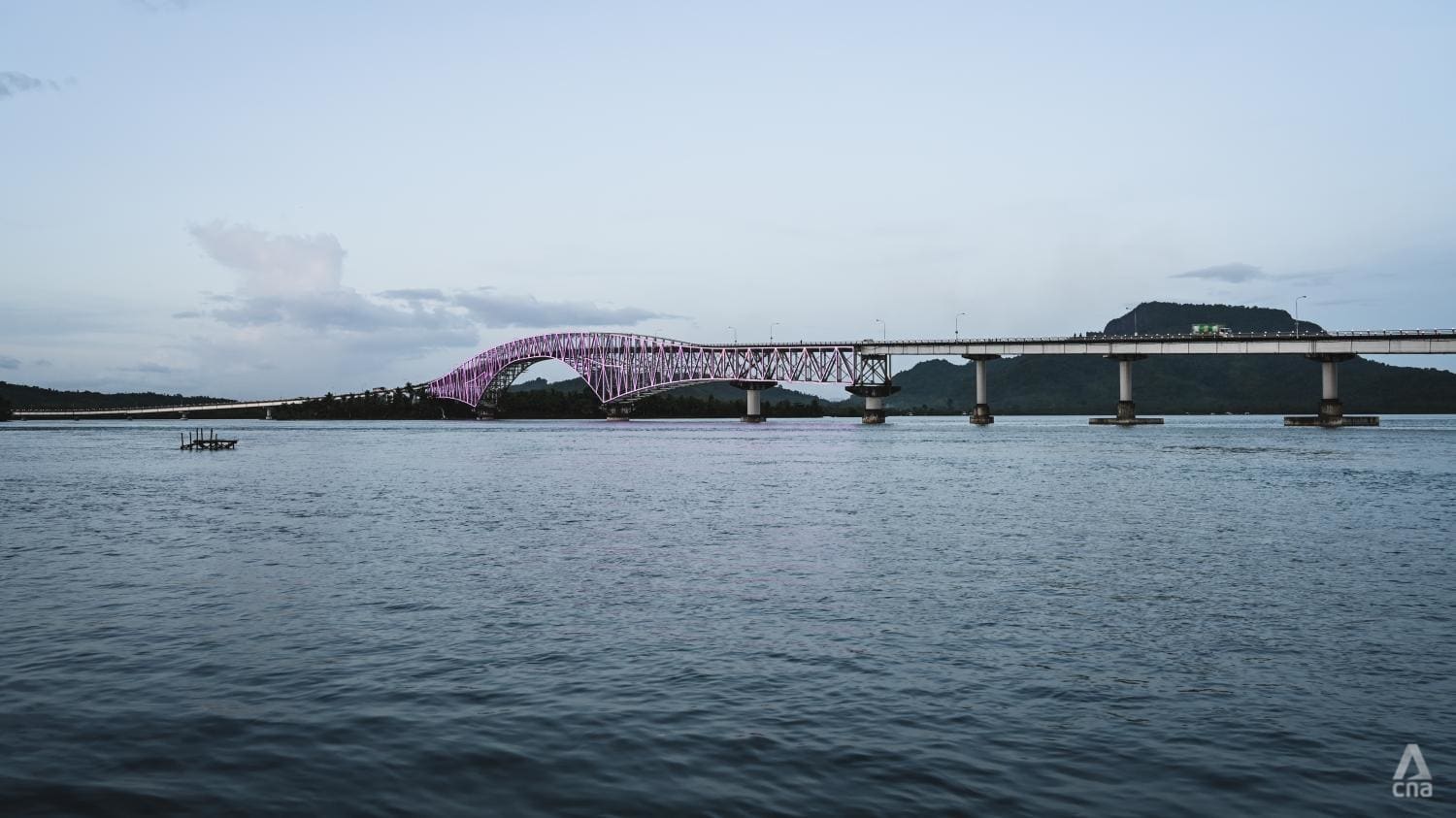 The presidency of Marcos began democratically in 1965 before he decided to place the entire country under martial law in September 1972 "to save the Republic and reform our society". The order, he claimed, was in response to the "threat of a violent overthrow" of the government, citing "armed elements of the communists".
"I have ordered the arrest of those directly involved in the conspiracy to overthrow our duly constituted government by violence and subversion," the late president declared in his address to the nation on Sep 23, 1972.
His order resulted in at least 11,103 victims of human rights violations under his regime, according to the local Human Rights Violations Victims' Memorial Commission. These include 2,326 cases of killing and enforced disappearance, 1,922 cases of torture and 3,355 cases of arbitrary detention. 
The martial law era is perceived by many as one of the darkest chapters in Philippine history. But for Taño, who was five years old when the law was enforced, it brought security and order to his country.
"We felt safe because of martial law. We felt disciplined because of martial law. If you had long hair, the police would come. You needed to get a haircut. You needed to be at home by six o'clock in the evening. You were not allowed to go outside. That's discipline," he said.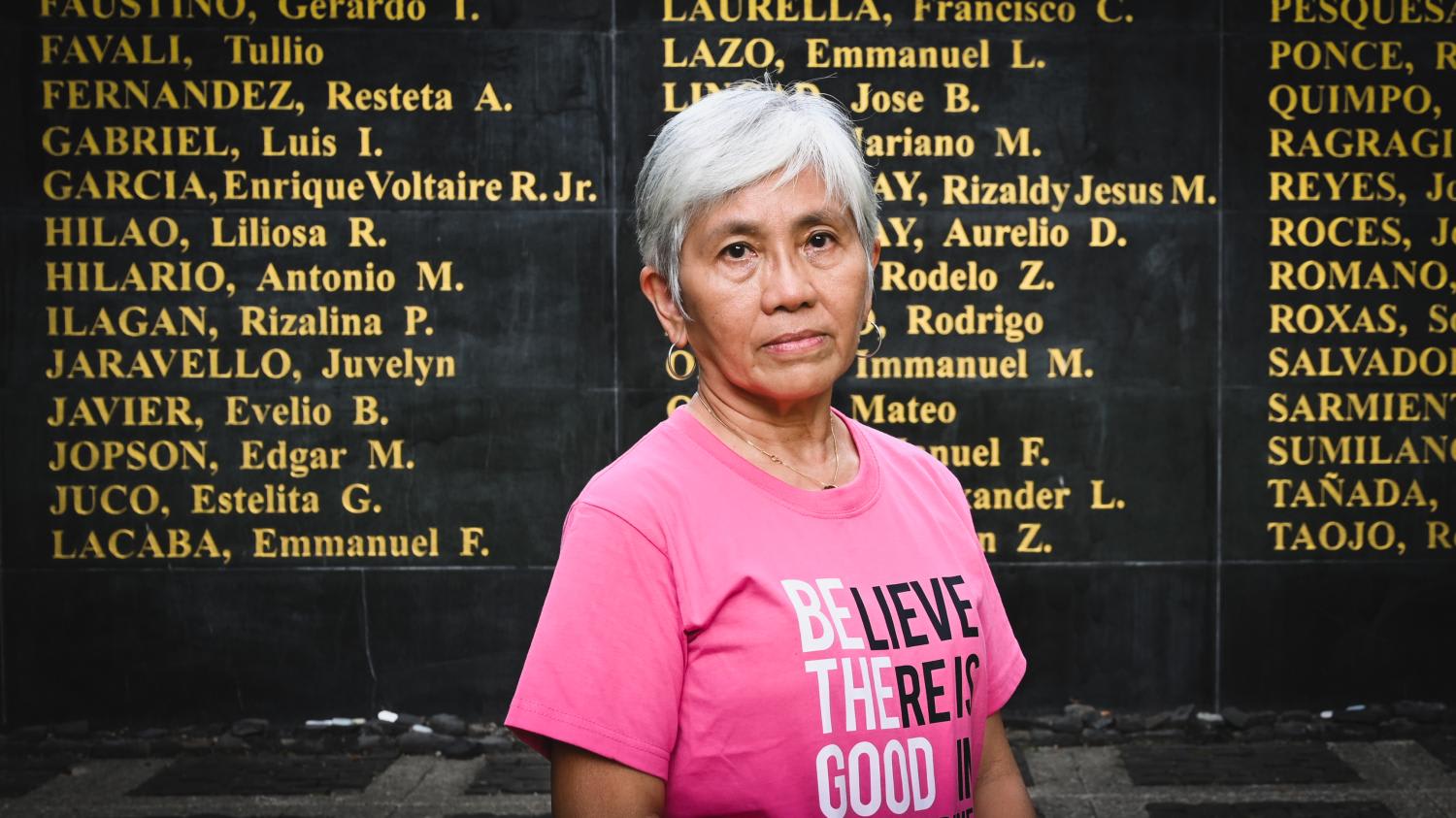 But Rodriguez, the former student activist, remembers things differently. In 1974, she was accused of being subversive and involved with the Communist Party, along with other activists.
"So, we got arrested," she said. "I was beaten up. I went through sexual abuse. Parts of my body were burnt with cigarettes. My hands were swollen from the beating. I was 20."
Although it happened 48 years ago, the traumatic experience remains vivid and painful in her memory. She recalled seeing other detainees with injuries. 
"One particular person had to be carried in and out of the cell because the soles of both his feet were covered in bandages. They were ironed with a hot flat iron," she recounted.
"Any critics, before they could even open their mouths, would be dispersed. So, of course, things were orderly. The critics were in jail. They could not speak on the radio. They could not be interviewed. So, of course, things were nice and orderly."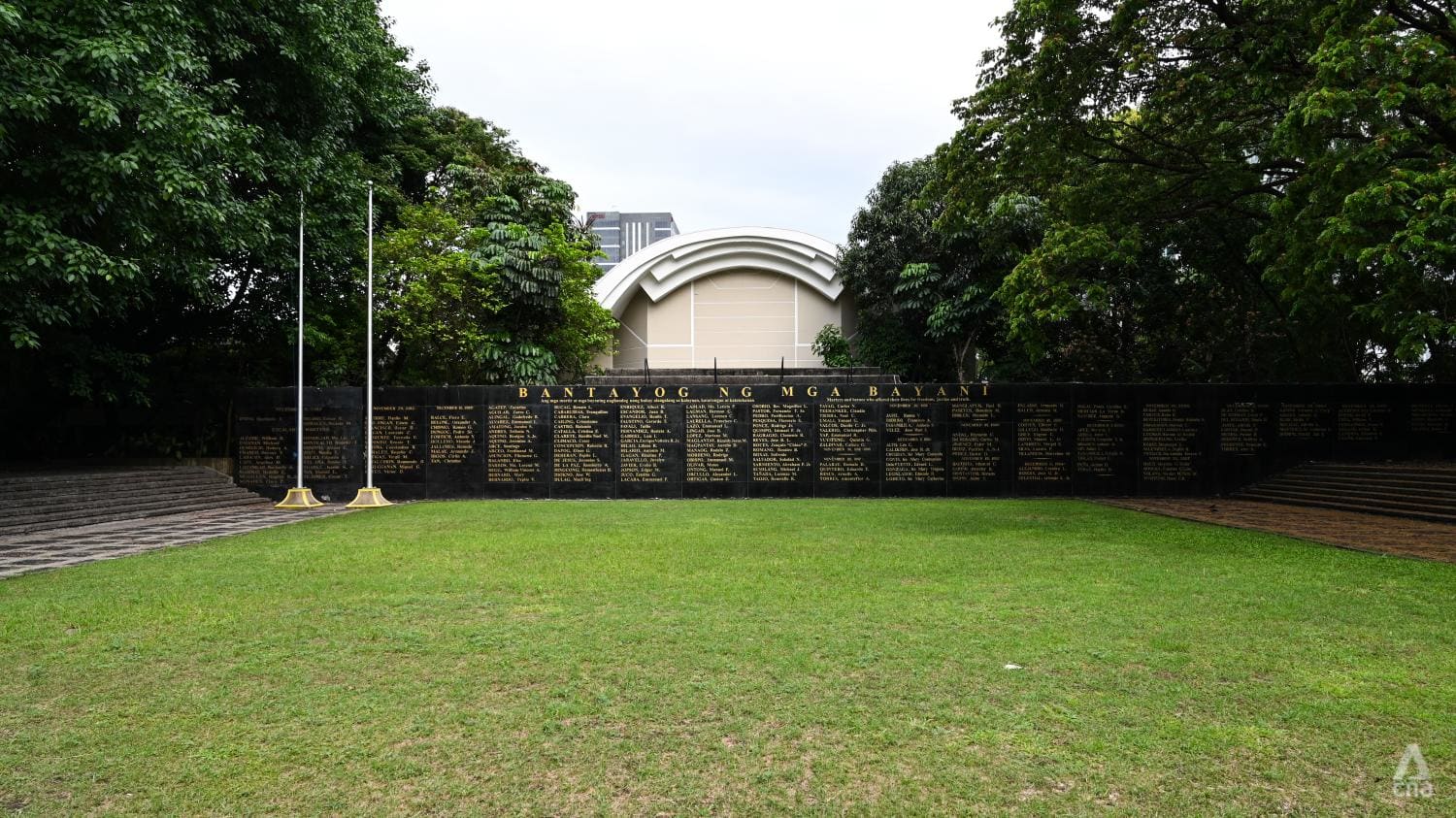 Today, Rodriguez is the executive director of the Bantayog ng mga Bayani foundation. The name means "Monument of Heroes" in the local language. 
Located in Quezon City, Manila, Bantayog ng mga Bayani is a memorial that honours individuals who lived and died in defiance of the old Marcos regime from 1972 to 1986. On walls of remembrance, hundreds of names of political martyrs are inscribed. 
"The real problem was the dictatorship. It wasn't really martial law," Rodriguez said. "The entire power, he stole it from the people. He stole it from you, from your grandparents and you couldn't complain."
SPLIT VIEWS OVER THE MARCOS FAMILY
The regime of the late president Marcos came to an end 36 years ago, with the People Power Revolution.
In February 1986, millions of Filipinos gathered in Metro Manila and cities nationwide to stand against Marcos' authoritarian rule. A series of demonstrations resulted in the Marcos family fleeing the presidential palace and going into exile. 
The country's top office then went to Corazon Aquino, the widow of the late President Marcos' political rival and former Senator Benigno 'Ninoy' Aquino Jr, who was assassinated at Manila International Airport in August 1983.
Memories of the past are likely to influence Filipinos when they go to the polls on May 9. However, for young eligible voters who had not been born then, their choices rely on how much they know their country's history. 
Twenty-six-year-old Kaiser Christoffer Del Valle from Samar in Eastern Visayas said he supports Bongbong because he is "the whole package that we all need right now".
"He's got the name. He's got the heritage. And most importantly, he's got a heart for the people. His goal, if he's ever given a chance to win, to have a seat in the government, is to unify every one of us," he told CNA.
"Nothing is going to progress if all of us are in disarray. His goal is to unify everyone. We must share common interests. We must have one common goal, which is to uplift the country to where it deserves to be."
When it comes to criticisms against the Marcos family, he believes they are a result of misinformation. For him, the late president Marcos' rule marked "the peak time" of the Philippines - a period when the country enjoyed "one of its greatest feats".
"Most of us, especially the youths -  people my age - were mostly blinded by the history books - lots of misinformation. But none of it was really verified with solid facts," he said.
"When it comes to continuing the legacy, I think that he'll be able to continue the good ones."
Across the Philippines, opinions are divided over Bongbong's candidacy and the historical baggage he has carried into the presidential race.
Twenty-one-year-old Arjay Neil Glova Jr, a third-year political science student in Tacloban, questioned a belief that the old Marcos' administration was the Philippines' golden era. The idea appears to have gained significant traction in the digital sphere.
"The problem starts with the educational system of the country. It's because of the lack of resources and the inadequate school facilities hinders students, the youths, from actually knowing the true history," he opined.
Glova is part of a volunteer group of university students in Tacloban. They campaign after school for Vice President Leni, hoping to increase her popularity ahead of the polls.
"It matters because we need to make a statement as well that this isn't a bailiwick of the Marcoses. You can't just rule any land you like. You can't just be kings because you wish to become one. This is not theirs. This is for the people," he said. 
"We do not want their political family to dominate, to rule over this city."
Additional reporting by Aiah Fernandez.