PKR's Anwar, Rafizi downplay signs of rift within Malaysian opposition party as annual congress concludes
The party's top two leaders have expressed opposing views on PKR's strategy for the general election.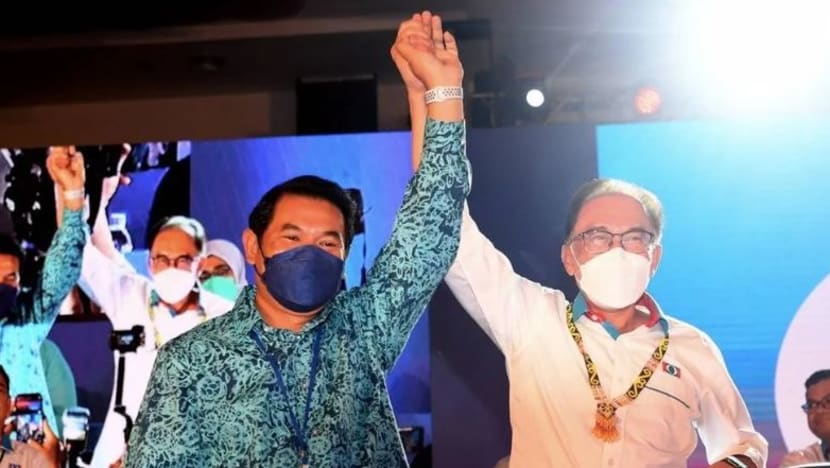 SHAH ALAM, Selangor: The annual congress of Malaysian opposition party Parti Keadilan Rakyat (PKR) ended on Sunday (Jul 17) after three days of fiery speeches by delegates and party leaders. 
The provocative messages and veiled criticism in some of the speeches have prompted speculation by local media that the party was seemingly split into two factions - one, behind party president Anwar Ibrahim and the other, supporting newly appointed number two Rafizi Ramli. 
The reports homed in on the two leaders' different approaches to the general election, with Mr Anwar favouring a "big tent" approach, working alongside other opposition parties, as opposed to Mr Rafizi preference for PKR and the Pakatan Harapan (PH) coalition to go it alone. 
Malaysia's 15th general election must be called by mid-September in 2023 and there is speculation it may be called in the coming months. 
However, the last day of proceedings at the PKR congress saw a key symbolic moment of reconciliation - when Mr Anwar and Mr Rafizi shook hands on stage and raised their arms aloft, beaming for the cameras. That moment drew the loudest cheer among delegates from across the three days. 
In their respective wrap-up speeches and during a joint press conference, both leaders sought to downplay any rift between them and pledged to work together to prepare the party for the next general election. 
"We have ended the congress on a positive note," said Mr Anwar during the press conference.
"If you look at the sentiment today, it has been largely positive. Indeed there have been differences in opinion, but differences in opinion is not an issue." 
Mr Anwar also said he and Mr Rafizi were in agreement that PKR would work together with its PH coalition partners to beat the Barisan Nasional alliance at the national polls.
But the party president said he has ruled out working with parties with differing principles. 
"As to having discussions with other leaders (in the opposition), I as the leader of the opposition, I have to. But to network under a big tent with those who have betrayed us and are not aligned with our reform agenda? That cannot continue," said Mr Anwar. 
Mr Rafizi, the party deputy president, echoed those sentiments, highlighting that PKR and PH must instead focus on coming up with a "coherent set of policies" to woo voters. 
However, he did not rule out working with other opposition parties if they were aligned with principles set by PH. 
"For example, let's say (we want to work with a party from) Sabah or Sarawak, and the party rejects UMNO and BN, rejects corruption and they add value to PH, perhaps we can discuss (a possible partnership). But this cannot be our foremost strategy for the general election," said Mr Rafizi. 
"We cannot compromise on the boundaries that have been spelt out. The terms of reference are very clear and this will make it easier for us ahead of GE," he added. 
Mr Anwar has previously acknowledged that he has held meetings with Parti Pribumi Bersatu Malaysia (Bersatu) chief Muhyiddin Yassin, prompting speculation of a tie-up for the general election. 
This has led to concerns by many PKR delegates because the collapse of the PH government in 2020 was triggered by Mr Muhyiddin pulling Bersatu out of the then-ruling coalition. The political manoeuvre, which was also supported by several PKR MPs led by former party deputy chairman Azmin Ali, became known as the "Sheraton move".
Although Mr Anwar and Mr Rafizi have attempted to downplay any signs of a rift, both men, during the congress, sought to rally support for their respective election strategies. 
In his speech on Saturday, Mr Anwar said that the party would be willing to explore cooperation with opposition parties for the election, without compromising on principles such as good governance and anti-corruption.
Mr Rafizi took a different tack on Sunday, stressing that results from the party's recent internal polls indicated that PKR members were keen to "build its strength" on its own. 
"We don't want to beg other parties for Anwar to be a PM candidate. The key thing is that we don't work with parties who have burdened the people. The people will vote for us if they are comfortable with our principles and values," he added. 
Mr Rafizi comfortably clinched the PKR deputy president post during the party polls In May, beating Saifuddin Nasution Ismail, a candidate reportedly aligned to Mr Anwar.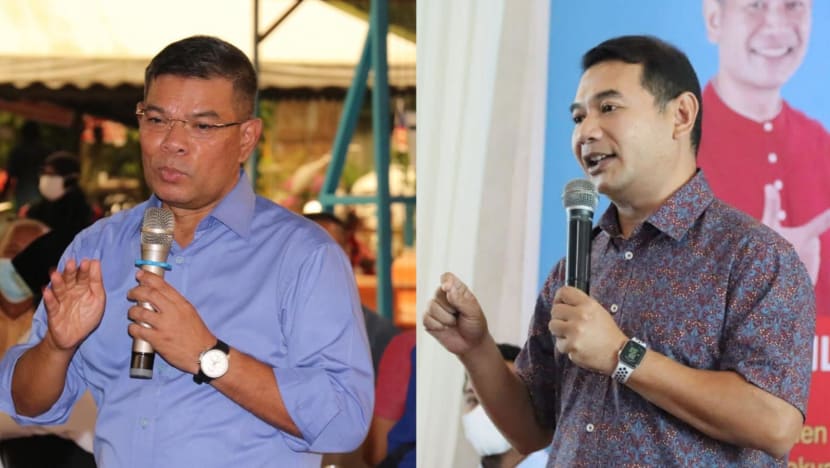 Differences in leadership style also surfaced during the congress. 
Mr Rafizi's perceived direct style has attracted criticism from some party members. 
Speaking to reporters on Saturday, Mr Rafizi called for PKR leaders and party members not to "blindly defend" Mr Anwar in every matter, to the extent that the party president is seemingly beyond any criticism. 
"What is important to the party and the new leadership is not to try brow- nose Anwar or defend him. Anwar is Anwar … he does not need to be defended. I am not going to play that role (to brown-nose him)," said Mr Rafizi. 
In a speech at the congress on Sunday morning, Mr Saifuddin reminded party delegates to respect Mr Anwar as the party's president and as a seasoned politician. 
"There are some among us who see the act of respecting the president as brown-nosing or fanatical, as though he cannot be reproached, that's completely wrong," he added. 
Political analyst Professor James Chin, director of the Asia Institute at the University of Tasmania, told CNA that while he noted that there were attempts by Mr Anwar and Mr Rafizi to reconcille their differences, the congress as a whole exposed "clear divisions" within PKR. 
He added that Mr Anwar and Mr Rafizi would find it difficult to move forward together if "they were driving in different directions". 
"If a party like PKR is disunited going to GE, they don't stand a chance," said Prof Chin.
"The congress was a missed opportunity to rebrand PKR as a dynamic party, led by two leaders, an old hand in Anwar and a young upstart in Rafizi. But with the differences I've seen, I don't know how they are going to move forward after this congress," he added. 
Malaysian opposition leader Anwar Ibrahim now has a newly elected lineup of party leaders ready for a general election that is widely speculated to take place later this year. Afifah Ariffin reports from the final day of the annual congress of Anwar's Parti Keadilan Rakyat (PKR).