Seoul crowd crush: Police received multiple calls 4 hours before tragedy struck
Increasingly desperate-sounding emergency calls were made from the Itaewon area to the South Korean police department during that fateful Halloween celebration.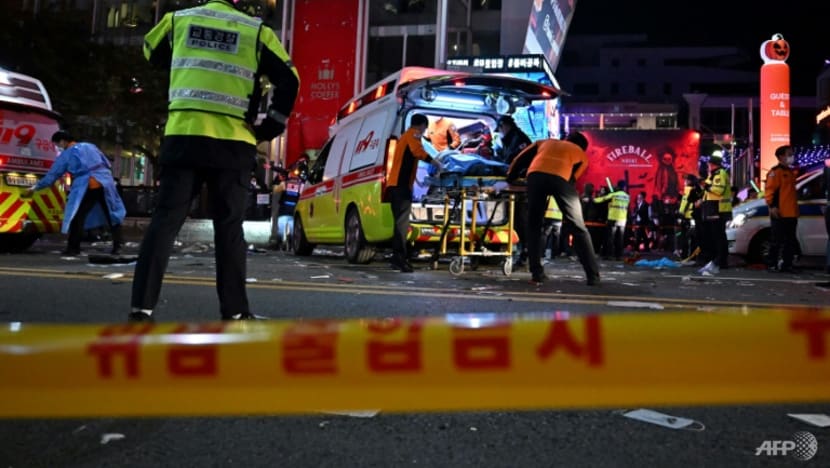 SEOUL: The first call from the Itaewon area to South Korean police came at 6.34pm local time on Saturday (Oct 29), about four hours before a Halloween crowd in the nightlife district turned into a deadly situation.
The caller warned of a dangerous number of people jostling along a narrow alleyway, and urged the police to enforce crowd control before things went wrong.
"It's a narrow alley. People are lining up outside the club, those coming up from Itaewon Station and those going out to the street. Because they are all squeezed together, people can get crushed to death if things go wrong. I think you need to control the people on the driveway," said a caller to the emergency line, according to a transcript of the call log seen by CNA.
In the next few hours, more calls would come in, alerting police to people collapsing on the streets and warning of the possibility of a major incident.
At 8.33pm: "Because of the crowd, people are collapsing. Things are getting out of control."
9pm: "We are at Itaewon, and we are on the verge of a major incident because of the large crowd. People are being pushed, and I'm worried an incident will occur."
9.07pm: "There are too many people in front of a bar, and it feels like we will be crushed to death. You need to come and control this."
The final call to the police was received at 10.11pm, minutes before people began falling over each other.
"People will get crushed to death. There are too many people," read the chilling transcript from the last caller.
Moments later, chaos erupted and at least 156 people were killed in a crowd crush along a steep, narrow alley leading from near the Itaewon subway station to bars and clubs along a main street.
In total, 11 such calls - each sounding increasingly desperate - were made to the police department's 112 emergency line that Saturday evening.
HOLDING POLICE ACCOUNTABLE
South Korean Prime Minister Han Duck-soo on Tuesday (Nov 1) vowed to hold the police accountable for failing to respond to the emergency calls, and to prevent the tragedy despite having received multiple warnings.
Mr Yoon Hee-keun, commissioner general of the Korean National Police Agency, acknowledged that his agency's response to the incident was "insufficient", and said a full investigation would be conducted to determine if officers had reacted appropriately.
"Even before the accident occurred, we received calls urgently warning of the danger of a possible incident due to the large crowds. However, the response by those at 112 was insufficient," said Mr Yoon.
The South Korean government faces growing public scrutiny as the country mourns the victims - who were mostly young party-goers in their 20s, dressed in costumes and out to celebrate the first Halloween in three years following the lifting of COVID-19 restrictions.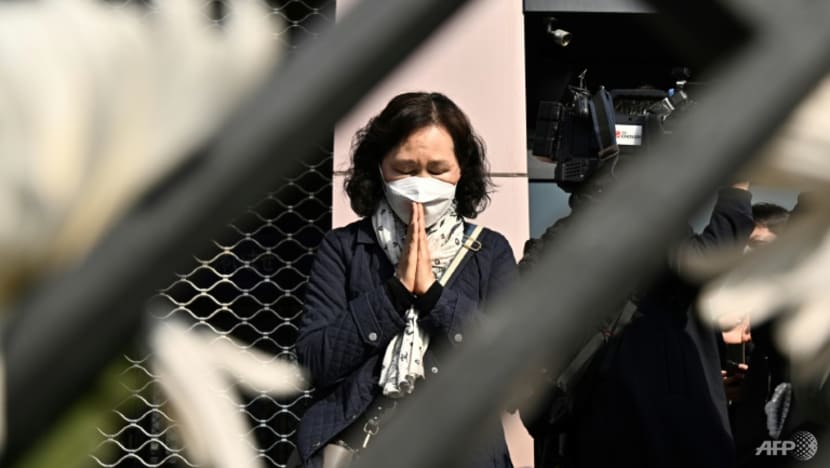 LACK OF CROWD CONTROL KEY REASON FOR DISASTER
The main reason for the failure to prevent the tragedy, said experts, can be put down to a lack of a central organiser - or government authority - to enforce safety protocols.
Prime Minister Han said there were multiple causes while admitting to inadequate crowd management. He promised a thorough and transparent investigation into the tragedy.
"In order for us to prevent this from happening again, we need to make sure that the relevant local government can demand such (crowd) control. Our government's responsibility is to ensure that these disasters do not happen again. We will thoroughly revise the system," he said.
An estimated 100,000 people descended on Itaewon for festivities that night, but only about 200 police officers were deployed to the area following calls to the emergency line.
WHY WERE MONITORING SYSTEMS NOT USED?
Many South Koreans have also questioned the country's disaster preparedness, including why Seoul City Hall failed to deploy a recently installed real-time monitoring system that uses mobile phone data to predict crowd size.
However, Professor Jeong Chang Sam of Induk University told CNA that mostly, the use of such systems remains in initial stages - and that individual government agencies and their systems are not integrated.
"Currently places like the Seoul City Hall, the Jeju Tourism Board and Jeju Airport have individual systems in place for their own purposes. They all have separate systems in place but they are not integrated into one," he said.
Furthermore, their development has been hampered by a privacy act that prohibits the usage of real-time monitoring systems without the affected individuals' consent, Prof Jeong added.
However, he said the Itaewon incident will likely speed up the development of monitoring systems and the implementation of disaster management policies to reduce the likelihood of future such tragedies.
"Unfortunately in South Korea, disaster management can only take a leap forward in the event of a critical disaster. So I think disaster management using these systems or the IoT (Internet of Things) will now develop further (due to the Itaewon incident)," he added.
As public anger mounts, President Yoon Suk-yeol has vowed to put in place a robust crowd management system to prevent such incidents in the future.