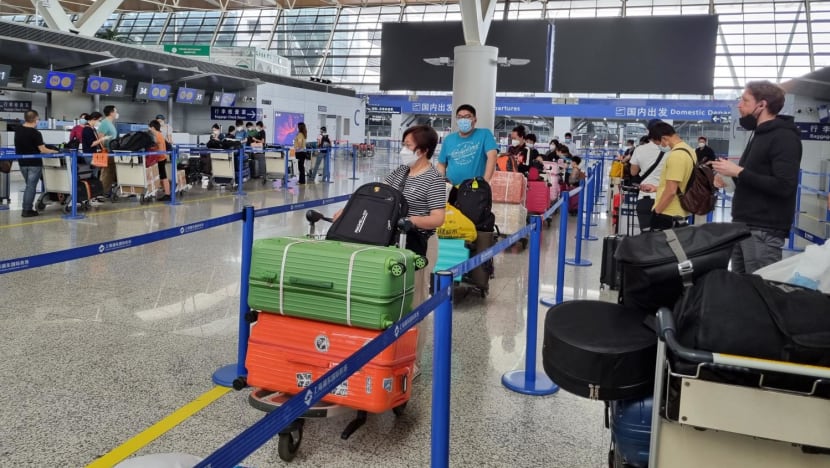 SHANGHAI: After waiting out two months of lockdown, I am finally home in Singapore, joining about a dozen Shanghai-based Singaporean friends who have made that same five-and-a-half-hour flight in the past weeks.
However, I was not the typical lockdown evacuee looking to temporarily escape and to return when things improve.
I had the one-way ticket from Shanghai to Singapore booked since early February, when my partner and I decided on our relocation to Ireland in August.
Wrapping up four years in China with all the attendant life admin is troublesome enough. A city-wide lockdown complicates matters immensely.
This is my account of what it takes for a foreign resident to exit a locked-down city of 25 million.
GETTING STARTED
In order to leave my residential compound – with its front gate locked and watched 24/7 by security guards who have not gone home in months – I have to apply for an exit permit from the residential committee, the grassroots officials in charge.
In late April, I alerted the residential committee manager, Ms Chen, about my impending flight in late May.
To secure an exit permit, one needed to provide an e-ticket for a departing flight, an airport transfer booking, a green health code, a 48-hour negative PCR test, a 24-hour negative antigen test, and a form with personal and travel details.
As the city was still locked down at the time of our leaving, some roads were blocked off and many roads at district borders featured checkpoints.
The exit permit is meant to guarantee a smooth path to the airport, as it allows the checkpoint guards to identify those with a legitimate reason to be out and about. 
Apart from the exit permit and the PCR test, securing transportation to the airport was another major worry.
With the suspension of public transport, including regular private-hire cars, we could only rely on word-of-mouth to find drivers with the correct permit to ferry us from our home in Puxi in the western part of Shanghai across the river to Pudong airport. Due to the fluidity of the situation, this could only be done closer to our date of departure. 
ONE WEEK TO DEPARTURE
The week prior to takeoff, caseloads had dropped significantly and there was a substantial easing of lockdown measures in some districts like Changning and Xuhui.
I was still locked within my compound in Huangpu district, but the situation had vastly improved from a month ago when there was plenty of confusion, uncertainty and food insecurity amid high caseloads.
That week, I was able to easily book a courier – via a smartphone app – to pick up my work laptop and have it delivered to an ex-colleague. We also booked a car service to the airport, packed whatever we could bring, and gave or threw away whatever we could not.
I sought out Auntie Chen who lived a few doors down to take care of my pots of basil, mint, and spring onion.
We collected unused, unopened food rations and other essential items and gave them to some of the neighbours we were close with – Auntie Han who lived on the first floor of our building, and Auntie Hu, who receives deliveries for all the neighbours in their absence during working hours.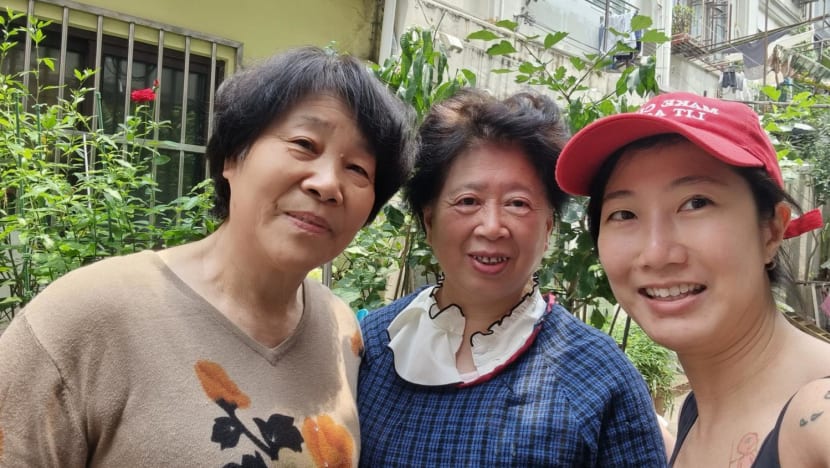 My friend Beimeng came by to pick up my broadband devices. She lived in a district where the restrictions are looser, and she was able to traverse across districts.
Terminating the contract is only possible in-person and by returning the hardware, and Beimeng kindly agreed to help.
We chatted through the iron grilles of my compound gate for a while, and I exchanged whisky, bay leaves and pine nuts for a good luck charm of sorts.
TWO DAYS TO DEPARTURE
On the evening of May 28, with permission from the residential committee, the guards let us out to Ruijin Hospital, a 300m walk from our home, for our 48-hour PCR test.
The hospital was the closest testing site to us and it is open 24/7.
However, when we got there, we were told that the 24-hour service does not apply to foreigners, and that we would have to come back the next day during regular office hours. We were disappointed and slightly nervous, but we still had enough time.
On the morning of May 29, we went out again and successfully got tested. The test results were uploaded and accessible on the health code app within six hours.
By then it was already 4pm, and Ms Chen from the residential committee told us that we had missed the cut-off time (set at 3pm daily) for her to submit the application form for the exit permit.
I told her that we were unable to get tested earlier because we were denied service by the hospital, and that if we had tested during office hours on May 28, we would very likely have exceeded the 48-hour requirement.
It proved to be a non-issue as Ms Chen provided us with a letter that she said would serve as an alternative to the exit permit. We received this letter around 5pm on May 29, just 24 hours before our departure. 
DEPARTURE DAY
On the morning of May 30, we brought our bags down to the guardhouse.
We had planned to ship several boxes of things home, but since there was no regular freight service, we ended up carrying everything with us. Between the two of us, we had seven pieces of check-in luggage weighing 130kg.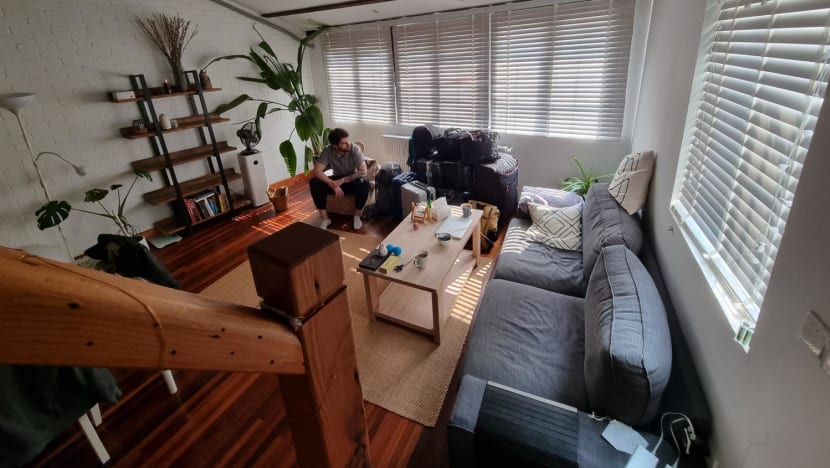 After that, we did our antigen test and logged the records on the health code app. We milled around and chatted with neighbours, and soon it was time to go.
At 11am, we got a call from our assigned driver, Mr Xu, who was already at the gate. The car service cost 1500 yuan (S$308), ten times the usual price for the same distance. 
In pre-lockdown times, the drive to the airport from our house took 90 minutes in moderate traffic. This time, on empty highways, we made the trip in a third of the time.
Along the way, there were three checkpoints. Only the driver's permit was checked at the first two checkpoints. At the third and final checkpoint, we were also asked to show our 48-hour PCR test result. 
Throughout the journey, there was no need to show the exit permit from the residential compound and the antigen test result.
Once at the airport, we needed to show our green health code, the 48-hour PCR test result, and our electronic air tickets. Again, there was no need for the exit permit and antigen test results. 
At 11.30am, we reached the airport and waited – mostly in a queue on our feet – until 3.30pm when we finally checked in and got our boarding passes.
Based on what I saw and heard, most of the people queueing with us were ethnic Chinese (most of them holding foreign passports/residency) and a minority were foreigners. 
At 4.10pm, we cleared immigration and security checks. By the time we walked to the gate to board at 4.20pm, the 'last call' for boarding was already on.
We had thought arriving at the airport six hours before our flight was a good enough buffer. Eventually, we took off at 5.10pm, a little later than the scheduled time of 4.50pm.
We touched down at 9.50pm, and at 10.50pm, we had passed Singapore immigration, collected our bags, and walked out to see my parents waiting to pick us up.
WHAT'S NEXT FOR SHANGHAI
For now, I am adapting to the fact that I have been transplanted from a city with the world's harshest and most extensive lockdown, to a city that currently does not require quarantine and PCR testing on arrival for most visitors.
I am also keeping in close contact with friends in Shanghai who tell me that situation is improving day by day.
The Shanghai government recently announced that from Jun 1, businesses will be allowed to resume operations and people will be able to enter public spaces – including office buildings, shopping malls, and public transport – with a 72-hour PCR test.
Public transport is also set to resume, and restrictions around movement will supposedly be fully lifted for people living in low-risk areas.
While this is an extremely positive commitment towards returning to pre-lockdown ways of living, the staunch adherence to zero-COVID policy means frequent lockdowns, regular testing and quarantines will likely be a mainstay of living in China.
The writer is an incoming PhD candidate at University College Dublin's School of Politics and International Relations. She was CNA's Shanghai correspondent from 2018 to 2020.