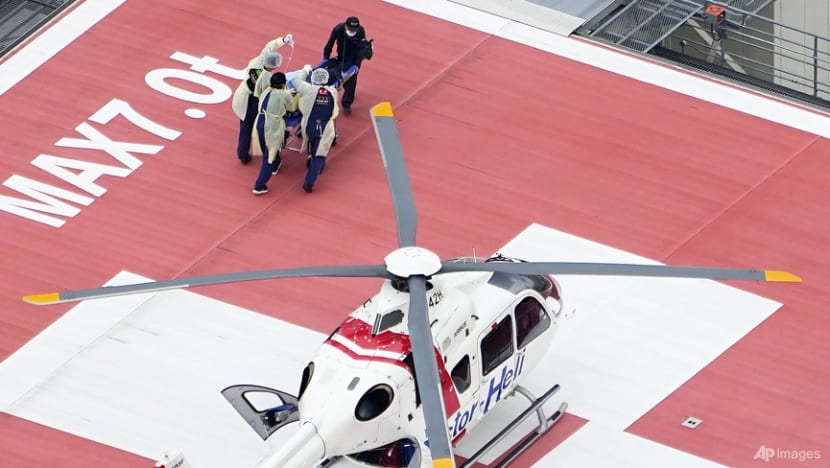 UPDATE: Former prime minister Shinzo Abe has died. Read the latest here.
TOKYO: The shooting of Japan's former premier, Shinzo Abe, was an "unforgiveable act", Prime Minister Fumio Kishida said on Friday (Jul 8), condemning it in the "strongest terms".
Abe is currently in a "very grave condition", he added. 
"I pray that former prime minister Abe will survive," Kishida said, adding that "everything that can be done is being done" to revive him. 
"It is a barbaric act during election campaigning, which is the foundation of democracy, and it is absolutely unforgivable. I condemn this act in the strongest terms."
Abe, who had been speaking at a campaign event in Nara, was shot at about 11.30am, chief cabinet secretary Hirokazu Matsuno said.
A man believed to be the assailant has been taken into custody. Local media identified him as 41-year-old Tetsuya Yamagami, citing police sources, with several media outlets describing him as a former member of the Maritime Self-Defense Force, the country's navy.
Kishida said "no decision" had been made on the election, though several parties announced their senior members would halt campaigning in the wake of the attack.
Abe, 67, had been delivering a stump speech with security present, but spectators were able to approach him fairly easily.
Footage broadcast by NHK showed him standing on a stage when a loud blast was heard with smoke visible in the air.
As spectators and reporters ducked, a man was shown being tackled to the ground by security.
He was wielding a weapon described by local media as a "handmade gun", and NHK said he told police after his arrest that he "targeted Abe with the intention of killing him".
Local media said Abe appeared to be in "cardiorespiratory arrest", a term often used in Japan before a feared death can be officially confirmed by a coroner.