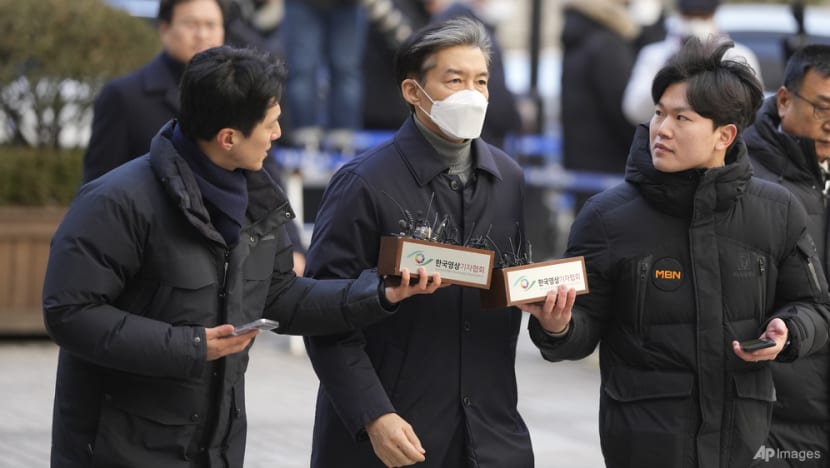 SEOUL: A South Korean court on Friday (Feb 3) sentenced a former justice minister, Cho Kuk, to two years in prison, after he was found guilty of creating fake credentials to help his children get into prestigious schools, a scandal that rocked the country's previous government and sparked huge protests.
Cho was also found guilty of abusing his powers while serving as a senior aide to former president Moon Jae-in, by blocking an investigation into a former Financial Services Commission official seen as close to Moon who was eventually arrested for taking bribes from businesspeople.
But the Seoul Central District Court decided not to place Cho under immediate arrest, saying he was not a threat to flee and that his wife was already serving a prison term over the charges related to their children. Cho told reporters after the ruling that he plans to appeal, and if he does within seven days he will stay out of prison until at least the appellate ruling.
The ruling culminated in the public demise of the former Seoul National University law professor and liberal icon, whose political rise during the Moon government had him considered as a future presidential contender for the liberals.
After initially serving as Moon's senior secretary of civil affairs, Cho was appointed as justice minister in 2019 but was forced to resign months later after allegations emerged that he colluded with his wife to forge documents and certificates to help their daughter get into a medical school. The couple later faced similar accusations surrounding the education of their son.
Cho's wife, Chung Kyung-shim, had already been serving a four-year prison sentence before the Seoul court on Friday added another year to her term, after finding her guilty of additional charges related to her son.
Cho apologised for the perks his daughter has received as he stepped down as justice minister but has steadfastly denied legal wrongdoing.
The charges struck a nerve in a country grappling with widening rich-poor gaps and where teenagers toil in hyper-competitive school environments because graduating from elite universities is seen as crucial to career prospects.
Cho's legal saga also tarnished the reformist image of Moon, who vowed to restore faith in fairness and justice after winning a presidential by-election in 2017 to replace his conservative predecessor, Park Geun-hye, who was impeached and jailed for corruption.
"I will appeal the charges that I was found guilty of and put up a more sincere argument (in court)," Cho told reporters after the ruling. He left without taking any questions.