Making the most of having a hostile neighbour: South Korea's rise to major global exporter of arms
A recent defence exhibition attracted military officials and other potential arms buyers from around the world who were there to sample the latest equipment.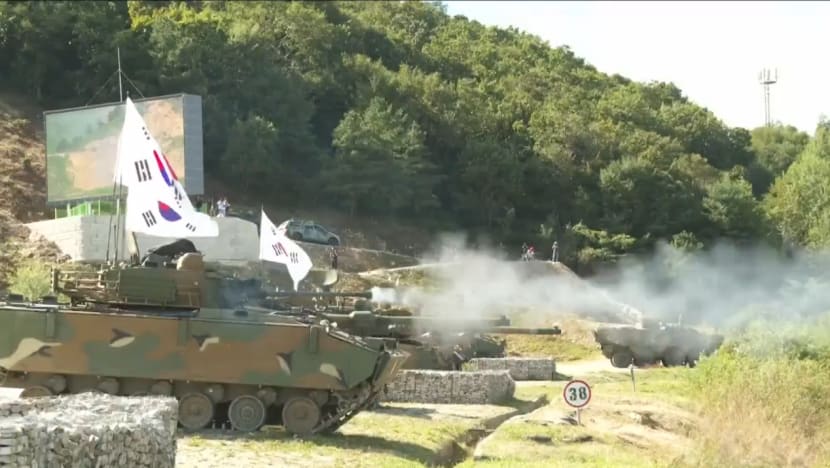 Facing the constant threat of war from a hostile neighbour, South Korea has been developing defence technology needed to protect itself over the years and is now a major global exporter of arms.
South Korea's need to deter threats from the North has been underscored several times, most recently on Tuesday (Oct 4), when the nuclear-armed Pyongyang fired a ballistic missile over Japan, its fifth in 10 days.
At a recent ceremony on the sidelines of a defence exhibition, the country displayed its high-tech weaponry, including the home-grown 230mm Chunmoo multiple rocket launcher and ground-to-ground Army Tactical Missile System (ATACMS) ballistic missile. And industry players are interested.
The defence exhibition attracted military officials and other potential arms buyers from around the world who were there to sample the latest equipment.
Describing the exhibition as one of the "major events in Asia", director of the Danish Defence and Security Industries Association, Joach Finkielman, said there was a lot of interest to attend the ceremony to do business and meet potential business partners.
"I think they (South Korea) are competitive. I see that in Europe, that they are entering several markets and it's my understanding that they both have the quality and also the capability of delivering the goods relatively fast," he told CNA.
Mr Finkielman noted that Denmark's neighbours, Norway and Poland, are acquiring artillery and battle tanks from South Korea.
"This creates an interest broadly from other nations as well," he said.
TRUST IN SOUTH KOREAN DEFENCE TECHNOLOGY
The country recently sealed its largest arms deal yet with Poland - marking a major milestone for its defence industry.
Associate Research Fellow at the Asan Institute for Policy Studies Dr Yang Uk noted that Poland has thousands of North Atlantic Treaty Organization (NATO) soldiers.
"As NATO's core force, Poland needs to defend itself against any Russian attacks. It had sent military equipment to Ukraine. Now it needs to fill them up, and the fact that it has chosen South Korea as a partner is significant," he said.
Poland's choice to buy from South Korea instead of neighbouring European countries shows that it trusts the Asian country more in terms of factors like cost and production schedule, he said.
He said South Korea's defence industry could replicate the success of its other pillar industries, which typically started with heavy state support.
According to the Export-Import Bank of Korea, arms exports during the 2017 to 2021 period jumped 177 per cent from that of the 2012 to 2016 period. In 2021, it exported arms worth a record US$7 billion.
This year, the Government expects to sell another US$10 billion worth of arms to overseas markets.
LOOKING FURTHER FOR BUSINESS
South Korean companies are eyeing countries beyond Europe. 
Mr Oh Kyea-hwan, team leader of the Hanwha Defence Overseas Business Division, told CNA that while the current focus is on the European market due to the big demand caused by the Russian invasion of Ukraine, the country is looking further.
"We are also focusing on Asia. We now just export small, small quantities, products to Indonesia, and also the Philippines. But I believe that the market will be growing fast. Also one of the areas that we are targeting is the Middle East and also West Asia, like India," he said.
In 2000, South Korea ranked 31st on the list of global arms exporters. By 2021, it shot up to eighth place, according to data from the Stockholm International Peace Research Institute.
President Yoon Suk Yeol recently said he wants the country to aim for the fourth place on the list.
Dr Yang said that South Korea's varied climate, which includes extreme weather conditions, is an advantage when it comes to its arms business as makers can factor in climatic conditions.
"Since South Korea is a country with a strange climate, it has dealt with various cases and a lot of data is piled up. Now, it all depends on how much South Korea responds to its customer countries," he said.