BANGKOK: With a general election around the corner, Thai politicians have begun to shine the spotlight on air pollution as parts of the country are choking on bad air. 
Deputy leader of the Democrat Party Ongart Klampaiboon said on Monday (Mar 13) his party is taking air pollution seriously and that it has been looking for solutions to harmful pollutant PM2.5.
Speaking outside the Bangkok Art and Culture Centre, Mr Ongart said the party's policy team leader Suchatvee Suwansawat has been working with residents affected by PM2.5, academics as well as related parties to form a policy that would tackle the problem.
"The right to breathe pure air is a basic right of every human being," said Mr Suchatvee. 
"The Democrat Party supports people to enjoy the basic right equally."
His party aims to push for the Clean Air Act, which would establish air pollution standards, promote innovation in clean energy and pollution control technologies, and penalise individuals, companies as well as organisations that irresponsibly cause air pollution with a dust tax and fees. 
The party also plans to designate a Bangkok Low Emission Zone, which would be piloted in 16 districts of inner Bangkok. The area has more than 300 schools and 40 health facilities, and is badly affected by PM2.5, Mr Suchatvee noted.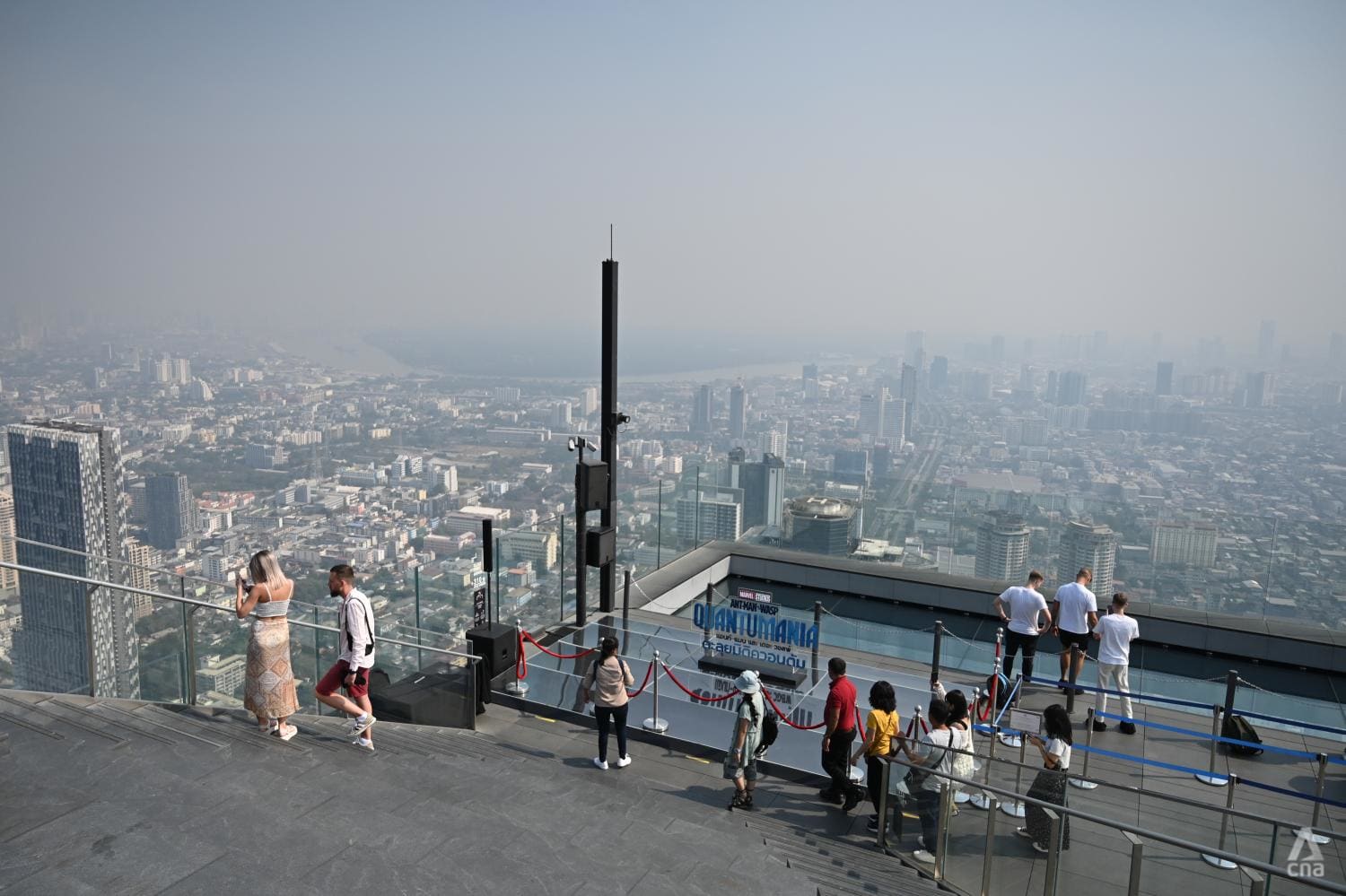 Residents in various parts of Thailand have been choking on bad air for months. In the capital city, the Air Quality Index (AQI) reading in Nong Khaem district on Tuesday was reported at 163 on IQAir – a technology partner of the United Nations Environmental Programme. 
This is considered unhealthy, with a high concentration of PM2.5 – tiny particles with a diameter of less than 2.5 micrometres or about 3 per cent the diameter of a human hair. 
PM2.5 can penetrate deep inside the lungs and long-term exposure to these particles can result in cardiovascular and respiratory diseases as well as cancers.
Data from the Bangkok Metropolitan Administration (BMA) showed more than 800 patients have sought medical care at its air pollution clinics since October last year. Between Mar 1 and Mar 12 alone, 148 patients visited its six clinics.
"Patients with respiratory problems made up the majority of the visitors, followed by those with cerebrovascular disease, chronic obstructive pulmonary disease, eye inflammation and asthma, respectively," BMA spokesperson Ekwaranyu Amrapan said in a statement on Monday.
Up north, residents in the popular tourist destination Chiang Mai also suffered from air pollution. Air quality in the province was ranked the worst in the world over the past week and the public was advised to monitor their health as well as reduce outdoor activities.
On Sunday, the Geo-Informatics and Space Technology Development Agency (GISTDA) reported 529 hotspots in Thailand. Most of them were located in national forest reserves, conservation forests and agricultural areas.
On the same day, GISTDA also reported thousands of other hotspots in the neighbouring countries. Based on its data, there were 1,655 hotspots in Myanmar, 1,588 in Laos, 1,103 in Cambodia, 317 in Vietnam and 47 in Malaysia.
"We need to monitor PM2.5, which usually comes with forest fires and hotspots. Hotspots in the neighbouring countries can result in PM2.5 in border areas as a result of winds. The problem of forest fires and smoke has long affected different systems in the country, especially the economic and social systems," GISTDA said.
A general election is expected to take place in May. However, the date has yet to be announced. 
Besides the Democrat Party, Thailand's biggest political group Pheu Thai has also pledged to tackle air pollution.
Mr Plodprasop Suraswadi, who heads the party's PM2.5 policy team, proposed various measures to tackle the problem in a press conference on Monday. They include passing a law on clean air, promoting clean energy and electric vehicles in the cities, and installing air purifiers at schools in Bangkok and nearby provinces.
"The government must add PM2.5 to the national agenda, treating it as a matter of the utmost importance," said Mr Plodprasop.