Thailand plans to dam a branch of the Salween River to quench farmers' insatiable thirst for water
Growers in 27 provinces are set to benefit from the project but communities upriver are united in opposing it.
BANGKOK: The longan plantation belonging to veteran farmer Manas To-iam is just kilometres away from Thailand's largest water reservoir. 
Across a small road from his trees, the Ping River drifts gently southward. Cows graze on long grass on its banks and local men spear fish in the shallows.
Even living so close to so much water does not guarantee Manas' fruits will get what they need. 
Like millions of farmers across Thailand's central agricultural belt, an unpredictable climate is fundamentally changing his prospects on the land. 
"Some years there's drought and water isn't good. When the water isn't good, we cannot do our agricultural work," he said.
"If the rains are good, then the farmers are happy because the cost will be reduced. We get water that is provided by the soil and the sky. If there's no rain in that year, we will start to get stressed."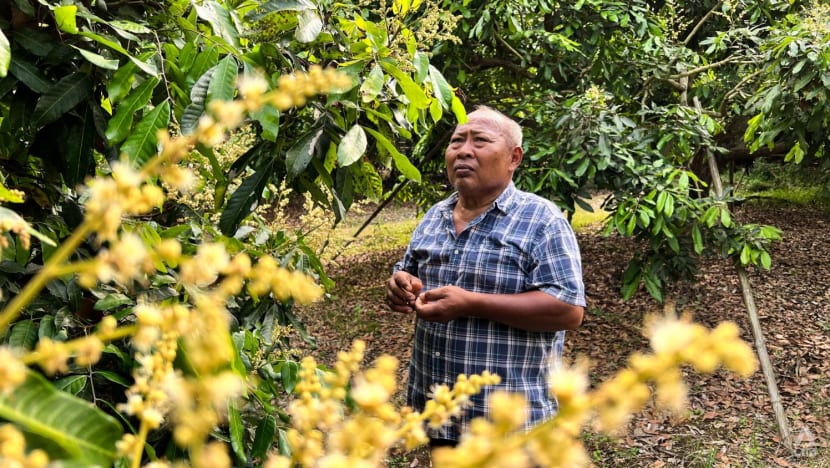 It is why the 60-year-old from Sam Ngao in Tak province is optimistic about a plan for more water to be diverted into the nearby Bhumibol Dam, infrastructure that helps provide irrigation for dozens of provinces.
But to harness that water, landscapes further north will need to be utterly reshaped. It is a proposal that has sparked division and debate about the viability of water access in the country.
The project, under the management of Thailand's Royal Irrigation Department (RDI), will be funded by the national government and delivered by a Chinese state enterprise. It proposes to take water from the Yuam River, a branch of the Salween, Asia's last free flowing international river.
It will involve the construction of a 69m-high dam wall to block the Yuam River in the northern province of Mae Hong Son. It is a waterway that has never been impeded by man.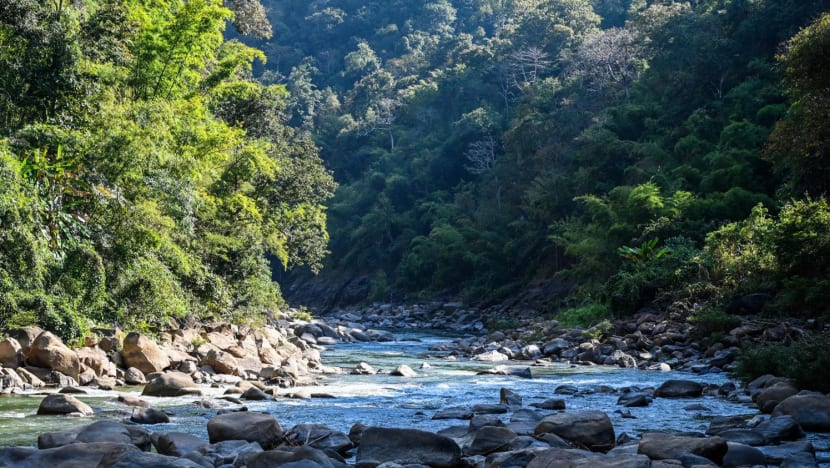 An enormous reservoir will capture vast amounts of water during the wet season. That water will be pumped through a concrete tunnel spanning 61km to be constructed through hilly, forested lands before emerging at the Ping in neighbouring Chiang Mai province. 
Eventually, what flows in the Yuam will be funnelled to refill Bhumibol Dam, raising its levels to provide farmers with their most precious commodity during times of climate uncertainty. 
Such a project is long overdue, according to Sombut Thim-uam, a village head in Sam Ngao. Farmers need more help, he said, even smallholders like him who he believes are normally overlooked in favour of the major rice growers further from the dam.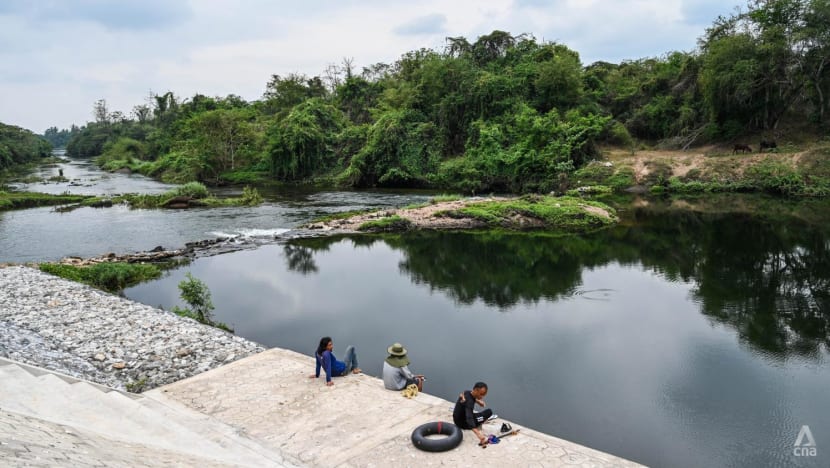 "When we heard that the irrigation department made a study about adding water from Yuam river to Bhumibol Dam, we were delighted. Because the more water Bhumibol Dam has, the more benefits us farmers can get," he said.

"If rain doesn't come then we will still have water."
His views are not echoed upriver, however. Communities there, many of them belonging to indigenous peoples, with long histories of disadvantage, are united in opposition. 
They have vowed not to be pushed aside for the benefit of others.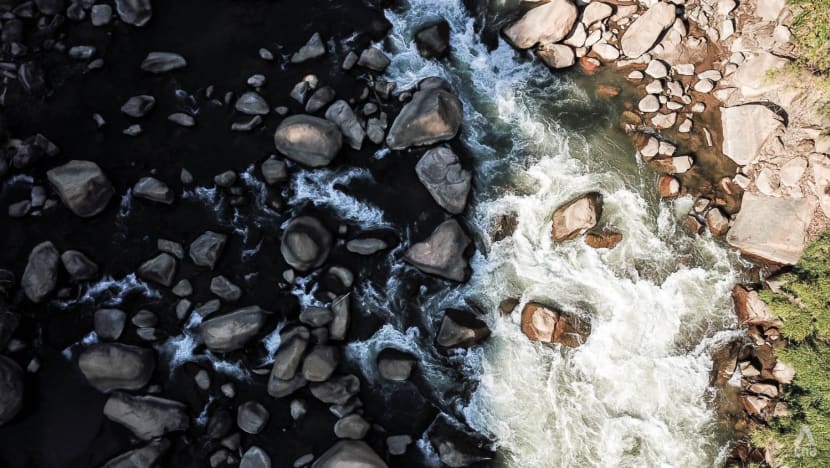 "ALL OF THIS WILL BECOME A SEA"
Singkhan Ruenhorm is still wide-eyed as he sits at the nose of a wooden boat powering down the gentle Yuam. He has made this journey countless times - over many decades - but this environment still has the ability to bewonder. 
During these winter months, the stream is gentle and the depth shallow. Forests tower on both of the river's flanks, from which colourful birds glide with ease over the shimmering surface of the water.
This area is not untouched - mining activities have scarred it in the past - but it is lush and natural. 
Just a handful of families live along the river, their lives dependent on the animals they raise and the food they forage. They will be the ones most directly impacted when a reservoir raises the river level by 4m, flooding the lower bank.  
But those with emotional ties to the Yuam worry about the ecological impacts set to befall this landscape. 
The Salween River, which the Yuam connects to across the international border with Myanmar, is a crucial habitat and breeding ground for hundreds of species of fish. Blocking the natural sediment flow with a dam could impact the food sources for those species and damage delicate ecosystems. 
There is the expectation that arable land used by local communities along the river bank will also be flooded for several months a year.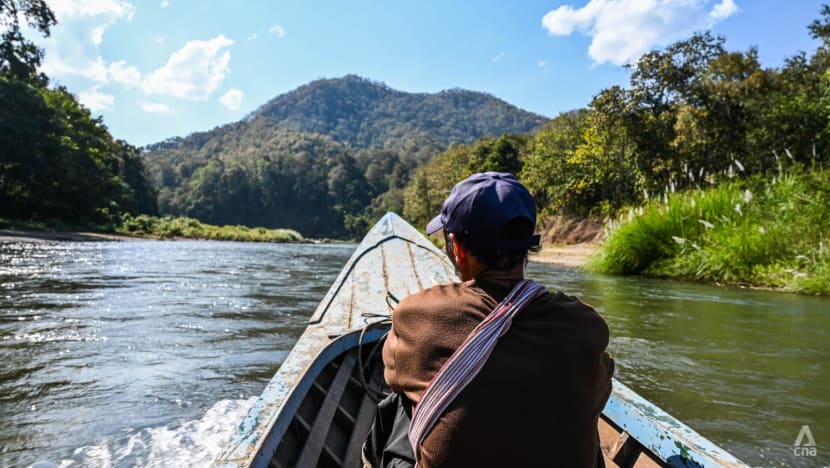 "In the rainy season, people are farming rice and crops along the river banks. In a year where there's a lot of water and rain, floods already come. I think that if there's a dam that blocks the river, these areas will unquestioningly be flooded," said Sathan Chiwawichaipong, a local villager and coordinator of the People's Network of Yuam, Ngao, Moei and Salween Rivers.
"Plentiful forests will become a reservoir. Aquatic animals - all the shrimps, shellfish, crabs and fish - will disappear. It's as if all of this will become a sea.
"People here have had a bond with the river for many generations, since their ancestors. Before this, their ancestors foraged from the river. It is important. 
"Everybody loves the river and worries about it. In their hearts, they want the river to flow freely," he said. 
Where the tunnel will be built, debris and rubble will pile onto ancestral lands of local people. Hundreds of hectares of forest will be cleared, some of which is deemed crucial by experts for the function of the land as a watershed. Some 128ha of that forest is in a protected zone.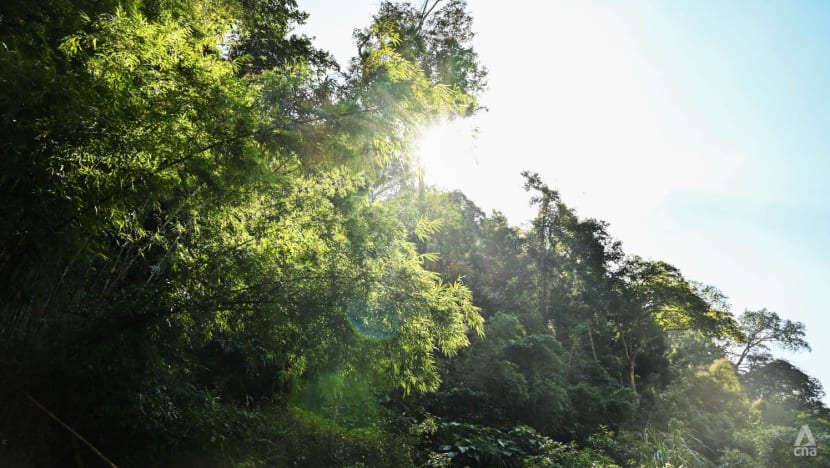 Yet, Thailand's National Environment Board has already approved the Environmental Impact Assessment (EIA) for the project, which covers many of these concerns, despite the strong local opposition.

"We have explained many times to the ethnic brothers and sisters that they can live the same way they do now," said Chalermkiat Khongwichianwat, the deputy director general for engineering at RDI. 
"The place where they make a living is all forest. I've seen it and it's an overgrown forest. The forest that they trek, collect mushrooms, collect fruits will still be forest.
"I think there will still be the ecological system of the forests and other things. I am sure of that because of the amount of forests. There are a lot of them," he said.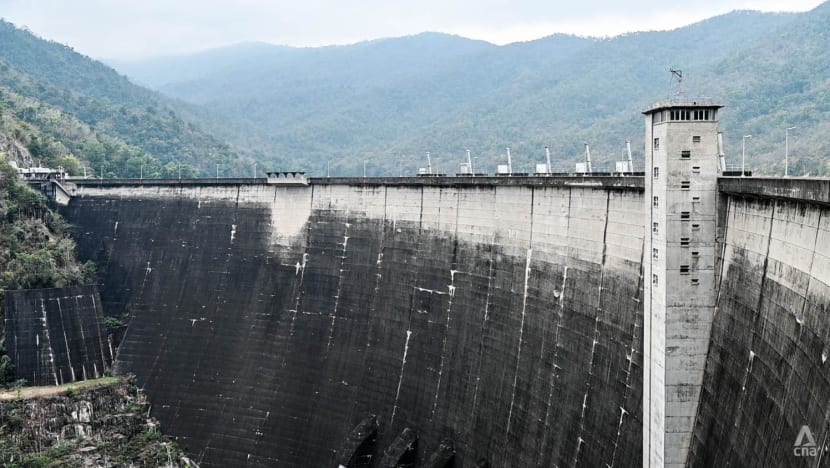 Critics have questioned the thoroughness and transparency of the EIA, which was undertaken by the RDI and Naresuan University.
"The EIA content and process has been deeply flawed, with limited public participation and a rushed approval process," said Pianporn Deetes, the Thailand campaign coordinator for non-government organisation, International Rivers.

"This is a very expensive and risky project. A key question here is who benefits and who bears the costs of the project. The directly impacted communities, many of whom are indigenous Karen, have not been meaningfully consulted. 
"Moreover, there's been little transparency on how the project will be funded and developed," she said.
The villagers and their supporters are now pursuing further avenues to prevent the project from going ahead, including through the National Human Rights Commission.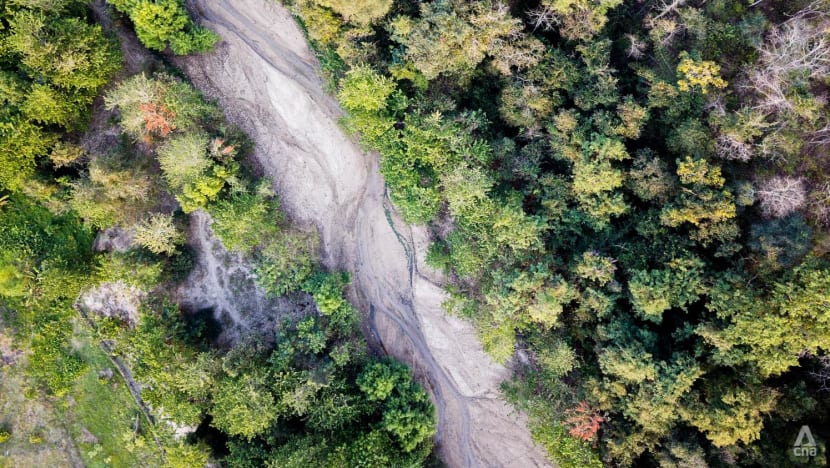 "THE BAD IS ONLY LITTLE"
For some of those involved in the decision making, the concerns and protests of locals and NGOs are little more than an "annoyance".
Member of parliament Veerakorn Kamprakob, of the ruling Palang Pracharath party and the chairman of the subcommittee of the Chao Phraya watershed, said he believes the opposition to the project is unnecessary and standing in the way of an important national project.
"We're thinking that there are more than 20 million people who need this water in 27 provinces. And the people who don't want it or oppose this project are about 100 people," he said.
"NGOs, they never stop annoying this project even when they know that it will benefit people. They oppose everything. The good is enormous and the bad is only little. Why do you protest? I don't understand."
He explained that the vast need for water in central Thailand meant the government needed to find solutions. The Yuam River diversion alone could not solve all the problems present and looming in the future.
Projections indicate that authorities seek to divert approximately 1.8 billion cubic metres of water away from the river. It is not nearly enough to quench the need for water further south, where there are rising populations and growing demands from the agricultural, tourism and industrial sectors.
At the same time, water is needed to flush the Chao Phraya River, which is increasingly facing the threat of saltwater intrusion, a phenomenon symptomatic of multiple, simultaneous environmental problems. 
Thailand is a low lying country, which is extremely vulnerable to sea level rise driven by climate change. Combined with coastal erosion and long periods of drought, the lack of fresh water, especially in provinces close to the sea, is becoming problematic.

As a result, underground water resources have been contaminated, important river systems face serious saltwater intrusion and farmers are seeing their crops fail. Critically, some drinking water resources, including in Bangkok are turning saline.
It poses major logistical challenges to authorities charged with managing water flow: satisfying farmers in need of water for their agriculture, communities' drinking water demands and the intensive task of flushing affected rivers in what are called water hammer operations.
The effects have been devastating for rice growers in central Thailand. In 2019, they were forbidden from using river water to irrigate their crops in the midst of the drought, with the water needed to drive the sea's intrusion backwards.
"I can frankly say that the water we have isn't really enough. Saline water intrudes up a lot. The rain volume might be similar to the past but it's about where it falls," said RDI's Chalermkiat.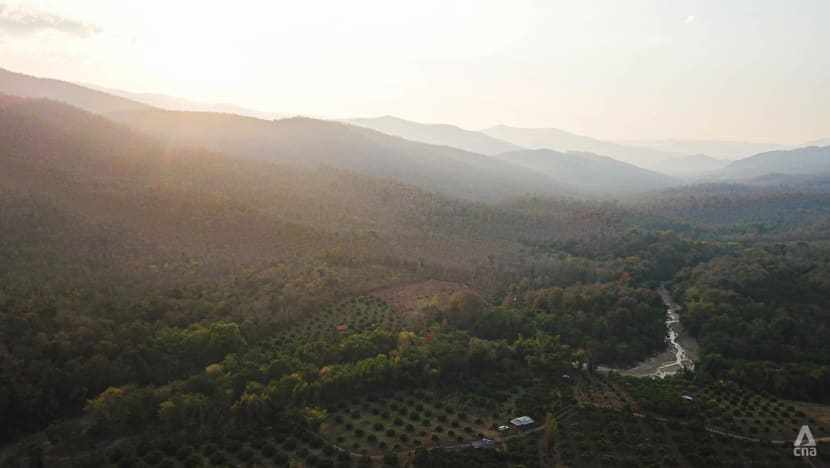 The Yuam project would also have a future second phase to assist with the water shortfall, Veerakorn the lawmaker said. The water could be diverted from the Salween itself in Myanmar across to Thailand in the wet season and then rerouted to Bhumibol Dam using the existing infrastructure.
"The second phase will be abundant … I think the Myanmar government will love it," he said. There are few details, however, about how or when this aspect of the project could go ahead.
There are political elements at play here too. Veerakorn sees the Yuam diversion as an important pawn in the government's election strategy. 
If millions of farmers face the prospect of having their water worries eased through government-backed infrastructure, it is surely a vote winner, he argues.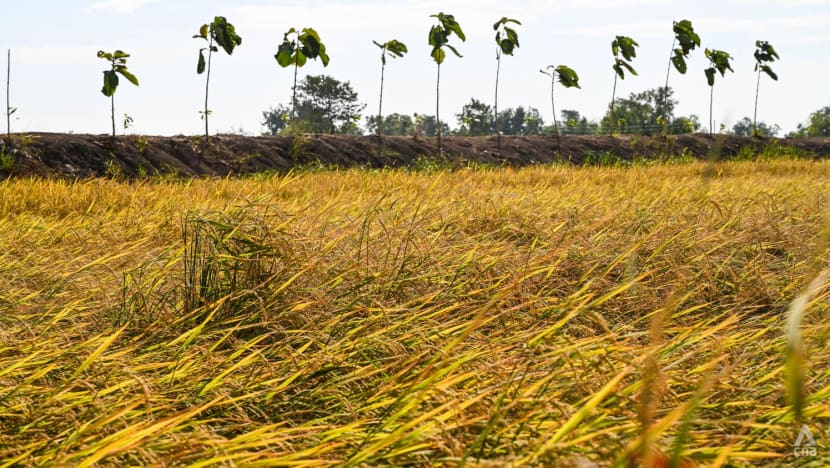 "It's a good opportunity for the government to do this project to please the farmers, to please the people in these 27 provinces. And that's a good opportunity to take the fort in the next election."
He told CNA that local communities in the Yuam watershed want the project to go ahead. If they were not satisfied by their compensation, he would pay them out of his own pocket.
"They do not oppose it and they are pleased if this project happens," he claimed. "They can have electricity, they can have roads. They actually declared that they're glad to have these things.
"I even said if the irrigation department does not pay for you enough, I will pay myself. I will give you 1 million baht (US$30,000) each."
BURIED UNDER RUBBLE
Money for compensation is the last thing on Sakchai Yaemu's mind as he tends to fields his family has worked for decades in Hot district of Chiang Mai.

There are sweeping valleys in this part of the country, a dramatic backdrop to a desperate situation for the people here.
Sakchai's land, with its fruit trees and bamboo plantations will be the site where the subterranean tunnel diverting water from the Yuam will emerge.

He expects his land to be buried under rubble and to be forced to relocate.

"It's such a shame. I want to say that this project will come and change our lives. 
"It will be a struggle because I've been living here for almost my entire life. If I must live somewhere else or find somewhere else, it will be hard," he said.
He added: "Sometimes, small people get nothing. They overlook us.  We want to beg that before they do anything, please think of small people.
"To put it simply, if you were asked to move from your house to live somewhere else, how would you feel? I just feel bad."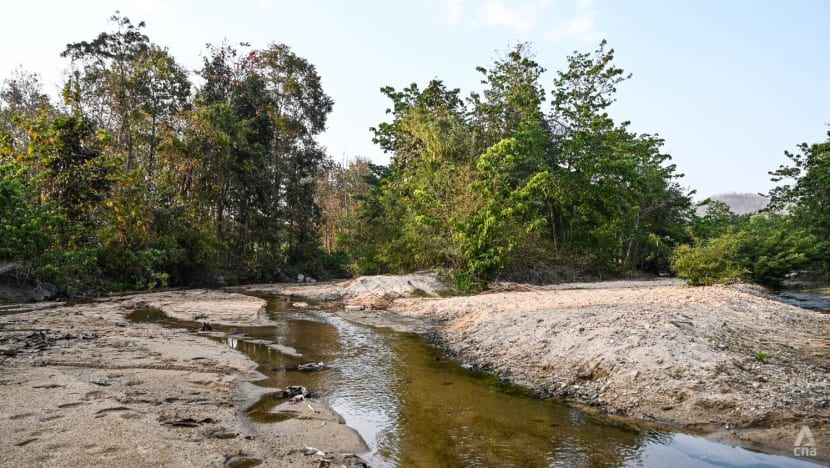 Ill feeling has swept through this community. People say they feel deceived by authorities and given limited information about what will happen here.
"You can ask anybody in the community. Nobody wants this project. Nobody wants it since the EIA report," said Wanchai Srinuan, the head of Mae Ngood village, which has about 175 households.
"It's so easy to say in the EIA report that only three people out of the whole village will be impacted. It's impossible. Frankly speaking, the villagers have been deceived a lot. 
"They've said it many times. The villagers don't want compensation money. They want the lands where they are living here because they cannot find and buy places like this. They want their lands here to stay and be passed on to their next generations," he said.
It remains unclear if they will get that chance. After decades of delay, the damming of the Yuam is closer to starting than it has ever been before.
The Chinese construction company involved has pledged to deliver the project in three years once it has been greenlit, for a cost of around US$1.25 billion, close to a billion less than originally projected.
Under increasing strain from climate change, the Thai government's technocrats are anxious to get the project moving. 
"Of course, there will definitely be impacts but we look at the benefits that the people will gain," said Chalermkiat.
"This project will not be made for me, or made for the Royal Irrigation Department. It will be made for everyone who resides in Thailand. We must do it."
Additional reporting by Ryn Jirenuwat.