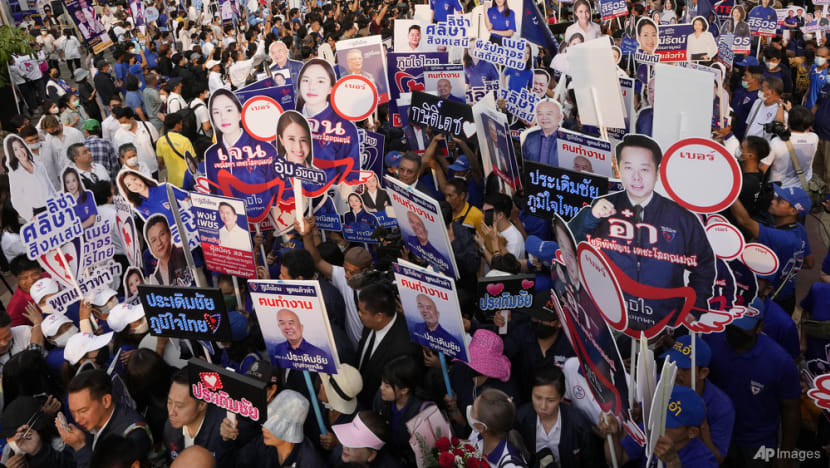 BANGKOK: Thailand will hold its general election on May 14. Its parliament was dissolved last month, paving the way for what could be a bitterly fought election between rival parties.
The main opposition – the Pheu Thai Party which is controlled by the billionaire Shinawatra family - is expected to go up against parties aligned with the Thai establishment.
Current Prime Minister Prayut Chan-o-cha will run in the election with the United Thai Nation Party (UTN). His deputy premier, Mr Prawit Wongsuwan, will lead the Palang Pracharath Party (PPRP). 
Other major parties at play in this upcoming election include the progressive opposition party - the Move Forward Party - as well as the Democrat Party and the Bhumjaithai Party. 
CNA takes a look at the major campaign promises of these parties thus far, and the platforms they are running on.
UNITED THAI NATION PARTY
According to The Nation Thailand, the Prayut-led party said that it will set up a fund to maintain the price of agricultural products to aid the sector. Rice farmers will be offered a subsidy of 2,000 baht per rai (0.16 hectares) and the party has said that it will tackle encroachment on state land by reforming the map.
UTN also said it will upgrade the infrastructure in Thailand's economic corridors in order to meet international standards to boost the country's economic potential. 
Besides that, UTN said it will raise the monthly allowance for state welfare cardholders and the elderly to 1,000 baht (US$29). 
Currently, state welfare cardholders are given between 200 baht and 300 baht per month and a public transport credit of up to 500 baht per month, while the elderly are paid between 600 baht and 1,000 baht per month, the Bangkok Post reported.
The party has also reportedly said that it will continue travel and shopping subsidy schemes given to Thai nationals. 
Other proposed campaign promises include free medical treatment to people of all ages, building new recreation centres as well as handing tax breaks to businesses that hire people beyond the retirement age, according to The Nation Thailand.
Should the party win the election and he is backed by parliament, Mr Prayut is expected to stay in power for two years until 2025. Under Thailand's constitution, a prime minister can only serve for eight years. 
The Constitutional Court has determined that Mr Prayut's tenure as prime minister began in 2017. Prior to that, he spent time as head of the military junta when he staged a coup in 2014.  
The Bangkok Post has since reported that Mr Prayut would want UTN leader Pirapan Salirathavibhaga to succeed him when his eight-year limit as prime minister expires in 2025. 
PHEU THAI PARTY
In an election campaign titled "think big, act smart for all Thais", the opposition Pheu Thai Party has pledged to create 20 million jobs with an income of 200,000 baht per year, according to The Nation Thailand. 
The party also reportedly aims to triple the income of farmers by 2027. 
Pheu Thai has also promised to raise the minimum daily wage to 600 baht and the monthly wage to 25,000 baht, if elected. Currently, Thailand's daily minimum wage ranges between 328 baht and 700 baht, depending on the province and job type.
"The party has a policy to raise pay to 25,000 baht for salaried employees both in the state and private sectors, as well as university graduates who are entering the labour market," said party deputy secretary-general Paopoom Rojanasakul, as quoted by The Bangkok Post. 
Mr Paopoom reportedly added that the state officials' wages would also gradually increase to 25,000 baht by 2027, in line with changing economic circumstances and inflation. 
On healthcare, Pheu Thai said it will upgrade the universal healthcare system in the country so that all Thais can access free treatment using just their national identification card.
The party said that it aims to restore democracy in Thailand, according to a six-point roadmap. The Nation Thailand reported that among the measures proposed include drafting a new people's constitution, implementing bureaucratic reforms like using blockchain technology to create a digital government and increasing salaries for government officials, as well as ending military conscription. 
Pheu Thai also said it aims to remit 10,000 baht worth of digital currency to all Thais aged 16 and above to stimulate the economy.
The party has also reportedly promised to train families on soft power skills and promote the country's soft power across the world. It also wants to turn Thailand into a regional transport hub and host of Southeast Asian festivals and events.
One of the three prime ministerial candidates from the party is Ms Paetongtarn Shinawatra, whose father Thaksin was ousted by a military coup in 2006. Her aunt - Ms Yingluck Shinawatra - was similarly ousted from office in 2014. 
In March, Ms Paetongtarn widened her lead in an opinion poll as the Thai voters' top choice for prime minister in a quarterly survey by the National Institute of Development Administration.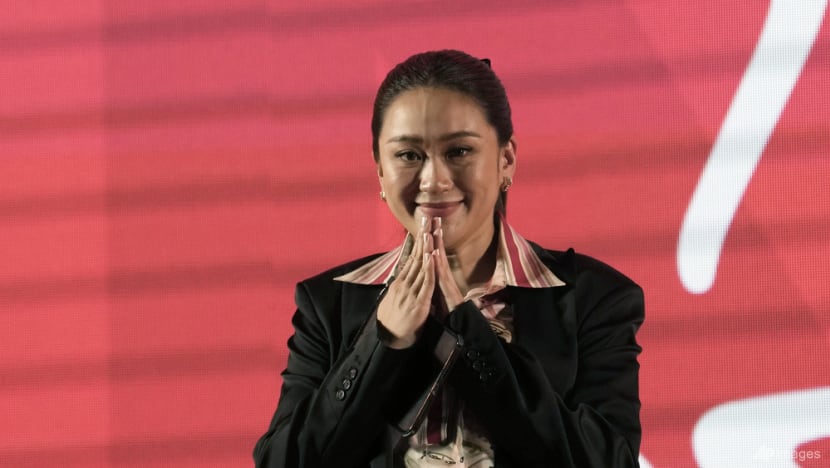 PALANG PRACHARATH PARTY 
The key election pledge of the ruling PPRP is to "turn bribes into taxes" by passing laws that reduce bribery and increase tax revenue simultaneously, according to The Nation Thailand. 
The party, led by deputy premier Prawit Wongsuwan, has also promised to give land to people who are living below the poverty line.
Economic promises reportedly made by the party include paying a 700 baht monthly allowance to state welfare cardholders and providing a monthly allowance of 3,000 to 6,000 baht to elderly people above the age of 60.
According to The Bangkok Post, the party has also pledged to lower the price of liquefied petroleum gas (LPG) - which is widely used as a household cooking fuel - to 250 baht per tank. On Mar 1, a tank of LPG reportedly cost 423 baht.
MOVE FORWARD PARTY 
Meanwhile, the Move Forward Party has vowed to combat social inequality, according to The Nation Thailand. 
Among its campaign promises include increasing the daily minimum wage to 450 baht, creating a fund for Thai filmmakers and providing a 1,200 baht allowance to parents of children up to six years of age. 
The Bangkok Post reported that the party is also seeking to scrap military conscription, as part of the party's campaign to reform the military.
According to The Nation Thailand, Move Forward Party's former incarnation - the Future Forward Party - came in third in the previous general election held in March 2019. 
That party was, however, dissolved by a court order in February 2020 for accepting illegal political donations. Its executives were then banned from contesting an election or holding an executive post in a political party for 10 years.
DEMOCRAT PARTY 
With an emphasis on aiding the grassroots economy, the Democrat Party unveiled its election campaign titled "creating jobs, generating revenue, developing the country". 
The Nation Thailand reported that the party's core pledges are to pay a lump sum of 30,000 baht to every farming household, 100,000 baht per year to fishery workers, and free milk distribution for school-going children. 
Other economic promises of the party include a price guarantee for crops, funding for small businesses and setting up community banks to offer low-interest loans to local entrepreneurs.
Democrat Party leader Jurin Laksanawisit reportedly said at a press conference in January that the party is placing greater emphasis on nurturing the grassroots economy, especially the agricultural sector, which employs 50 per cent of the Thai population.
The Nation Thailand reported that the party has also pledged to waive online sales tax for community enterprises and shops, reduce the fee that food delivery apps charge on restaurants and scrap the blanket legalisation of marijuana. 
"Sale of marijuana will only be allowed with a doctor's prescription to protect children and ease worries of parents," the party's assistant secretary-general Chanin Rungsaeng reportedly said.
According to the Bangkok Post, the Democrat Party is also promising free internet connections to every village, free tuition fees up until the bachelor's degree and the distribution of agricultural land for landless farmers.
The oldest political party in Thailand, the Democrat Party last held power under former prime minister Abhisit Vejjajiva between 2008 and 2011. 
BHUMJAITHAI PARTY 
Health Minister Anutin Charnvirakul's party hopes to create more than 10 million jobs and offer a three-year suspension of debt repayments. 
According to The Nation Thailand, the party has also promised to provide free solar panels to every household so their power bills rise no higher than 450 baht per month. It also aims to make electric motorcycles available for purchase at 6,000 baht each with a monthly instalment payment plan of 100 baht. 
Bhumjaithai also seeks to offer free radiation therapy for cancer patients and dialysis for people with chronic kidney disease.
Mr Anutin, who is also the country's deputy prime minister, successfully pushed for the decriminalisation of cannabis in Thailand last year. However, the Bangkok Post has since reported that the country has yet to have a law to successfully control the recreational use of the drug. 
It also reported that Mr Anutin said that the passage of a cannabis control bill would be a condition of his party's participation in the next coalition government.