Thai general election: In the south, parties dole out plans for tourism recovery
In major tourist destinations like Phuket and Krabi, visitor arrivals have yet to return to pre-pandemic levels. Politicians across party lines have since put forth plans to develop the region in order to woo voters.
PHUKET: Bartender Jitra Woitpham has just finished attending a Thai massage class, yet she was already getting ready to open the bar she works at. 
The 52-year-old has been a bartender for 27 years and the COVID-19 pandemic has hit her hard. 
The owner of the bar she used to work at in Phuket died of COVID-19 complications, so the establishment had to close as a result. Borders were also shut and popular tourist destination Phuket became a ghost town, forcing Ms Jitra to return to her hometown of Hat Yai in Songkhla province. 
Now that Thailand and other countries have reopened their borders, she is back in Phuket. But things have yet to return to how they were before the pandemic, Ms Jitra noted. 
"Before COVID-19, things were good. But now it's not the same," she told CNA.
"I used to earn 15,000 baht (US$440) monthly as a bartender, but now only 7,000 baht. There are not as many tourists as before the pandemic."  
With less income, Ms Jitra said she decided to take massage lessons so she could work part-time as a masseuse and earn extra money. 
Tourism plays a major part in Thailand's economy. The total contribution of travel and tourism to the country's gross domestic product in 2019 before the COVID-19 pandemic was about 20 per cent, according to Travel Link - a government-backed tourism statistics website.
In the same year, about 8.19 million people - or about 22 per cent of the total jobs in Thailand - were related to the tourism and travel industry. 
The Tourism Authority of Thailand (TAT) hopes the sector could generate at least 2.4 trillion baht in revenue this year, which is 80 per cent of the country's earnings in 2019 from tourism before the pandemic struck.
But the industry has yet to recover fully, including in significant tourist hotspots in southern Thailand like Phuket and Krabi.
With Thailand set to hold elections on May 14, politicians across party lines have since put forth plans to develop the region, including turning Phuket into a digital and technology hub, in order to woo voters. 
ELECTION PROMISES
In an election debate held at the end of March, politicians from several parties tried to address the concerns of those who work in the hospitality sector in Thailand.     
A politician from the opposition Pheu Thai Party, for example, said they would scrap the entry fee for tourist arrivals into the country. 
The entry fee is 300 baht for visitors arriving by air and 150 baht for those arriving by sea or land. The fee will be included in the airfares for those coming to Thailand and will take effect in June. 
A politician with the ruling Bhumjaithai party said that Phuket would be developed as a smart city. The party also said that it would create community-centric tourist attractions to boost tourism in the area.
The Democrat Party - which is Thailand's oldest party - wants to turn Phuket into a technology hub and model city in Southeast Asia.
The party's strongholds are in the southern provinces. 
Its member Suchatvee Suwansawat said the party aims to develop public transport on the resort island by proposing a tram project.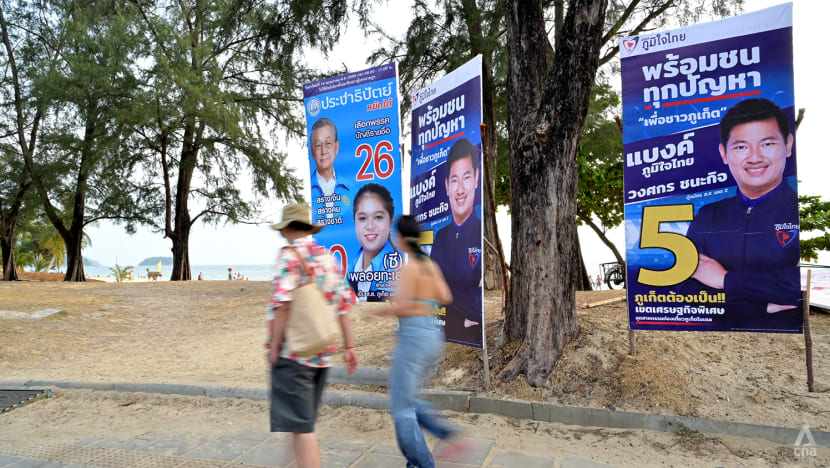 A member of the progressive Move Forward Party also said that the province needs public transport, which he claims would attract tourists to visit. 
"Phuket has a very nice international airport, but if you want to go from the airport to the centre, you have to use taxis and old buses," said Mr Somchart Techathavorncharoen, who is running for member of parliament in Phuket. 
"We would like to propose for Phuket to have public electric vehicle transportation for everyone because if you don't have a motorcycle, you can't go anywhere here," he told CNA.
His party leader, Mr Pita Limjaroenrat, wants to turn Phuket into a digital and creative economy region. At a rally on Apr 28, Mr Pita said that his party aims to promote the use of digital economy in the region to "increase the living standards" there. 
"Right now, Phuket is listed on the tourist maps of many platforms like Agoda. The tourism of the future will not be the same, and the Move Forward Party will help promote the digital economy to increase the living standards of the people," he said. 
Speaking to CNA shortly after the rally, Mr Pita - who is his party's prime ministerial candidate - said Phuket should not just rely on tourism.
"We have to diversify from resource bases like tourism or mining into a talent base which is like soft power, creative economy - the hip hop industry here is booming. You know, liquor liberalisation like craft beer as well as the digital economy," said Mr Pita. 
But beyond these general promises, there have been few specifics.
Mr Chayanon Pucharoen, a lecturer at Phuket's Prince of Songkla University, said that politicians should flesh out their plans for the tourism sector in detail.
The deputy dean for research and graduate studies at the university's faculty of hospitality and tourism said that politicians at the provincial levels, like Phuket, usually discuss tourism when they meet voters on the ground.
"But in general, when you follow the news, they rarely discuss tourism. They would discuss in a plain message how they would increase their income or how they would find money to give subsidies. 
"But definitely, when they are in the government, they have to use this engine (tourism) for sure."
Mr Chayanon said that he would want to know more about the candidates' foreign policy strategies amid geopolitical tensions across the globe because these could impact tourism.
"Because if countries swiftly change their foreign policy, we can see a quick change in the flow of tourists into Phuket as well. We live in a geopolitical world now, and foreign policy needs to be articulated with the considerations of every dimension," he said.
"NUMBER OF TOURISTS DROPPED DRASTICALLY"
On the ground, those who work in the hospitality sector hope that the incoming government could improve the battered tourism industry and bring about positive changes.  
Like Ms Jitra, Mr Chinnawat Udomniyon is also still reeling from the aftershocks of the pandemic. 
Mr Chinnawat, who is the owner of boutique hotel Orchid Resortel in Phuket's Patong town, said his 45 rooms have never been fully booked since the reopening of Thailand's borders about one-and-a-half years ago. 
These days, Mr Chinnawat said that his hotel's occupancy rate averages about 70 per cent, but it was just about 20 per cent last month.
"The situation is not good enough. The number of tourists coming dropped drastically since mid-March," he told CNA. 
Mr Chinnawat believes there are many factors why Phuket has yet to recover fully.
Before the COVID-19 pandemic, most foreign tourist arrivals in Phuket were from China. 
They have yet to return to the island, most likely because China only reopened a few months ago, he said. 
Mr Chinnawat added that Phuket's electricity and water shortage issues - a problem that existed even before the pandemic - may also play a role as foreign tourists would perhaps prefer destinations which do not have such issues.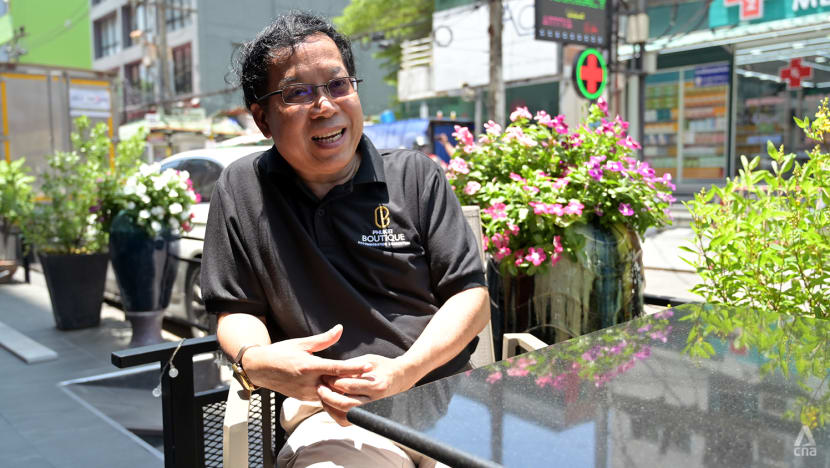 Over in neighbouring Krabi province, Mr Peachaya Techaprasan, owner of family-run hotel Krabi River faces the same problem.
"The tourists are back, but the Chinese tourists haven't returned.
"Another challenge is that Krabi is not really well known. People only know the Phi Phi islands," he posited.
Ms Virintra Papakityotsaphat, a board member of the tourism council of Thailand who is overseeing Phuket, Krabi, and Phang-nga concurred.
"Although the number of tourists coming is increasing, it is still not as pre-COVID-19, and many operators had to close and some are still in a critical condition."
Last year, 5.6 million tourists visited Phuket, according to data from the ministry of tourism and sports. This is still a far cry from the 14.5 million people Phuket welcomed in 2019.
Ms Ratchadaporn Oin, director of Phuket provincial office of tourism and sports with the ministry of tourism and sports, said there are several reasons behind the low numbers of tourists. 
She cited expensive airfares due to high fuel costs as well as competing destinations from other countries as possible reasons for the decline in the number of visitors.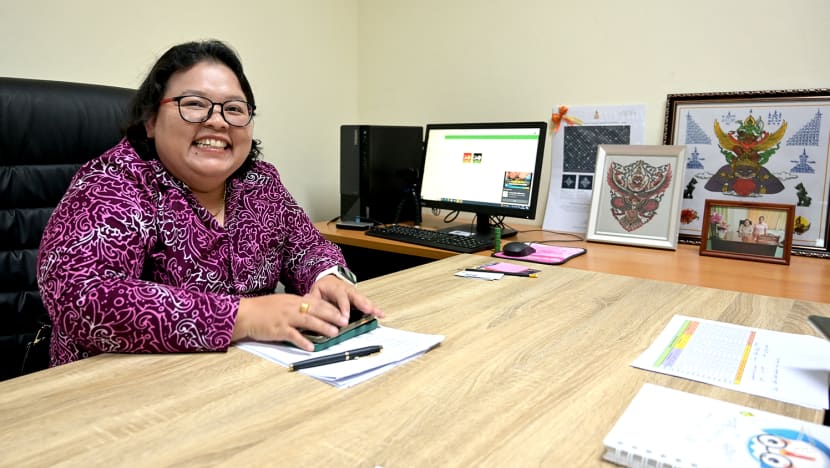 Ms Ratchadaporn added that there are also internal factors such as the lack of public transport in Phuket - which may require people to fork more money for transport - as well as the island's water shortage issues that have become well-known issues among travellers. 
Still, the government is targeting 12 million people to visit Phuket this year.
HOPEFUL YET SCEPTICAL
Business owner Virintra Papakityotsaphat thinks the economic recovery could be easier for southern provinces like Phuket, Krabi and Phang-nga if they are connected.
Ms Virintra, who is also the chief executive officer of Phuket speedboat tour operator Nikorn Marine, said the government should think of finding ways to attract tourists to visit several provinces instead of just one.
"In Krabi, for example, things are cheaper than in Phuket. Because Phuket has to import everything from other regions in Thailand," she said.
She wants the government to support the private sector more, in particular by building sea ports which would facilitate cruise tourism. 
The next government should also try to attract more foreign investors and focus on the needs of small and medium enterprises (SMEs), she added.
"The Thai economy is like a pyramid shape. At the very base, SMEs are very important. If they survive, the country would survive," she said.
She added that politicians should go beyond unrealistic promises.
"I don't like a policy that promises to give free money to the people, it's not a vision of a leader. They should instead give job opportunities or upskill people."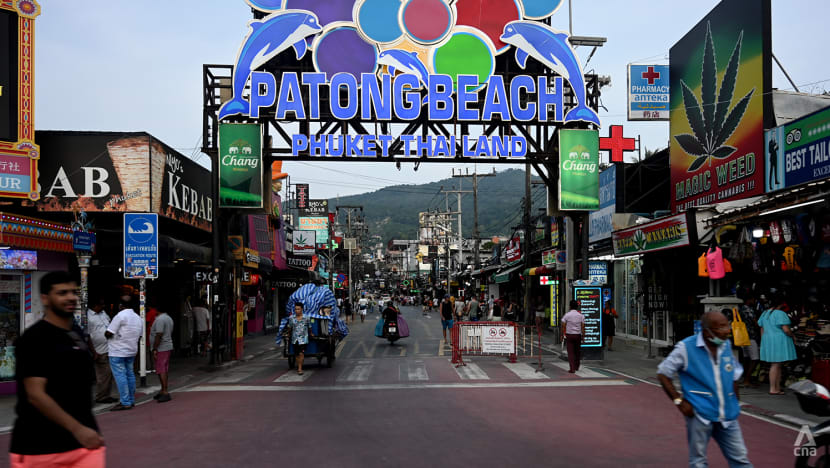 Meanwhile, Mr Peachaya - who has his own family-run hotel in Krabi - believes that the country's politicians have not put much thought into how to grow the tourism industry. 
He wants the government to create a Thai online hotel booking website so that SMEs like his could get more exposure. 
Mr Peachaya said he will cast his vote in under two weeks at the ballot box but remains sceptical if the election will bring about significant changes. 
"I think nothing will change. Everything will be the same. Hopefully, they will make it better. But anyway, they are just busy fighting, fighting and fighting," he said. 
"(The politicians) are not working together to make Thailand better."