Thai PM-elect Pita could be disqualified due to alleged shareholding in media firm: Caretaker DPM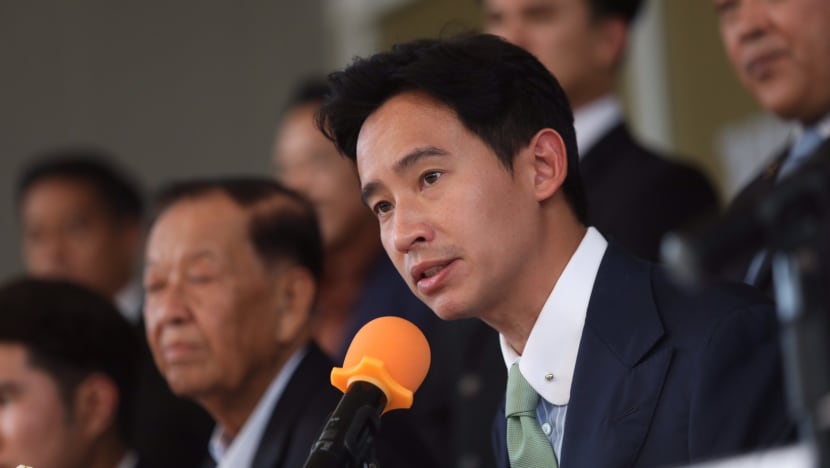 BANGKOK: Thai Caretaker Deputy Prime Minister Wissanu Krea-ngam suggested on Wednesday (May 31) that prime minister-elect Pita Limjaroenrat could be disqualified from the premiership due to a complaint against his shareholding in a media firm, local media reported.
He was quoted as saying by Bangkok Post that the details of the complaint against Mr Pita's shareholding in media firm iTV Plc would be a key factor determining his eligibility for the country's top post.
If the complaint targets his eligibility to be a prime minister, Mr Pita can still be a member of parliament (MP), according to the report.
"If a complaint targets both, the court will rule on both," the caretaker deputy premier said.
Mr Pita is the leader and sole prime ministerial candidate of the Move Forward Party, which won an unexpected victory in the country's general election on May 14.
Before the polls, Mr Ruangkrai Leekitwattana submitted a complaint to the Election Commission, claiming Mr Pita was not qualified to join the electoral race as he holds shares in a media firm and therefore has violated the constitution. Mr Ruangkrai is a party-list MP candidate of the military-linked Palang Pracharat Party.
Section 98 of the constitution prohibits individuals from running in an election of Members of the House of Representatives if they are shareholders of any newspaper or mass media business.
According to Bangkok Post, Mr Wissanu said a complaint may also target Mr Pita's approval of Move Forward Party memberships.
"In that case, there would have to be a new nationwide general election," he was quoted as saying.
Bangkok Post also quoted Mr Wissanu as saying that the Election Commission has not taken any action and advised against jumping into "a negative scenario".
On May 9, Mr Pita said on Twitter he was not concerned about the case because the shares belong to his family's inheritance fund.
"My status is the manager of the fund and I have consulted as well as informed the National Anti-Corruption Commission a long time ago," he wrote. 
His Move Forward Party emerged as a winner in the May 14 general election, beating big parties such as Pheu Thai with 151 seats in parliament. 
Following its historic win, the party formed a coalition with seven political allies, including Pheu Thai, Prachachat, Thai Liberal Party, Thai Sang Thai, Fair, Plung Sungkom Mai and Pue Thai Rumphlang. 
Together, they have 312 seats in the 500-member House of Representatives.
For Mr Pita to become prime minister, his party needs the approval from more than half of the 750-seat National Assembly, or at least 376 votes in either the House of Representatives alone or the Senate too.
Several senators remain undecided on whether they will support his premiership, while others have made it clear they will vote against him.
Listen: Would Thailand's new coalition party work? CNA Correspondent explores: